Theatre Reviews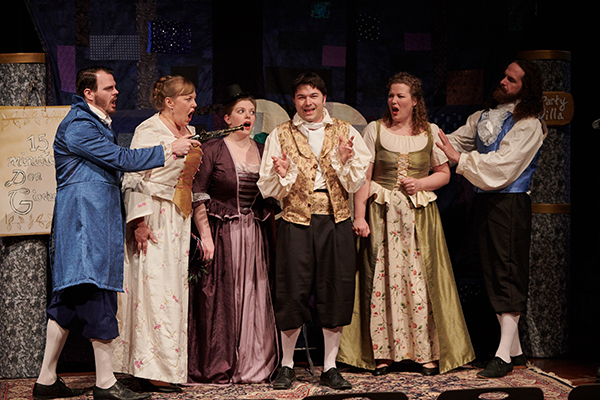 The Bantam of the Opera Strikes Again!
Written by

Steve Callahan
For several seasons I've searched for a term to describe Gateway Opera. In a city flush with larger companies – Opera Theater St. Louis, Union Avenue Opera, and Winter Opera – which offer truly "grand opera," what can one call this little company which gives us such delicious bite-sized treats? They're so small, so full of feisty energy and spirit. 
Aha! I think this company is "The Bantam of the Opera!"  And, like that murderous older haunting figure, Gateway Opera, in it's evening of "15 Minute Mozarts," really slays 'em – but without the need of a chandelier. The grandest chandelier would be dimmed by the brightly blazing talents on display at The Chapel last week-end.
Now in their fifth season, Gateway Opera presents wonderfully comic brief adaptations of Mozart's three collaborations with librettist Lorenzo Da Ponte: Le nozze de Figaro, Don Giovanni, and Cosi fan tutte. These are all operas buffo – comic operas. (Well Don Giovanni is such a blend of comedy, tragedy and old-fashioned melodrama that nobody really knows how to categorize it. Mozart called it buffo; Da Ponte called it a dramma giocoso.)  Anyway, all three operas have tons of laughs. But never before have they sparkled with such frenzied wit as they do in these highly condensed versions. The fresh, hilarious librettos display the sheer comic genius of that marvel, Caetlyn Van Buren.  (And, thank goodness, the pieces are really not limited to 15 minutes; they're more like 20.)
Ms. Van Buren also is stage director for the production and she shines in the role, leading her singers to comic delights. The pace is swift, the blocking deft. And everything is so professionally polished. It's very much at the level of the Monty Python team but with superb operatic voices. 
The stage is full of Gateway veterans and a few newcomers. They all seem to work intuitively well together. There is a strong feeling of enormous fun.
The cast includes:
Cherubino, Dorabella – Erika Cockerham
Barbarina, Zerlina, Despina – Laurel Dantas
Susanna, Donna Elvira – Sara Gottman
Don Ottavio, Ferrando – Anthony Heinemann
Figaro, Leporello, Guglielmo – Jason Mallory
Count Almaviva, Don Giovanni, Don Alfonso – Matt Pentecost
Countess Almaviva, Donna Anna, Fiordiligi – Kate Reimann
Masetto, Commendatore – Shane Signorino
These are all highly trained, splendid voices. They make this an evening not only of bright and wacky comedy, but of serious musical beauty. The acoustics at The Chapel are rather hard, but the crystal-clear diction of everyone in the cast makes that no problem at all.
Fine work is done by music director Robert Valentine, who accompanies at the piano.
Stage manager Jordan Woods joins in the on-stage fun at appropriate moments.
Amy Hopkins provides beautiful costumes, some of which are capable of being changed almost instantly.
Effective lighting (and a lovely performance on trumpet) are by Sarah Luchrs.
Of course one familiar with the plots of Mawwiage of Figaro, Cosi, and Don Giovanni will catch more of the in-jokes of the spoof, but such familiarity is certainly not necessary. As always, Gateway Opera provides a most wonderful introduction to anyone who may be first sampling the delights of opera.
My congratulations to founder and artistic director Kate Riemann, to the gifted Caetlyn Van Buren, and to the entire company.
"15 Minute Mozarts" played at The Chapel on May 11 and 12.