Theatre Reviews
Theatre Reviews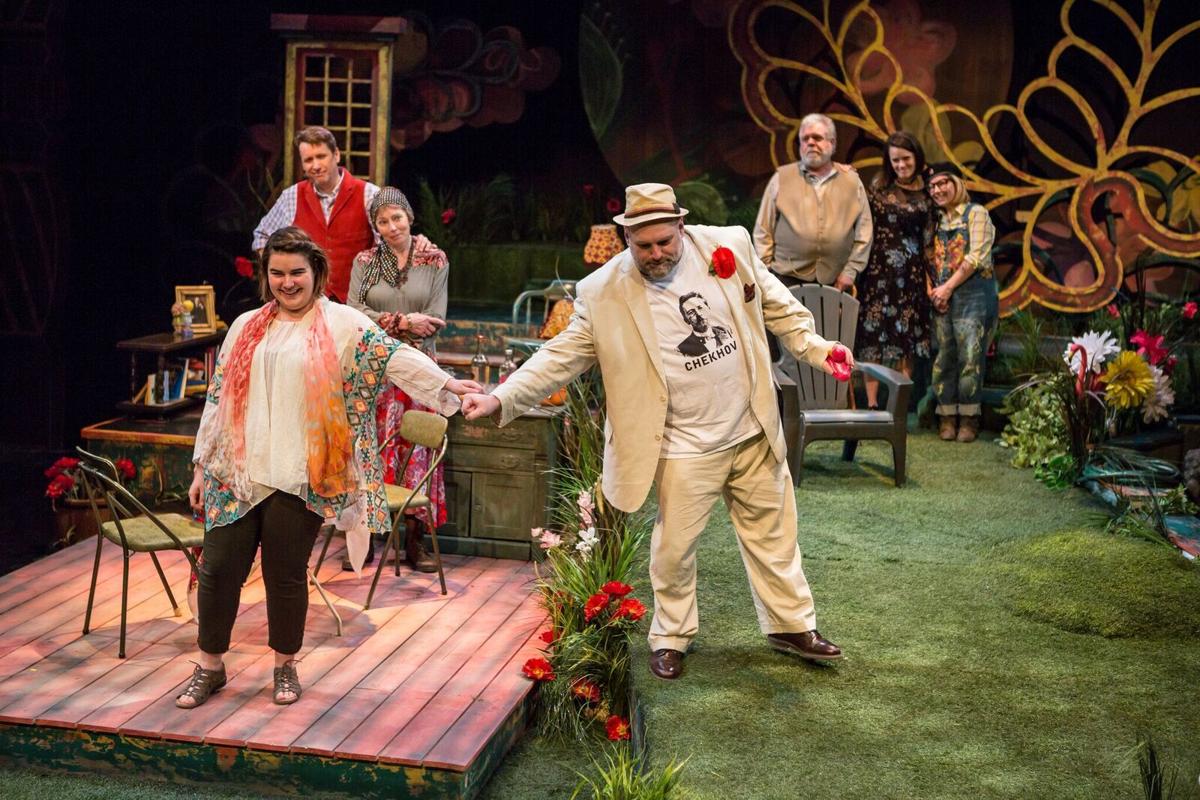 'Life Sucks' gives Chekhov a seriously funny and strangely sunny outlook
By
"Life Sucks," Aaron Posner's comic adaptation of Anton Chekhov's "Uncle Vanya," is a whimsical retelling of the classic play that quite delightfully disrupts the original's quiet desperation and dark humor. Moving at a quick if dramatically melancholic pace and incorporating ideas pulled from pop psychology, the comedy deconstructs and reassembles the original with myriad clever turns and an ending that is genuinely and surprisingly uplifting. That's not to say you won't shed a tear or two, if you're even a little sentimental the closing scene will likely give you "all the feels."
The story's essential characters are present. Vanya, and almost everyone in the show, still pines and moans with love for his brother-in-law's wife; and he's still angry with the professor and disappointed in himself. Sonia still yearns for any scrap of affection from the doctor; and she's still patiently persistent and remarkably tenderhearted.
The Professor still pontificates with excessive grandeur; and his wife still loves her husband and is still beyond bored by the unwelcome advances from others. Dr. Aster still can't settle down; and he's still torn by his many passions, including a desire for attractive dalliances and a nearly insatiable love of nature and alcohol. Instead of Waffles we have Pickles, she has a puppet named Waffles and she still loves her ex; and instead of a nanny and grandmother we get Babs, and she still delivers some of the show's sharpest lines.
Christopher Harris is self-effacing and comically physical as Vanya. The character retains his tendency towards whiny narcissism, but Harris ensures these flaws are mostly charming and eloquent. Katy Keating is a singularly radiant wallflower as Sonia. She deftly keeps you laughing right up to that poignant moment when you find yourself crying, but the tears are cleansing and bittersweet. The actors portray the angst of each character without completely giving in to despair and Posner's frequent interruption of the story with monologues directed to the audience effectively adds to our sympathy and laughter.
Julie Layton finds multiple levels in Ella, the professor's young wife, taking a role that is too often one-note and molding her disaffection and complexities into a likeable, perceptive character. Greg Johnston is pompous and offhandedly dismissive as the Professor, while Jeff Cummings is more thoughtful and less casually cruel as Dr. Aster. He lights up the stage with a barely contained energy and, in a refreshing turn, is less slovenly and more pleasantly drunk than often portrayed. Michelle Hand shines with warmth and kindness as the quirky and loyal Pickles and Jan Meyer makes sure Babs is approachable but honest, the kind of friend and mentor every family needs.
Director Edward Coffield and the talented cast clearly understand the source material and its inherent malaise as well as Posner's witty script. The dissection of motivation, circumstance and character flaws woven throughout the play is engaging and compelling while providing interesting angles from which to view the drama. The interjection of the "three things" construct, a common device in therapy and group motivation, proves insightful even when the third thing is a punch line. In this way, each of the characters is given focus and depth and the story is made more relatable. The show is contemporary but with a timeless sensibility, the characters languishing somewhere between reality and fantasy with troubles and tribulations that are comfortably trivial. Frankly, the modern viewpoint adds touch points that reveal the classic characters and norms of the era in a way that's highly entertaining.
The show is filled with visual nods and gestures that help tie the varying perspectives together. Peter and Margery Spack create a beautiful garden setting for the show, complete with references to Russian architecture, art nouveau and an empty bathtub that may be the perfect spot for solitary contemplation. Michele Friedman Siler captures the style with a modern costume design that mimics the artsy garden and reflects the original play's era while adding colorful accents for each character. Maureen Berry's lighting design and Amanda Werre's sound design add the right touches, though I would prefer sharper less muffled shots during Vanya's confrontation with the Professor.
The story arc of "Life Sucks," continuing through June 10 at the New Jewish Theatre, is familiar. Posner's adaptation includes all the critical scenes -- but the themes are given a new attitude that allows the possibility of hope and a few rays of happiness in its conclusion. Each actor completely inhabits their characters, infusing them with personality and genuine likeability, even in those moments when they are essentially complaining about their privilege. The result is a thoroughly engaging production that is often laugh-out-loud funny and quite sweetly and unexpectedly satisfying.
Related Articles