Theatre Reviews
Theatre Reviews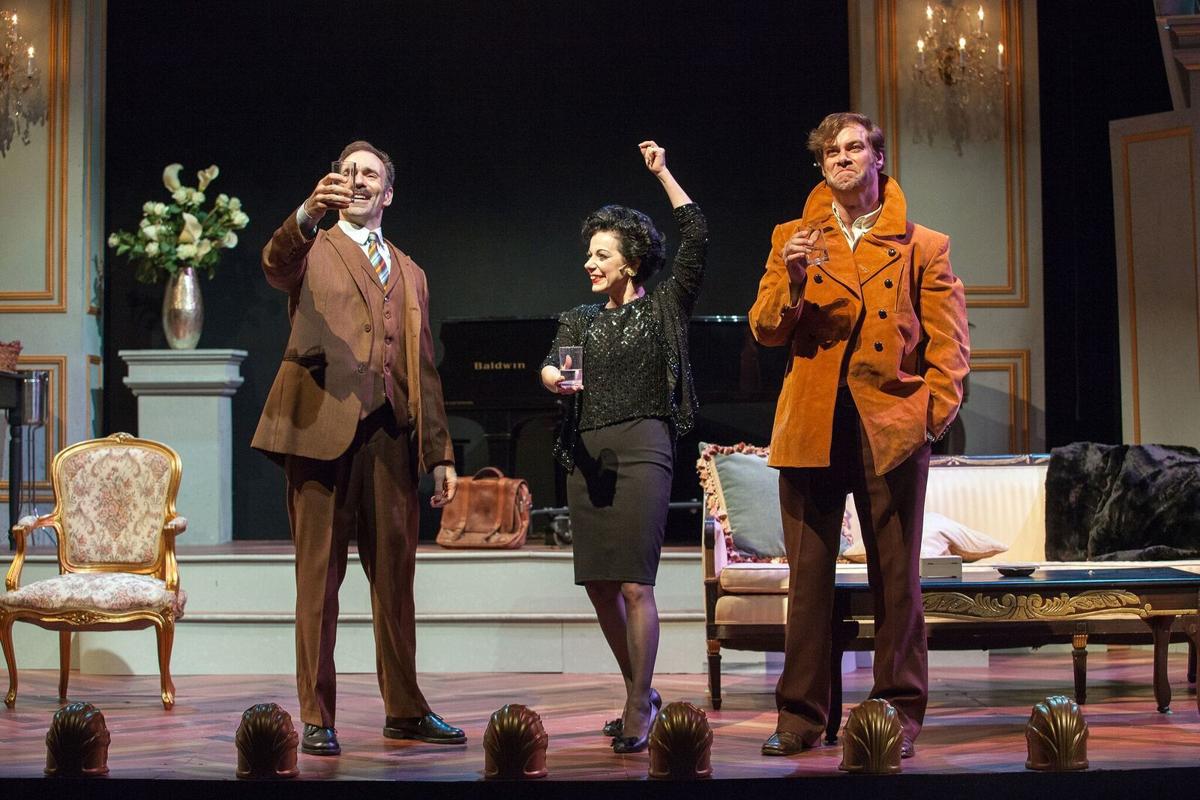 Angela Ingersoll transforms into a legend in the tragically beautiful 'End of the Rainbow'
By
Max and Louie Productions present another stunning show about a unique individual who deeply affected those she touched, even those she continues to influence decades after her death. "End of the Rainbow," by Peter Quilter, is a remarkable play with music that looks at the end of Judy Garland's career, shortly before her untimely overdose at the age of 47.
By the late 1960s, Garland had attempted many comebacks only to be derailed by addiction and her resulting erratic behavior. Clinging desperately to Mickey Deans, her new fiancé and manager, the star books a six-week engagement in London that turns out to be her last.
A singular vocal talent who was exploited by her mother and the studio system from a young age, Garland's story is compelling, moving and, at times, difficult to watch. The production is made all the more effective by the mesmerizing performance of Angela Ingersoll, who captures Garland to near perfection, from her petite stature and crooked teeth to her gestures and vocal inflections.
Ingersoll has clearly studied her subject and her hard work is apparent, as is her considerable personal talent. She effortlessly moves from drunken brawl backstage to the charming, self-deprecating wit of a Judy Garland concert. Her vocal phrasing and rhythms are resonant of Garland's whether she's singing, speaking, or screaming. It is more than just the superficial, however. Through her performance Ingersoll lets us peak into the frightened and neglected soul of the woman behind the star. We see the weight she carries, the depth of her insecurities and addictions, and her ability to still charm us, even when we know her demons are present.
Thomas Conroy is patient, firm, acerbic, and ever loyal in his own odd way as her accompanist and bandleader Anthony Chapman. The character is an amalgamation of several collaborators, but his response to and concern for Garland are authentically derived from real events and persons.  Kyle Hatley brings hope then heartbreak as Garland's then fiancée and manager Mickey Deans. Not always likeable, and tragically no match for Garland's addiction and scheming, Hatley finds multiple levels in the character and moments that are genuinely sympathetic. It's impossible not to root for him to save her and devastating when he to gives in to her demand for pills. Paul Cereghino is easily convincing in various roles and his BBC interviewer is humorously entertaining in a way that lightens the moment while adding to our picture of Garland in her last few months.
"End of the Rainbow," directed with certainty by David New, doesn't sugar coat the star or absolve her from responsibility for her actions and excesses. But it does allow audiences to see inside the fragile yet resilient and complex human being and the price she paid to shine so brightly. Reaching some of the most poignant highs and finding all the gut kicking lows, New and Ingersoll get the details right in an emotionally gripping production.
One of the most heartbreaking scenes shows how Deans finally gives in to Garland's addictions after weeks of trying to help her once again kick the habit. Hatley shows us a man once so certain he could help Garland now turned into another enabler because he can't figure what else to do to get her back on the stage. Conroy's Chapman looks on with disappointment and pity. Perhaps he, too, was beginning to believe that the strapping young man would be "the one" Garland needed to finally kick her most destructive habits for good. The dialogue is sharp, the tensions genuine, and the expression on each actor's face is so telling it brings a tear to your eye.
Though this is a play, Ingersoll's pitch perfect renditions of Garland's music can't be overlooked. Whether she's singing a snippet of a favorite tune as a way of cajoling someone or in front of the full band and on stage in Garland's cabaret show, Ingersoll has the range, inflection and sense of timing that burns with the fire of the original. With Conroy serving as music director and bandleader, she lights up and delivers spectacular interpretations that seem much bigger than the petite actress on the stage. Ingersoll becomes Garland as easy as Garland blossomed from insecure and frightened girl to legendary star the moment the spotlight hit her.
Ingersoll's realistic and thoroughly integrated performance as Garland goes well beyond impersonation, seemingly transforming herself into the icon. In the age of reality TV, her captivating portrayal and the believable supporting characters make it easy for audiences to suspend their disbelief and feel like they just witnessed the tragic and beautiful descent of a phenomenal star. Max and Louie Productions' "End of the Rainbow" continues through July 1st at the Grandel Theatre.
Related Articles