Theatre Reviews
Theatre Reviews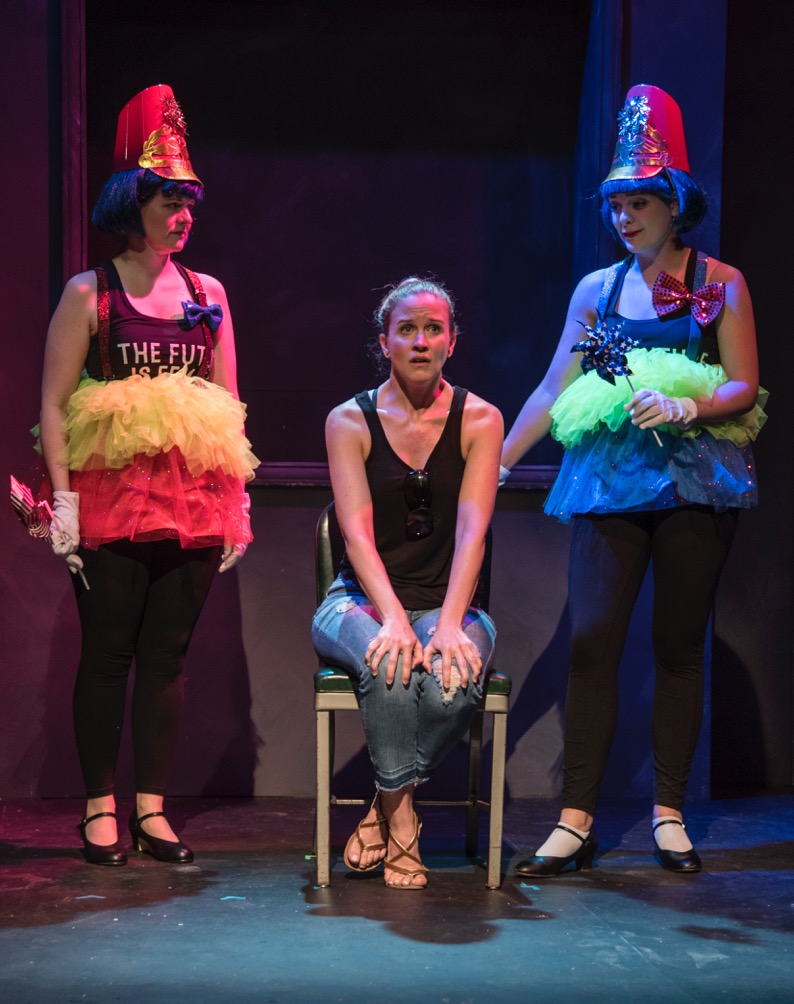 In Performance: The LaBute Festival of New American Plays, part 1, celebrates young writers and original works
By
The fireworks and celebration may be over, but there's still plenty to experience this weekend in St. Louis. Don't let the weird midweek holiday confuse you, whether you're looking for something original and different or you want to revisit the works of the Bard, you're likely to find theater you'll really like on stage this weekend. For something revolutionary, see a show at a theater that's new to you or catch new works by contemporary American playwrights.
The 6th annual LaBute Festival of New American Plays is a celebration of contemporary theater and playwrights that presents seven original one act plays in two parts, with four shows each performance. Set One, running July 6 through July 15, includes playwright LaBute's new work "4th Reich," as well as "Shut Up and Dance," by Barbara Blumenthal-Ehrlich, "Advantage God" by Norman Kline and "Hipster Noir" by James McLindon. Set Two debuts July 20, continuing through July 29, and includes LaBute's play and "Unabridged" by Sean Abley, "The Gettier Problem" by Michael Long and "The Process" by Peter McDonough.
On Saturday, July 7 at 11:00 am, theater patrons can also attend a staged reading of the festival's High School play writing competition finalists, with five plays selected from submissions by St. Louis area students. The selected readings include: "Pigs in Tweed," by Ella Genovese, a senior from Nerinx Hall High; "Prodigal" by Sydney Cimarolli and "This is Piracy" by Erica O'Brien, both Webster Groves High School seniors; "Our Last Kiss" by Nick Kime, a senior at John Burroughs; and "In Utero," by John Burroughs sophomore Ann Zhang. The free reading will be at The Gaslight Theater and reservations are not required but patrons are encouraged to arrive at least 15 minutes before curtain.
The company strives to bring a fresh perspective and new vision to the St. Louis theater scene and the festival is quickly gaining notice for promoting interesting, risk taking work from emerging playwrights. As company founder and producing director William Roth notes, "We are thrilled that Neil will be working with us again. Lending his name and talents to foster new works in the theater is just another example of his generosity and commitment to the arts and we could not be more proud to host this ongoing event."
Submissions of new professional and high school plays are accepted from October through December each year, and the company provides a list of constraints to ensure the shows maintain a focus on plot, character and theme. The Neil LaBute Festival, which year after year provides a stimulating mix of original thought and theater, continues at St. Louis Actors' Studio through July 29.
Union Avenue Opera opens its summer festival season with the popular opera "H.M.S. Pinafore," by Gilbert and Sullivan, performed in English with English subtitles. As the newest ship in Her Majesty's Navy, the H.M.S. Pinafore is receiving a final bit of polish in preparation for the arrival of Admiral Porter. Porter bustles in with many relatives and attendees, for this is no ordinary ship's luncheon – he has his eye on the captain's beautiful daughter and intends to marry her. The daughter has no interest in the Admiral, but she and a lowly sailor harbor secret feelings for each other. Other pairings and rivals enter into the fray, the music is clever and emotionally varied, and the endings, eventually happy. The songs offer plenty of room for virtuosity to shine; and the lyrics can be tricky but are so satisfying when done well. Union Avenue Opera's production continues through July 14.
Fans of the Bard have yet another opportunity to enjoy iambic pentameter and fabulous characters as SIU-Edwardsville Theatre and Dance presents a musical version of William Shakespeare's "A Midsummer's Night's Dream." A king prepares to take a new queen, another king quarrels with his queen, four love-struck teenagers try to find their way out of the woods and a group of laborers tries to mount a play in the delightful, family friendly show.
With concurrent plots, both human and faerie, audiences are treated to a comic romp filled with love potions, mistaken identity and more than just a little theater magic. There are abundant laughs for all ages in the university's fourth annual Summer Shakespeare, continuing through July 15 at the Metcalf Theater on the SIUE campus.
For a pop music treat, try "Jersey Boys," opening Monday, July 9 at the Muny. The fact-based musical treats audiences to the back story behind one of the most successful vocal groups from the early days of rock 'n roll, Frankie Valli and the Four Seasons. The revue, which mixes chart-topping songs with the history of the band and their near life-long friendships, won the Tony Award for best musical in 2006 and features more than two dozen songs made famous by the group, including "Big Girls Don't Cry," "Sherry," "Walk Like a Man," "Oh What a Night," and many more.
Continuing this weekend:
Fourth Wall Down continues its run of the moody and ethereal "The Drowning Girls," at Wild Carrot on Shaw Ave. through July 14. The compelling drama introduces audiences to Bessie, Alice and Margaret, three Edwardian women who were killed in similar fashion with their deaths becoming part of a sensational murder trial. Based on true events, the story is told with haunting reverie and a palpable sense of fear.
And remember, there's always much more art and culture happening in St. Louis than one reviewer can cover, so visit the KDHX Calendars for a complete listing of theater, performance, music, gallery exhibits and much more.
Related Articles