Theatre Reviews
Theatre Reviews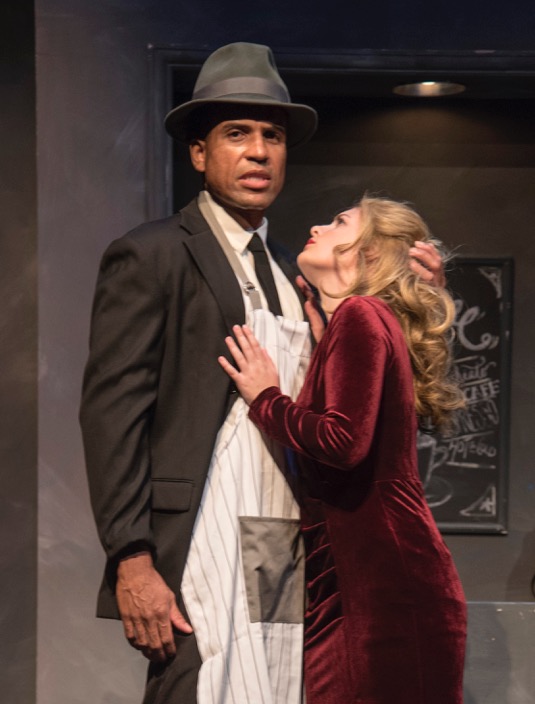 Politics and millennials keep the 'LaBute Festival of New Plays, Set One' compelling
By
Every summer, St. Louis Actors' Studio takes a deep dive into original theater through its new play festival, which this year features seven one act plays presented in two four-play sets. In addition, the festival sponsors a high school play writing competition that provides finalists the opportunity to see their work performed in a staged reading the first Saturday of the festival.
Set One of this year's festival opens with Neil LaBute's "The Fourth Reich," directed by John Pierson and starring Eric Dean White. The show is an extended monologue wherein a white man proceeds to explain to his audience the various reasons he believes Hitler was misunderstood and underappreciated. White performs with obsequious sincerity and an uncomfortable certainty.
From the opening moment it appears that this is an ongoing topic for the speaker, but his purpose is unclear. Is White's character addressing an audience of sympathizers or detractors? Is he perhaps recording a video for his YouTube channel? There's no call to action beyond encouraging his audience to reconsider their assumptions and judgment of the dictator. He closes by reminding us that Hitler was a failed painter, though again why he's telling us is unclear. It's difficult to discern LaBute's point here, which may be intentional. Pierson guides the show well and White deftly displays varying emotions and sales-pitch tactics in his increasingly creepy delivery.
The show is openly provocative, but it lacks a story arc and dramatic tension. The character makes his point up front then continues to expound on it, but the script feels neither cautionary nor particularly unfamiliar in this day and age.
"Shut Up and Dance," by Barbara Blumenthal-Ehrlich and directed by Wendy Greenwood, introduces us to the Rockette who refused to dance for the president's inauguration. Erin Brewer turns in a nice performance as the conflicted dancer and Margeau Steinau is charmingly realistic as her mother, but the two parts of the show are confusingly disjointed and the author runs out of dramatic steam well before she gets to her conclusion.
As the show opens, Brewer's character is driving, perhaps aimlessly, deep in conversation with imaginary members of the dance group, portrayed by Colleen Backer and Carly Rosenbaum. What she's doing and why doesn't become clear until the second scene, one in which she talks to her mother on the phone and then Skype. Greenwood works to provide context through the women – they share similar movements and habits and there's a genuine sense of warmth between Brewer and Steinau – it's too bad the show fizzles out at the end, but Blumenthal-Ehrlich has lots of good material to work with in the short play.
"Advantage God," by Norman Kline, directed by Pierson, is another politically tinged play in two parts. In this one, a comfortable white couple obsessed with tennis tries to stay safe after an attack on their gated community. When the wife, played with a nice out-of-touch sensibility by Colleen Backer, mentions putting things in the hands of God, he surprisingly decides to respond. The next thing you know, the couple is in heaven and about to play the biggest doubles match of their life against God and his partner Death.
The audience never knows exactly who is attacking the community or why, there are hints that it's a socio-economic conflict. It's also hard to place the era of the show. The character's expressions, clothing and style choices, even the picture of John McEnroe hanging on their wall, suggests the 1980s, creating an odd cognitive dissonance that underpins the show. Backer and White, as her husband, provide appropriately privileged shutters and assumptions and their reaction to Reginald Pierre as the voice of god is subtly comic, though the two must converse with the unseen character far longer than any actor should be forced to do. The story premise is interesting but lacks a point (or even a strong point of view).
The final show of Set One, "Hipster Noir," by James McLindon and also directed by Pierson, is a surprisingly funny and well-written diversion that finds coffee shop owner Pierre dealing with a couple of criminal millennials determined to relieve him of his pen. The language is filled with mid-century detective movie lingo, precise descriptions of carefully curated items, and plenty of innuendo leading to a lot of laughs.
Rosenbaum, as the tempting moll turned millennial mastermind, confidently goes toe-to-toe in a battle of witty exchanges with Pierre and the two react with understated aplomb to the overt sexuality in the script. She's all seduction at first, then turns boss lady as she argues with Joshua Parrack, her accomplice in the intricate plot to rob the beleaguered coffee shop owner. Everything in the short play is over-the-top and Pierson keeps the pace brisk, allowing the audience to get the most humor from the thin but linguistically delightful plot.
Overall, Set One of this year's festival is a mixed bag of incomplete but generally promising work, and the company's commitment to producing these shows is quite admirable. But one wonders if St. Louis Actors' Studio is hurting its festival's reach and appeal by remaining closely associated with its eponymous playwright. LaBute is not unfamiliar with controversy. The playwright and director had a well-publicized departure from a prominent off-Broadway theater earlier this year and has a reputation for penning misanthropic and misogynistic work. His current script, which will certainly offend some audience members, doesn't shy away from strong reactions and potential negative backlash.
The 'LaBute New Play Festival, Set One,' continues through July 15, with Set Two running the following two weekends. As usual, the festival is a compelling slate of plays. Though each has flaws the evening is nonetheless interesting and thought provoking, as St. Louis Actors' Studio once again challenges audiences with strong productions of intelligent, generally well-written scripts. Though some plays will undoubtedly leave patrons uncomfortable, I look forward to the festival each year and encourage those interested in seeing theater that's still being formed and refined to attend, it's a fascinating experience.
Related Articles