Theatre Reviews
Theatre Reviews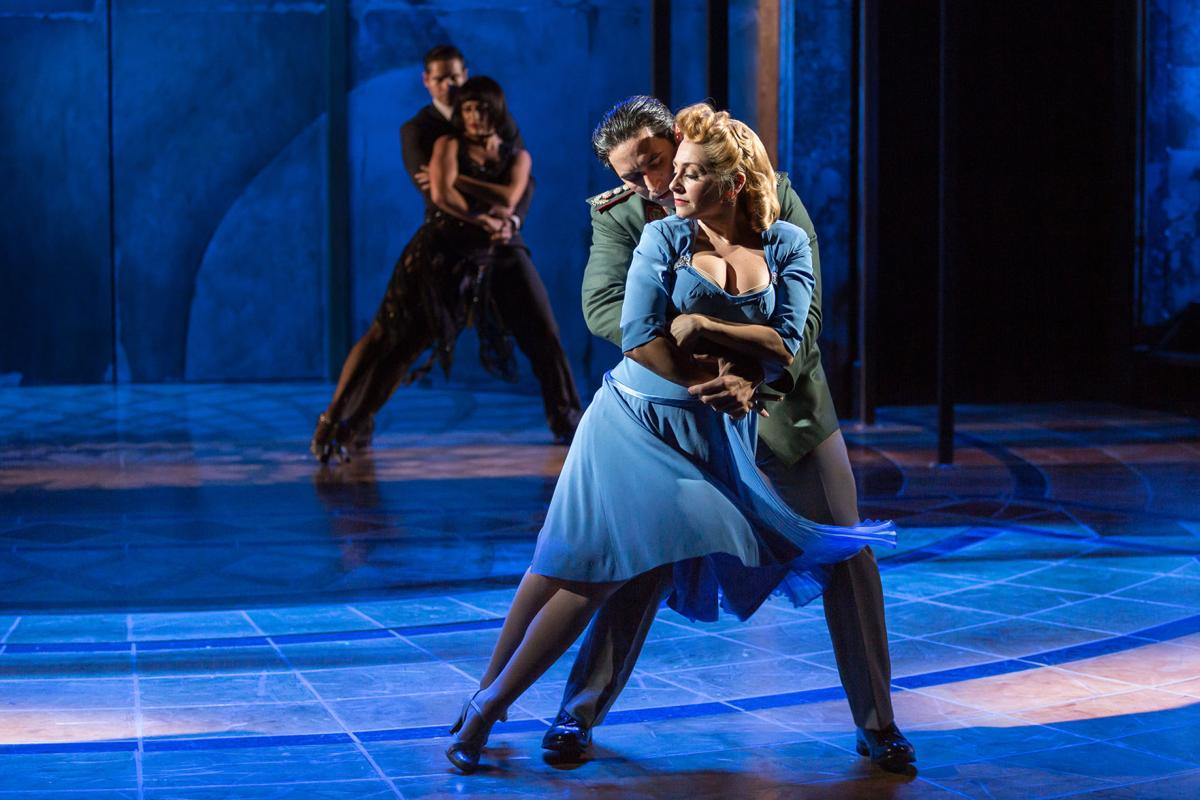 Like the Peróns, The Rep's spectacular 'Evita' is fiery, fascinating and a bit flawed
By
Filled with passion and persuasion, The Repertory Theatre of St. Louis' production of Tim Rice and Andrew Lloyd Webber's "Evita" is a stirring musical retelling of the life of Eva Duarte Perón. A woman born with more ambition than talent, Eva propelled herself onto the international stage when she began an affair, and then married, Colonel Juan Perón while helping him win Argentina's presidential election in 1946, before succumbing to cancer in 1952.
The Perón's rule of Argentina, rooted in a strange mix of populism and military might, was not without controversy and Eva was often a focal point of the criticism. Sharp witted, ruthless and beautiful, Eva clawed her way to the top and held on, basking in the adulation of the people despite constant scrutiny from the military, the wealthy and world leaders. Her excesses were well known, and often worn or flaunted, but her generosity at least appeared equally magnanimous – and the citizens loved her.
Two formidable men counter Eva: her devoted, equally ambitious husband Juan Perón and our narrator and commentator, Che. Though his perspective, costumes, mannerisms and position as Eva's antagonist suggest a young Che Guevara, he is never identified as such and he and Eva do not cross paths in the exposition.
Michelle Aravena brings a fiery, barely contained energy to Eva that captures her steely will and celebrity longings. Though there are a few moments when her voice doesn't quite hold up to the demanding score, she inhabits the character with natural star quality that commands attention. Her Eva is unaffectedly calculating and purposely beguiling to those she wants or wants to use to advance her cause. Though diction was an issue for most of the actors during some quick tempo songs, Aravena shines in "Good Night and Thank You," "I'd Be Good for You" and "High Flying, Adored," and she pairs well with both Sean MacLaughlin's Perón and Pepe Nufrio's Che.
MacLaughlin is surprisingly sympathetic as Perón. His voice is rich and compelling, and he an Aravena make a strikingly attractive couple. He moves with a callous certainty that's neither unkind nor indifferent, merely expedient. There's a sense of polish to MacLaughlin that compliments Aravena's sparkle and their Tango, mirrored by featured dancers, is fiercely sensual. As Che, Nufrio is both charming and captivating, guiding us through the show and effortlessly transitioning from song to narration with a pleasing vocal tone. Nufrio effectively uses his space to connect with the audience, punctuating his remarks with a glance to the seats or well-directed arch of an eyebrow. But he is thoroughly committed to the story on the stage, particularly its framing, even these shifts are seamless and convincing.
The Rep's powerful production expertly captures the energy and excitement of revolution, the sneering, snide commentary of the elite and the fiery, passionate personas of the Peróns. Shea Gomes, as the mistress, and Nicolas Davila, as Magaldi, catch the eye in well-turned supporting roles and Keith Hines, Ben Chavez and Samantha Gershman, as well as St. Louisans Carmen Garcia, Julie Hanson, Ben Nordstrom, April Strelinger and Webster Conservatory student Esmeralda Garza, are strong in the ensemble.
Luke Cantarella gives the actors and audience a beautifully patina'd sense of 1940's glamour and elegance, with an oversized portrait of Eva Perón as backdrop to a long balcony in scrolled and gilded wood. The scene is perfectly complemented by Alejo Vietti's costumes, which feature just the right amount of ornamentation. Gustavo Zajac's distinct choreography adds texture and drama to the story. Zajac's tangos and other Argentinean and Latin influenced numbers are mesmerizing and complemented by a strong band, under the direction of Charlie Alterman.
Director Rob Ruggiero keeps the show moving at a consistently high speed. The energy required to sustain the difficult melodies and dances at such a quick pace leads to the one consistent flaw in the thoroughly entertaining show, continuing at The Rep through September 30. This pace elevates the dramatic tension, but may also be the source of the shows diction problems, which are the only drawbacks to the visually and theatrically stunning production.
Related Articles