Theatre Reviews
Theatre Reviews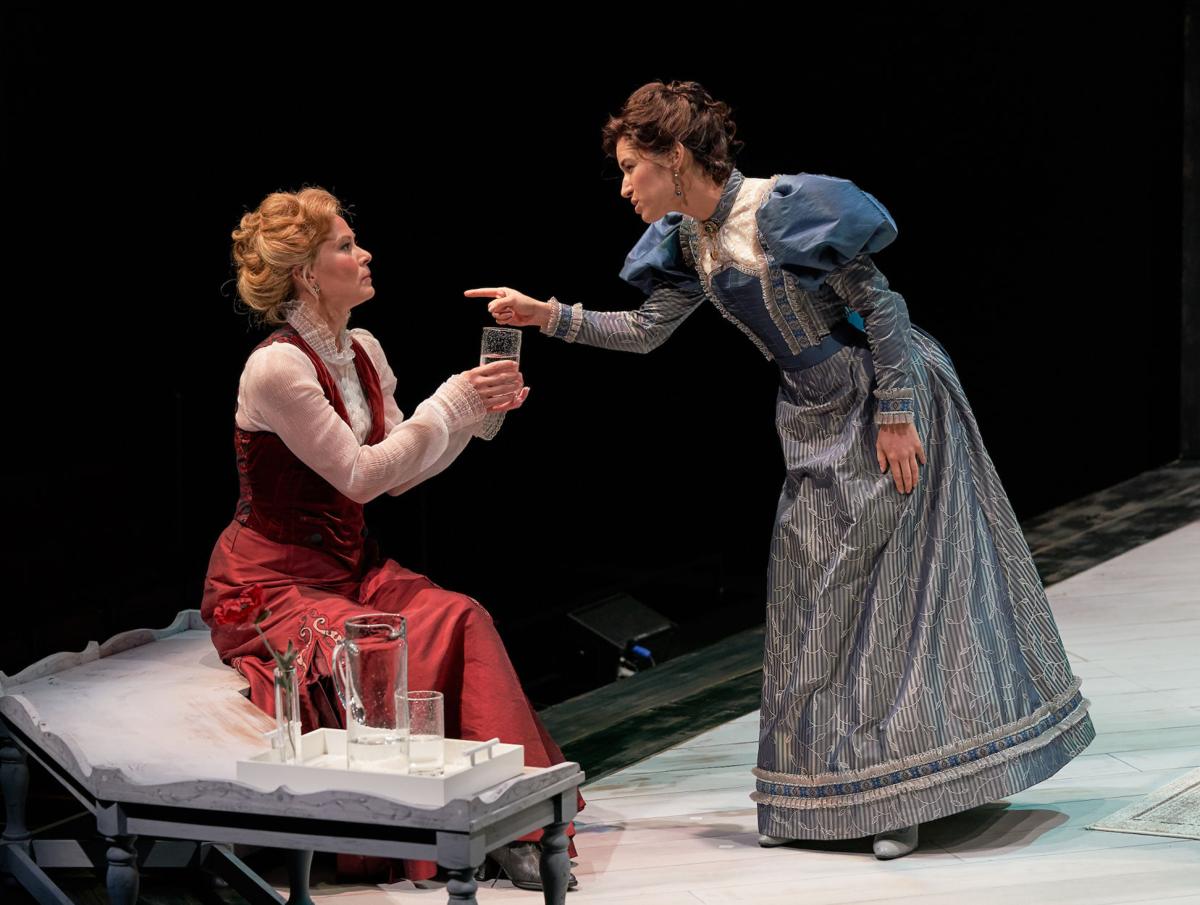 'A Doll's House, part 2' brings a fiercely independent Nora home for more drama
By
Lucas Hnath's cleverly constructed follow up to Ibsen's drama is set fifteen years after Nora has left Torvald, and opens with the now independent woman's return to the family household. In many ways, the characters pick up right where they left off, though each one is profoundly changed by the past. The Repertory Theatre St. Louis's production of "A Doll's House, part 2" bristles with tension as a forcefully feminist but still socially climbing Nora comes to settle the matter of her divorce from Torvald once and for all. Timothy Near's sharply focused direction and a few interesting little twists here and there ensure the play completely entertains.
The loyal Anne Marie, who has raised Nora's children in her absence, seems genuinely happy to see Nora, prattling on and on with ease and familiarity as if the Mrs. had only stepped out for the afternoon. With her usual energy and bright tone, Nora quickly makes it clear that her return is purposeful and, hopefully, brief. She's here to see Torvald about their divorce and expresses a distinct lack of desire to see her children, though she won't get away quite that easy.
Hnath's smartly constructed story gives us a Nora with no regrets. A successful, if somewhat scandalous, author, she thrives outside of the confines of marriage and motherhood. Her sharp intellect and appetite for experience convince her she's clearly meant for the life she's created, though she is momentarily taken aback when Torvald unexpectedly walks in. The first surprise, for Nora and the audience, may be just how obvious it is that he still stirs passion in her heart. Her feelings towards daughter Emmy are less clearly defined, adding an interesting dynamic that artfully and subtly introduces the idea of nurture versus nature.
Emmy and Nora were both raised with Anne Marie as a constant presence and guiding force in their life, and the two women are actually quite alike. Clearly intelligent and firmly independent, their exchange is electric, affecting and naturally strained. Though she is outwardly acquiescent, the two strong women prove Anne Marie is as shrewd and ambitious as anyone in the household; she merely uses other players to do her work. Add in a Torvald who is wiser, more personable and self aware, and the desire to listen in becomes immediately more compelling.
Caralyn Kozlowski, Andrea Abello and Tina Johnson as Nora, Emmy and Anne Marie, respectively, fill the air with righteous anger and fervent desire that's barely contained under their properly buttoned up period attire. Kozlowski is boundless energy, equally cheerful, upbeat and proud as she revels in Nora's self-made success. More petulant, Abello is equally quick-witted and cunning, and though they lack a traditional mother-daughter relationship, the two are immediately drawn to each other, albeit in a polite but adversarial fashion. Michael James Reed turns in some of his best work with a deftly perceptive and open portrayal of Torvald, brushing off the meek, almost obsequiously formal nature of his younger years and revealing surprising virility. Finally, Johnson is offhandedly talkative and insidiously influential as Anne Marie. There's a wonderfully present but invisible pull to the threads her character weaves together in casually pleasant but never as innocuous as it seems banter.
Scenic designer Scott C. Neale creates a beautiful shell of a house, with pieces of unused and neglected furniture stacked in a corner and pulled out, with graceful and precise choreography, as needed for the coming scene. By the end of the show, there's a semblance of the elegant living room we remember from Ibsen's original script, and a subtle suggestion of life returning to the formidable homestead. Ann G. Wrightson and Rusty Randall compliment the play with lighting and sound design, and Victoria Livingston-Hall captures personality, socio-economic position and status in flattering costumes.
Near directs the show with confidence – Kozlowski strides across the stage with fire and conviction. Abello compels her to turn and listen, Reed entices her to linger, and Johnson deftly moves the players around in a complex chess match. The smartly paced show explores the reality of early feminism while celebrating the spirit and effervescence of Nora's character. She bubbles with life and curiosity, and has no interest in returning to a domestic existence, but she's not without a conscience. Moments of guilt flicker across Kozlowski's face, revealing hidden doubt and human frailty, and there's a clear and deep affection, perhaps even lingering passion, between Nora and Torvald that is surprisingly present and authentic.
"A Dolls House, part 2," continuing at The Rep through November 4, is an unassuming, well-crafted play charged with interest and unexpected excitement. The characters are interesting and sympathetic, with choices, reasons and reactions that are not always tidy but still satisfying.  The result is an engaging story and a welcome sequel that you may not realize you want.
Related Articles