Theatre Reviews
Theatre Reviews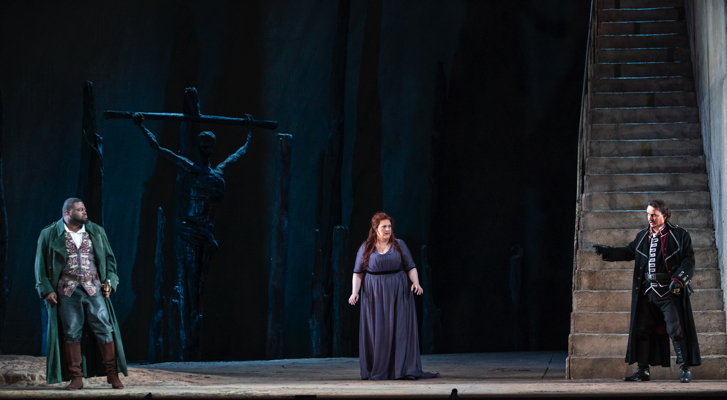 Opera Review: Lyric Opera embraces the darkness in 'Il Trovatore'
By Chuck Lavazzi
The story line may not make much sense and the principal male characters are studies in testosterone poisoning and bad judgment, but nevertheless Verdi's 1853 tragedy "Il Trovatore" ("The Troubadour") has proved to be one of the most enduring hits produced during his "Middle Period" in the 1850s. I have some complaints about the staging of Lyric Opera of Chicago's production, which I saw in its final week, but overall I found it very compelling.
Jamie Barton
Photo by Lyric Opera of Chicago
"Il Trovatore" is classic romantic Italian opera, with doomed lovers, a witch's curse, babies switched at birth, jealousy, violence, and death--everything you might want at this festive time of year. You can find a complete plot synopsis on Wikipedia, but let's just say that if "Il Trovatore" has a message, it might be "don't mess with the Gypsies."
According to opera and theatre critic Charles Osborne the great Enrico Caruso is said to have once observed that all it takes to perform "Il Trovatore" is the four greatest singers in the world. Happily, all of the singers in Lyric's cast are vocal powerhouses as well as respectable actors--a good thing, given the emotional hell to which librettist Salvadore Cammarano subjects them.
Tenor Russell Thomas, who sang so beautifully in Lyric's "Norma" in 2016, scores again as Manrico, the titular troubadour who has won the heart of Leonora and, as a result, the enmity of the brutal Count di Luna. Soprano Tamara Wilson makes an excellent Lyric debut as Leonora, easily launching notes into the stratosphere and tugging at the heartstrings, most notably in the agonizing Act IV.
L-R: Artur Rucinski, Russell Thomas
Photo by Lyric Opera of Chicago
In his Lyric debut, baritone Artur Rucinski is the arrogant and lustful Count di Luna. His powerful voice and committed acting combine to produce a gripping portrayal of a man whose hormones have entirely destroyed any principles he might have once had.
The role of Azucena, Manrico's retribution-obsessed mother, is one that invites some scenery chewing, and mezzo Jamie Barton gives it her all without ever tipping over into parody. I have seen her do admirable work previously, not only at Lyric at also at Opera Theatre of St. Louis and Glimmerglass, and her superbly sung performance here does not disappoint. Bass Roberto Tagliavini is a strong Fernando, making the expository "Di due figli vivea padre beato" at the top of Act I a riveting story.
The "Anvil chorus"
Photo by Lyric Opera of Chicago
The chorus is very important for Verdi, and chorus master Michael Black's singers are consistently powerful, precise, and varied in their performances, filling the stage with interesting individual characters. Conductor Marco Armiliato and the orchestra deliver a virtuoso reading of the dramatic score. And, yes, they deliver an impressive "Anvil chorus," complete with the requisite hardware.
Originally presented at Lyric in the 2006-2007 season, when it was directed by Sir David McVicar (Roy Rallo is the revival director), this "Trovatore" is, according to Lyric's press release, "set in the smoldering atmosphere of darkly mysterious 15th-century Spain, inspired by the evocative paintings of the Spanish artist [Francisco] Goya." Both Charles Edwards's relentlessly bleak set, with its massive, ruined walls, and Chris Maravich's generally dim lighting certainly add to that atmosphere. They create a pervasive sense of doom, but they also can make it hard to see the faces of the performers. The sheer size of the set also means that the turntable used for scene changes moves rather slowly, which can be awkward at times.
Roberto Tagliavini
Photo by Lyric Opera of Chicago
The violence implied in the libretto is also demonstrated a bit too graphically at times on stage, as in Act III when de Luna's men physically abuse the captured Azucena before dragging her off.
Still, this is a worthwhile staging of Verdi's drama, and if you're a fan of the opera you certainly will not be disappointed. Sung in Italian with English supertitles, it runs through December 9th at Lyric Opera of Chicago; visit their web site for information on their season, which runs through May 2019.
Related Articles