Theatre Reviews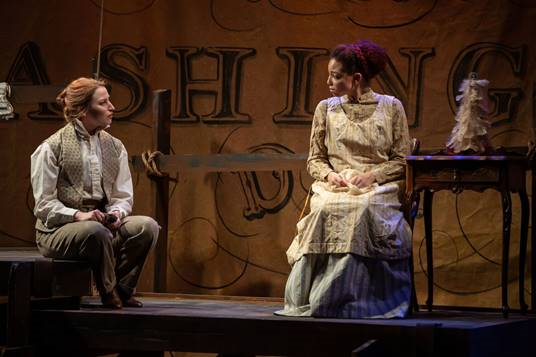 'District Merchants' gives Shakespeare a pointed and socially perceptive update
Written by

Tina Farmer
The works of William Shakespeare have endured in part because the themes presented are so genuinely reflective of human nature – our highs and lows – that the plays can be easily adapted or reinterpreted for new eras and audiences. The New Jewish Theatre's production of Aaron Posner's sparkling "District Merchants," an adaptation of "The Merchant of Venice," is a sterling example of Shakespearean reinvention and a spectacularly entertaining show.
Set in Reconstruction era Washington DC, the story introduces us to Shylock, a Jewish loan shark, and Antoine, a free black man, successful merchant and leading voice in the district's emerging black community. The two have a long history. Shylock has provided funds to African Americans eager to achieve the American Dream after their emancipation. Antoine has directed other businessmen and associates to patronize the lender and the two enjoy a friendly, if superficial, acquaintance.
That is until Antoine defends the brash Benjamin Bassanio against Shylock even as Benjamin's friend Finn flirts with Shylock's beloved and overprotected daughter Jessica. Still, in an effort to assist Benjamin in his pursuit of the wealthy and learned Portia, Antoine takes a significant loan from Shylock, promising to pay it off in three months. A turn in the economy causes Antoine to default and Shylock demands his pound of flesh, the agreed upon collateral for the funds. Portia and Benjamin learn of Antoine's peril and try to intercede, offering the moneylender triple his original loan as repayment. But Shylock – bitter and angry after the closely guarded Jessica, desperate to escape her father's oppression, runs away with Finn – refuses the offer and demands Antoine honor the contract.
The plot twists in the story are well known to fans of Shakespeare, but Posner's artful script adds new elements that expand the story. Benjamin is a light skinned black man able to pass as white, Portia disguises herself as a man to attend law classes at Harvard. Antoine promotes black businessmen and their endeavors to line his own pockets and one wonders if the hardscrabble Finn is truly enamored with Jessica or just after her money. The new script emphasizes the original's message of mercy and justice, augmenting the theme with the difficult pursuit of equal opportunity.
Jacqueline Thompson directs the show with a clear vision and driving purpose, creating a snowball effect of tension and conflict that keeps the audience completely engrossed. Gary Wayne Barker and J. Samuel Davis, as Shylock and Antoine, respectively, anchor the show, delivering captivating performances that demand attention. The men reveal complex characters filled with righteous indignation, ambition and a stubborn pride.
The two actors provide much of the exposition, speaking directly to the audience and framing the story in a way that connects the struggles of the Reconstruction to contemporary America. Barker reveals a wide range of emotions as Shylock and his eventual breakdown is a wrenching display of pain and loss, regret and anger. Davis demonstrates considerable restraint while saying much through expression and a slight change in tone. All too aware of the scrutiny of both his skin color and position in the community, he refuses the opportunity to repay his debt through servitude in a powerful speech that resonates with dignity and determination.
Courtney Bailey Parker and Rob White have strong chemistry as Portia and Benjamin, making it easy to cheer for the couple to overcome their obstacles and commit to each other. The period is a crucial element of the show as Parker deftly navigates her character's incongruities. The way she resolves Jessica's conflict between her intellectual, progressive exterior, her more conservative and unconsciously racist behavior and her obvious attraction to Benjamin is fascinating to watch. White's Benjamin has his own misgivings, particularly when Portia initially refuses him after he tells her he's black, but his reasoning is logically sound and his charm persuasively persistent.
Alicen Moser and Paul Edwards are close to adorable as Jessica and Finn. Though neither one is initially certain that the other is truly the one for them, their relationship blossoms in several surprisingly touching scenes. Rae Davis and Karl Hawkins round out the excellent cast as the clever, outspoken Nessa and the eager and loyal Lancelot. There's not a beat missed as the ensemble delves into a world where women and people of color are just beginning to be recognized as individuals instead of property, but still must fight for every opportunity.
"District Merchants," continuing through February 10 at the New Jewish Theatre, adeptly transforms a Shakespearean classic into a new and equally compelling play that rings with truth while providing high quality entertainment. Issues of acceptance and prejudice create weighty sub-context that resonates, underscoring the fact there is much work to be done in the fight for equality, justice and opportunity for all Americans. Posner's script provides pointed commentary but never jumps on its soapbox, and outstanding performances and clear direction by Thompson ensure the compelling show hits every mark.
Related Articles