Theatre Reviews
Theatre Reviews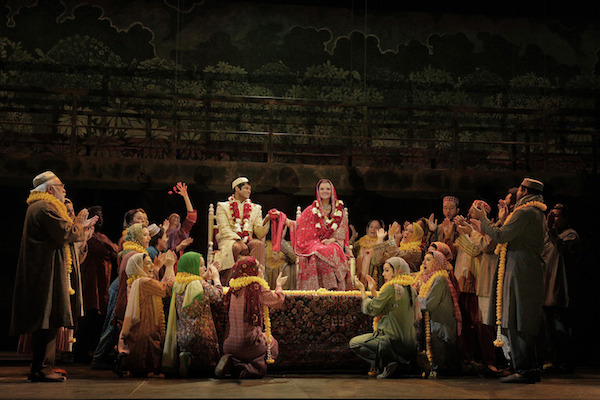 A powerful world premiere of 'Shalimar the Clown' at the Opera Theatre, through June 25
By
A very major event occurred last night at Opera Theatre of St. Louis--the world premiere of Shalimar the Clown, an opera based on the novel by Salman Rushdie. This is a commissioned work, with music by Jack Perla and libretto by Rajiv Joseph.
The setting is primarily in Pachigam, a small village in the Vale of Kashmir (with a prologue and epilogue in California). The Vale of Kashmir is a place of legendary beauty--a lush valley replete with gardens, orchards, lakes and saffron fields, surrounded by the grandest, most beautiful mountains in the world. It nestles between India, Pakistan and China. Your grandparents would recall the sweet old parlor ballad penned in 1902, "Pale Hands I Loved Beside the Shalimar," a song that conveyed the idyllic romance with which the world regarded Kashmir. ("Shalimar" is the name of a famed Mughal garden in Srinigar.) For centuries Kashmir was a peaceful land, where Hindus, Muslims and others lived in harmony--or what the natives call kashmiriyat. But since the partition of India in 1947 Kashmir has become a war-torn province filled with religious strife.
Our story deals with Shalimar, a young tight-rope walker in a folk theater troupe. He falls in love with Boonyi, a beautiful dancer. After they are discovered making love their fathers command that they be married to restore their honor. Others protest, because Shalimar is a Muslim and Boonyi a Hindu, but Shalimar's father, a respected elder, says that such a wedding is acceptable in the spirit of kashmiriyat.
After the wedding, the American ambassador, Max Ophuls, visits and sees the troupe perform. He's enchanted by Boonyi and invites her to dance in New Delhi. She is eager to escape her backward village. An affair blossoms between Ophuls and Boonyi; a baby is born. The rest of the story follows Shalimar and his thirst for vengeance against Boonyi, against Ophuls, and even against the daughter born of that illicit liaison. Shalimar is drawn into a radical Islamist band of rebels, where he becomes a skilled assassin. This man, who's name means, in Sanskrit, "abode of love," has become the abode of bitter, bloody vengeance. He pursues it for twenty-five years.
Composer Jack Perla is a jazz musician as well as a composer of opera, chamber and symphonic music. His beautifully orchestrated score for Shalimar reflects all of these genres as well, of course, as a strong thread of northern Indian music. The raga, that complex, cyclic idiom, is present throughout Shalimar. The orchestra is augmented by Arjun Verma on sitar and Javad Butah on tabla; they do beautiful work. A synthesizer adds to the Indian flavor with electronic versions of the santoor (a kind of hammer dulcimer), the tanpura (a larger drone cousin of the sitar), and the harmonium. All of this adds lovely flavor and richness to the score. In the final moment as Shalimar and the illegitimate daughter, India, stand armed and poised to kill each other these instruments engage in a supremely intense raga that supports the conflict beautifully.
There is great variety in the score. There is pastoral music in the village, reflecting the interplay of different rhythms of nature; there is frenzied traffic music in L.A; there is a waltz, the leitmotif of Ophuls, hinting of his origins. (He sings--perhaps six times--that he was born in Strasbourg.) There is lovely, sensual music for Boonyi's dances. There is much that is lyrical. At times there is a busy, troubled undercurrent. There are fine arias and duets and there are gorgeous numbers for the chorus. So it's an excellent score. My one quibble is that, overall, I would have liked an even greater presence of an Indian musical sensibility. The libretto is generally good, though some of the exposition (as when Ophuls introduces himself) is quite blunt and heavy-handed.
All of the singers master this unusual and surely difficult score, but tenor Sean Panikkar stands out above them all. This is truly his show. Panikkar, who did such fine work last season as Pamino in The Magic Flute, here is even more astonishing. His pure, clear voice displays truly remarkable power. It shines like a beacon above the rest even when the entire cast are singing their hearts out. And his diction is superb. This is a longish opera and Shalimar is a tour de force role; Panikkar triumphs in it!
Soprano Andriana Chuchman sings both the dancer, Boonyi, and Boonyi's adult daughter, India. She does beautiful work in both. Moreover, she is a truly fine dancer, mastering the Indian style with such grace. In those distinctive crisp, articulate movements of arms, legs, head and hands she seems utterly authentic.
Baritone Gregory Dahl gives a powerful performance as Ambassador Ophuls. Katherine Goeldner is very styrong as the ambassador's embittered wife. Others worthy of special praise include Thomas Hammons as Shalimar's father, Geoffrey Agpalo as a teacher who exposes the shame of the young lovers, Aubrey Allicock as the "Iron Mullah" who brings terror to Kashmir, Justin Austin as Boonyi's father, and Jenni Bank as Shalimar's mother.
Chorus Master Robert Ainsley gets beautiful work from his large chorus. Some of the chorus numbers are wonderfully powerful and show impressive control of dynamics. Conductor Jayce Ogren handles the orchestra with grace and subtlety. Costumes, by James Schuette, are beautifully appropriate to the period and locale. The villagers are in nicely balanced muted tones, the circus costumes colorful, the "Iron Mullah" and his men fiercely grim and sooty.
Choreography is by Sean Curran. The traditional Indian dancing is lovely and sensuous, but there is an odd little war ballet in one scene depicting Indian soldiers assaulting a group of women in a curiously gymnastically stylized rape that is almost comic. It just doesn't work.
Allen Moyer, the scenic designer, gives us a vast background of stylized orchards--hundreds of trees, millions of leaves and fronds. Smack across the middle, dividing the image horizontally, is a kind of metal bridge or platform. It's black and industrial-looking and it chops that idyllic vision off at the knees, as it were. The large area under the bridge is often essentially unlit, so sometimes the entire chorus, while standing there, is literally singing in the dark. Sometimes at scene changes a large panel descends to cover the top or bottom half of our picture. It's like a Mondrian painting, but with rectangles of stainless steel enclosing projection screens where we see L.A. traffic or a city-scape or a large jet flying right toward us.
I found Christopher Akerlind's lighting a bit troubling at times. In several scenes we see normal bright light at the front of the stage, with strong footlights giving a theatrical look to faces. Then further upstage is an area lit with a strange rosy-orange glow, and then above all that is the rich blue-green of the orchard background. It's quite unnatural and I'm not sure what the intent was. Also there is frequent use of starkly-delineated square spot-lights. This, of course can be quite dramatic, but when such a vivid sharp square (with an actor's sharp silhouette in it) appears against that verdant orchard it effectively cuts a destructive hole into it.
Stage director James Robinson handles this large cast well, though the chorus usually enters as just a crowd coming on, rather than as real individuals. And a few times, near the end of a scene, I was distracted by preparations for the next scene--either on the turntable or in that dark area under the bridge.
So there were, for me, some awkwardnesses in the technical aspects of the show. But the musical and vocal virtues of Shalimar the Clown are enough to make it deserve the thunderous applause with which the curtain call was met.
Shalimar continues at Opera Theatre of St. Louis through June 25.
Related Articles