Theatre Reviews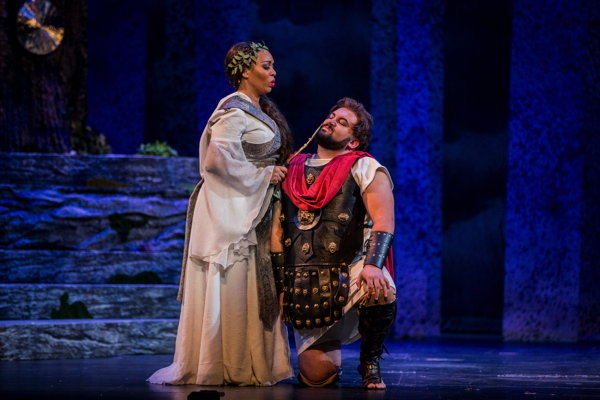 Winter Opera's 'Norma' scales the heights
Written by

Chuck Lavazzi
The great soprano Renata Scotto once referred to the title role of Bellini's 1831 tragedy "Norma" as "the Everest of opera...You want to climb the mountain. You know you are supposed to climb the mountain. But it is so difficult." Soprano Christine Lyons is singing the role at Winter Opera this weekend, and if she doesn't quite scale the part's highest peaks, she turns in a mesmerizing performance nevertheless.
Christine Lyons
Photo: Convergence Media
There are good reasons why the role of Norma, the Druid high priestess who loves neither wisely nor well, is widely regarded as one of the most difficult in the repertoire. It's a big part, and not just because of its length; its wide emotional and musical range requires a daunting combination of vocal flexibility, physical stamina, solid acting ability, and a dynamic stage presence. Ms. Lyons certainly has that presence, and her emotional commitment to the role makes her performance compelling.
Her voice has the range and flexibility that that part demands as well. When I heard her at final dress rehearsal on Wednesday, though, there was also a curiously muffled quality to her sound that reduced its power. Practically speaking, that meant that while her "Casta diva" was lovely, she tended to recede into the background a bit in duets and trios. Still, her Norma is theatrically on point. And that's the bottom line.
Tenor Peter Drackley, who was a charmingly winsome Nemorino in Winter Opera's "L'elisir d'Amore" last year, is less credible as the faithless Roman general Pollione, whose attempt to love and leave Norma ends in disaster for both of them. He still has the solid and wide-ranging voice, but he hardly seems to be acting the part at all. Pollione is a pretty unpleasant character on the page. An actor needs to give him a bit of depth on the stage to make him at all interesting.
Benedetta Orsi and Peter Drackley
Photo: Convergence Media
Mezzo-soprano Benedetta Orsi, who gave us such a memorable "Carmen" at Winter Opera in 2017, impresses once again as the young priestess Adalgisa, whom Pollione tries to spirit away to Rome. The role is smaller than Norma but still very demanding, and Ms. Orsi's dark, powerful voice handles it easily. Some of the best moments in this production happen in her duets with Ms. Lyons, as if the two were drawing strength from each other.
Bass-baritone Neil Nelson, who has displayed such a wide vocal and dramatic range locally in roles as diverse as di Luna in "Il Trovatore" (Winter Opera) and Hagen in "Götterdämmerung" (Union Avenue Opera), is a commanding presence as Norma's father, the Druid Chief Oroveso. His "Ite sul colle, o Druidi" with the male chorus gets the first act off to a rousing start. Soprano Grace Fisher and tenor Thomas Taylor provide solid performances in the secondary roles of Norma's friend Clotilde and Pollione's companion Flavio.
Neil Nelson and the company
Photo: Convergence Media
Conductor Darwin Aquino delivers another robust performance from the small but mighty Winter Opera orchestra. I don't know whether it's the Viragh Center acoustics, the quality of the players, or a bit of both, but the band at Winter Opera always seems to sound larger than its small size suggests.
Stage Director John Truitt paints some appealing stage pictures, but seems too fond of the static, "plant your feet and sing" approach that one sometimes sees in bel canto opera productions. And speaking of stage pictures, Scott Loebl's stark sets and JC Krajicek's striking costumes bring the drama to vivid visual life. Norma's flowing white gown is especially impressive.
Performances of Winter Opera's "Norma" are Friday at 7:30 pm and Sunday at 3 pm, March 9 and 11, at the Viragh Center on the Chaminade campus in Creve Coeur. The opera is sung in Italian with English supertitles and runs just short of three hours, including one intermission.
Related Articles