Theatre Reviews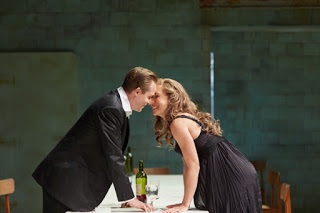 'The Coronation of Poppea' is a dark and sensual tale of ambition and adultery
Written by

Tina Farmer
Though tabloid journalism and political pundits may try to convince us that the world is losing its grasp on morality, the truth is we humans have always been a complicated and often conflicted lot. The third show in Opera Theatre St. Louis' 2019 season, Claudio Monteverdi's "The Coronation of Poppea" reminds us – in no uncertain terms – that these much-lamented moral failings are anything but news. Strong performances and a striking set capture the audience's attention, ensuring it is near impossible not to get completely caught up in the story as "the other woman" ascends to the throne.
Ostensibly a story of love conquering all, it's the unbridled ambition, infidelity and lust for power lurking just beneath the romantic premise that really draws us into the story. The compelling opera, which many sight as an important touchstone in the development of the art form, is always entertaining, if at times disturbing. The company's production, with stage direction by Tim Albery and musical direction by conductor Nicholas Kok, is a moody, evocative work that capably explores both context and sub-context.
The show begins with an intriguing prologue as the gods Fortuna, Virtu and Amore debate which desire is most powerful in humans. Though each god offers rewards to sway an individual's choice, the gods do not control human behavior. Just like the audience, the gods must watch the actors to discover the answer. The framing works quite well and the three eagerly watch the action unfold with only occasional attempts to influence the outcome.
Nerone, the emperor of Rome (commonly known as Nero to western audiences), has tired of his wife Ottavia and taken up with the seductively persuasive Poppea. Since Poppea is also a lady of the court, keeping her as his mistress is not an option so Nerone approaches Seneca, his trusted advisor, to discuss his desire to divorce and replace Ottavia. Seneca advises against such a rash move, angering both Nerone, who is accustomed to getting his way, and Poppea, who clearly wants to be empress. Though she seems to have tired of Nerone as much as he of her, Ottavia sees the situation through the lens of politics and public perception. She mistakenly believes that while Nerone may have his flirtations he would never risk losing popularity in such a way. Her fatal flay is that she apparently forgets that her husband is swept up in passion, gleefully vengeful and decidedly not concerned about appearances.
Brenton Ryan plays the sneering, contempt-laden Nerone to perfection, somehow imbuing the character with sympathetic graces even as he gleefully doles out punishment and cruelty. Sarah Mesko's Ottavia is proper, reserved, and perhaps too focused on maintaining appearances, and keeping her crown, for her own good. In contrast, Emily Fons is all pleasure and sensuality as Poppea, though she hides a sharp edge of manipulatively delicious ambition beneath her flowing skirts. The three principles bring considerable vocal strength and fluidity to their parts, ensuring the audience remains engaged by every twist and turn in the darkly romantic story.
One of the more interesting aspects of "The Coronation of Poppea" is how stylistically different it is than later operas. There are no long arias or sustained notes, in fact much of the story is told through recitative runs teeming with staccato like diction and precision. It can get a bit tiring for untrained ears, but the juicy story of lust and deceit grabs and holds you interest even as it toys with your emotion. Additionally, the leading actors are in fine voice in the ever shifting opera as is most of the ensemble, though there are a few shrill voices among the supporting women, particularly Fortuna, and several of the men's voices seem to be swallowed by the impressive set, designed by Hannah Clark. Luckily, these moments are fleeting and the near constant action and clearly sung dialogue move the story forward at a relentless pace.
Additionally the opera lacks a traditional "big moment," though, in Opera Theatre's interpretation of the story's conclusion offers a few surprises. After Nerone reveals his true character in a murderous spree accompanied by a laugh that suggests and underlying sadism, Poppea seems to reassess her desire for the crown. Naturally, it's too late for her to change her mind, but her fear and newfound trepidation are clearly visible.
With Nerone choosing Poppea, Amore's assertion that love conquers all proves right, though the deceit, power struggles and callous ambition Nerone and Poppea manifest may leave one wondering just why this couple was blessed by the good fortune of the gods. Still the emotionally charged and at times deliciously reckless opera remains compelling, ensuring 'The Coronation of Poppea," continuing at Opera Theatre St. Louis through June 28, is a strong production that lures you in.
Related Articles