Theatre Reviews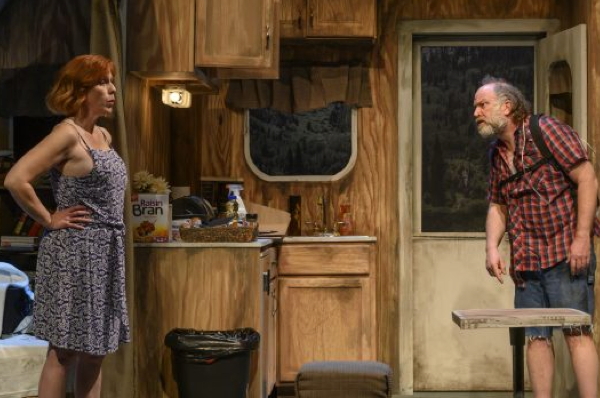 Like love itself, 'Annapurna' is challenging and complex, but oh so satisfying
Written by

Tina Farmer
For its current production, "Annapurna," St. Louis Actors' Studio takes us on a trip inside a blistering hot trailer home at the foot of a picturesque mountain range. The desolate location bears witness to the final, painful chapter of a marriage and divorce reconciling itself with mortality in a beautiful, bittersweet story that resonates with truth and aches with longing.
Annapurna is the name of a mountain range in Nepal that's among the most dangerous and deadliest to climb. Annapurna is also the name of the Hindu goddess of food and nourishment. Finally, Annapurna is the title of the single, epic poem that Ulysses has written since his divorce from Emma. All three are represented, in some form, in Sharr White's fascinating, two-person exploration of love and its myriad repercussions.  
It's been 20 years since Ulysses and Emma last spoke or saw each other. But here she is, with her luggage, standing in the doorway of Ulysses dilapidated and messy trailer and ignoring the dog barking outside. Ulysses' stunned exclamation is punctuated by a quick fade to black, a smart effect that's repeated to underscore just how awkward and uncertain, not to mention uncomfortable, the couple's reunion is likely to be. Ulysses is dying, Emma is fleeing an unhappy marriage and their 25 year old son is, presumably, on his way to see a father he doesn't remember.
Wearing nothing but an oxygen pack and an apron to cover his most sensitive bits, Ulysses is busy frying up spoiled meat for the dog. Emma, stunned by his appearance and the messy trailer, reveals numerous bruises left by her current husband as she's changing her clothes. Picking up where she left off 20 years before, Emma cleans, shops and fixes food for Ulysses -- but it's their hearts that cry out for nourishment. There's a lot to unpack here, and the characters are interesting and sympathetic enough to keep the audience involved.   
The bittersweet story, directed with finesse by Annamaria Pileggi and performed with brutal honesty by Laurie McConnell and John Pierson, reveals its truths slowly and deliberately. The actors regard each other with caution, parsing out details and slowly pouring salt on every re-opened wound, even the ones that alcoholism and faulty memory have failed to capture. Beyond all the hurt and anger, however, is the indisputable truth that these two have a deep connection and an uncertain love that neither of them has ever fully moved beyond.  
White's compelling script is brought to life in exceptional performances by McConnell and Pierson, ensuring that two mostly ordinary, almost unlikable people crawl under your skin and make you care about a drunken night 20 years ago and its never ending repercussions. Patrick Huber's set design, Huber and Steven J. Miller's lighting design and Kayla Dressman's costumes complement the story, and Jeff Roberts' sound design, particularly the poor dog's incessant barking, adds the finishing touch to this gritty, deeply personal drama.
The thoughtfully heart wrenching and emotionally resonant "Annapurna," continuing through March 1, is revealing and intimate theater with bits of humor scattered throughout to keep the tone from becoming overbearing. Eloquent passages and sarcastic jokes rest comfortably along side uncertain confessions and genuine concern as Ulysses and Emma navigate from their past to this tenuous reunion, and you may find yourself on the edge of your seat anticipating what happens next. 
Related Articles