Theatre Reviews
Theatre Reviews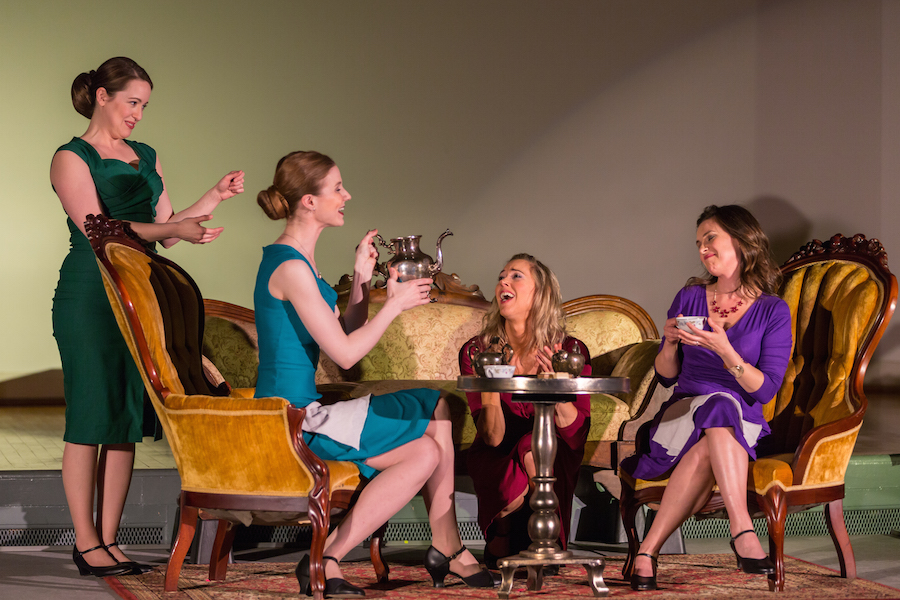 'The Break-Up' and 'The Clever Artifice of Harriet and Margaret' at the Gateway Opera, March 18 and 20
By
Once again the exciting young Gateway Opera company shows us that you don't need a massive budget to create wonderful opera. Heretofore their focus has been on the small and the comic, at which they are supremely gifted. Their first offering this season is a pair of chamber operas -- The Break-Up by Eva Kendrick and The Clever Artifice of Harriet and Margaret by Leanna Kirchoff. In these they continue to lead from their comic strength, but they also expand and deepen their charter. Both small operas deal with relations between the sexes, but they address this troubled ground in quite different ways.
The first piece, The Break-Up, is really a mere trifle. (I don't mean to be dismissive; trifles are among my favorite desserts.) We see the simplest of sets -- two chairs, a café table and a bouquet. We meet Jake as he awaits the arrival of his girlfriend. What Jake thought was going to be a one-night-stand has grown into a three-year relationship, and he's itching to get out. Tonight he's going to dump her!
The girl, Debbie, is puzzled as to why Jake has invited her to dinner tonight when their usual evening out is Thursday. "Surely," she thinks, "Surely this is something special. Surely he's going to pop the question."
As one might expect with such divergent expectations, comedy ensues.
Kurtis Shoemake sings the role of Jake. With his wonderfully expressive face he makes the most of the comedy in Jake, and presents him (as written) as pretty much of a jerk. Shoemake sings with clarity and wit, though occasionally the lowest notes seem to nudge the very limit of his range.
This is the first time I'd heard Susan Fletcher, who sings Debbie. She has a quite stunningly beautiful voice -- strong and clear and true, with superb dynamics and with high notes like a trumpet. (I'd love to hear her sing Wagner.) She has the sweetest, most beautifully controlled vibrato I can recall. I'd always thought of vibrato as a mere ornament to the voice; a tight vibrato can add intensity, one too broad can distract. But Ms. Fletcher shows me that vibrato, just in itself, can be an element of real beauty.
The plot is simple: Debbie is crushed and infuriated when Jake's intentions are revealed, but then she decides that she'd wanted out too. When she sings "Free at last!" Jake suddenly has second thoughts and begs her to marry him. Nothing really unexpected; all more than a little "sitcom." But we come to opera for the music, not the story. Eva Kendrick's music is certainly serviceable -- often lovely -- but not memorable. There is a sense of recitative about the whole work. The lyrics? Nothing too imaginative, a dearth of rhyme -- again, merely 'serviceable."
I'm a big fan of Em Piro. As an actress she can be magical. This is the first directorial work I've seen her undertake -- and I'm a bit disappointed. She is unable to use her magic to lift this piece up out of its sit-com niche. Singers are left to wander back and forth when some sheer inventiveness might have made this trifle something exceptional.
Ah, well...
However...
The second half of the evening is rich and rewarding and brave and beautiful. Leanna Kirchoff fills The Clever Artifice of Harriet and Margaret with very lovely music. There are arias, duets, quartets -- often larded with dramatic dissonances. It's all quite modern, but utterly accessible. Her lyrics are carefully crafted, often attaining that rare delight -- the blending of humor and poignancy.
She also has a fine sense of theatre. She writes moments when the message is not in the music, not in the lyric, but in the action -- or even the mere gesture -- of the performer.
(One small example is a long one-note trill while an actress's eyes and gestures express her comic/pathetic hunger.) Opera really needs such gifts.
We meet two women -- Harriet and Margaret. But each has both an inner and an outer self -- an Ego and an Id, if you will. In this I had thought that Ms. Kirchoff was merely following that old and wise writer's adage, "Steal from the best." I thought she was taking a trick from Eugene O'Neill's 1928 play Strange Interlude which also presents characters who have an inner and an outer self. Where O'Neill uses masks to distinguish the two personae, Ms. Kirchoff uses two singers.
But then I learned that Ms. Kirchoff had based her opera on a play, Overtones, by Alice Gerstenberg -- which came out in 1913, a decade and a half before O'Neill's play! So, was O'Neill stealing the device from Gerstenberg? And when Gerstenberg came out with a three-act version of her play in 1929, was she cashing in on the success of Strange Interlude?
In any event we have "Harriet" (the persona presented to the world) and "Hettie" (her inner self); we have "Margaret" (outer) and "Maggie" (inner). And, though her libretto is very true to the original play, Ms. Kirchoff handles these dual selves with more grace than either Gerstenberg or O'Neill.
Years ago Harriet had loved John, a promising painter, but her family saw John as "too poor a gamble" so Harriet married the wealthy Charles. John then married Harriet's friend Margaret and the two lived for some time in Europe. Now they are returned --- and in desperate financial straits; they seem even to be short on food.
Margaret is to visit her old friend for tea.
Each woman is secretly very eager to arrange for John to paint a portrait of Harriet. To Margaret this means a large commission for her husband and his introduction to Harriet's many wealthy friends; Harriet (who now hates her own rich husband) hopes that in sitting for a portrait she may be able to make John fall in love with her again./p>
The meeting of the two (four?) women is a lovely swirl of conflicting motives with the "Id" ladies, Hettie and Maggie, bluntly expressing passions and appetites, while their corresponding "Ego" ladies, Harriet and Margaret, exert civilizing control and deceit.
The four performers of these roles are all splendid singers -- and very accomplished actresses. The roles vary in vocal range:
Leann Schuering sings Hettie, with a range a few notes lower, and makes her the epitome of fiery passion. 
Erika Cockerham's lovely mezzo voice makes Harriet beautifully dramatic.
Allison Glass, as the ever-hungry Maggie, sings this contralto part wonderfully.
At the opening we see the sophisticated Harriet at a cheval-glass -- one of those standing mirrors -- preparing herself to meet her old friend and rival. Every tiny movement -- each turn, each gesture, each touch of the hair -- is duplicated exactly by Hettie, her wild inner self, who stands a little upstage of her. The oneness of these two women is emphasized by their perfectly identical silhouettes sharply projected on the rear wall. Similar synchrony is often done with Margaret and Maggie.
We see heated arguments between inner and outer selves. Sometimes the inner selves exchange blunt insults while the outer selves exchange polite hypocrisies. There are sharp dramatic moments, as with a shrieked outburst or when a busy argument instantly freezes at the startling sound of a door-bell. There are gorgeous vocalise passages full of drama. There is dance, which varies from lovely stylized movement to a swirling stageful of women waltzing with and among each other. Allison Glass brings a remarkable physical grace to the evening. Tall, slender, with graceful long limbs, it is she for whom the word "willowy" was coined; she simply cannot move without leaving a wake of beauty. And her grand, dramatic eyes make the most of both comedy and pathos.
The music is quite beautiful: arias, duets, busy quartets.
There is comedy, as in the ever-hungry Maggie yearning to be offered a piece of cake, or, when tea is poured, urging her outer self to "Take cream, it's more filling!" and "Take five lumps of sugar, it's nourishing!"
There is irony, as when first Margaret/Maggie and then Harriet/Hettie plead with themselves: "Don't let her know I'm unhappy! My life is torn with sorrow!"
Costumer Niki Newcomb strictly follows the playwright's specifications: "envy" green for Harriet, a darker green for Hettie, lavender for Margaret, and a darker purple for Maggie. All the dresses are lovely and well-fitted. The setting is graced with beautiful carved-wood furniture.
All in all stage director Allyson Ditchey has put together a quite wonderful production, and music director and accompanist Robert Valentine has led his singers into real beauty.
In the end each woman's goal is attained: the portrait is commissioned. But . . . where will this all lead? We do not know. Probably not to happiness.
Again I thank Gateway Opera for finding lovely rare things for us and presenting them wrapped so beautifully -- in fine voices and a multi-colored ribbon of all those other theatrical talents.
Their next offering is Lucrezia, a zarzuela riff on Machiavelli's comedy, La Mandragola. Lucrezia, with music composed by William Bolcom and libretto by Mark Campbell, will be performed April 8 and 9.
Related Articles