Theatre Reviews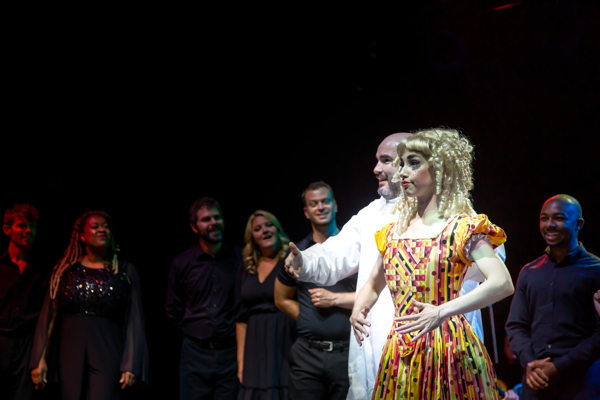 Opera Review: Union Avenue's 'Les contes d'Hoffmann' tells entertaining tales in difficult circumstances
Written by

Chuck Lavazzi
Union Avenue Opera has an enviable ability to turn out solid productions of big, traditional operas under conditions that are often less than ideal. So it's no surprise that they managed the dauting task of producing a semi-staged version of Jacques Offenbach's last and arguably greatest opera, "Les contes d'Hoffmann" ("The Tales of Hoffmann") in a large circus tent with eccentric lighting, a miniscule stage, and no air conditioning. In July. In St. Louis, a.k.a. The Sauna of the Midwest.
L-R: Jeremiah Sanders, William Davenport
What's really impressive is that the results were generally entertaining and well worth seeing, at least for opera lovers.
Left uncompleted at the time of the composer's death, "Hoffman" is, by now, a bit of a mess. It has gone through numerous rewrites over the years, the most recent being a major critical edition by Michael Kaye and Offenbach expert Jean-Christophe Keck. Union Avenue wasn't using that one, but whichever edition they did use made Hoffmann's conversion from passed-out drunkard to poet so brief and understated that one could be excused for missing it entirely. Still, I suppose it's truer to the real Hoffmann's early death from alcoholism and syphilis.
Union Avenue's biggest asset was its fine cast, headed by tenor William Davenport as Hoffmann, soprano Brooklyn Snow as his three improbable loves, bass Jeremiah Sanders as the three diabolical villains, and mezzo Emma Rose Sorenson in the "trousers" role of Nicklausse, Hoffman's friend and, as we learn at the very end of the opera, also his poetic muse.  All four were vocally powerful and looked entirely comfortable in their roles. Snow was especially adept in distinguishing her three very different characters, displaying that stunning combination of vocal athleticism and theatrical smarts that impressed me so much in UAOs "Candide" in 2019.
William Davenport and
Brooklyn Snow (a Olympia)
Add in strong singing actors in major supporting roles, an excellent chorus, and a music director (Scott Schoonover) who really knows what he's doing on the podium, and the result was a winning combination.
That's despite the fact that the space in The Big Top in Grand Center wasn't especially conducive to opera. The orchestra was on stage, with the singers confined to a relatively narrow strip of space in front of them. That meant minimal props and no scenery to speak of, which made this more of a concert version of the opera than a fully-staged production.
For some operas, this might not be an issue. We saw a complete concert version of "Die Walküre" at Tanglewood a couple of years ago, for example, and it was pretty thrilling. "Les contes d'Hoffmann," however, calls for some relatively elaborate stage effects and multiple scene changes, so it doesn't lend itself easily to downsizing. Sage Director Mark Freiman made exceptionally good use of the space he was given, but even so I have to confess that this "Hoffmann" didn't really have the dramatic punch I would have liked.
Still, everyone involved did a remarkable job under the circumstances. Indeed, I give UAO major props for pulling it off at all, even more for as well as they did. With "Hoffmann," after all, if you have really solid principals, you're already most of the way there. This was not a "Hoffman" for the ages, but it was a fine one for a Plague Year.
L-R: Anthony Webb as Pittichinaccio,
Brooklyn Snow as Giulietta, and
Emma Sorenson as Nicklausse
"Of this," to quote Offenbach's slightly older contemporary W.S. Gilbert, "there can be no possible doubt / No possible, probable shadow of doubt / No possible doubt whatever."
Union Avenue Opera's "Tales of Hoffman ran in alternating repertory with its production of Rossini's "Il barbiere di Siviglia" July 21 through 25. Performances were sung in French with English supertitles that were clearly visible through the house. The singers did not appear to be wearing mics, which was rather courageous in an admittedly imperfect acoustic environment.
For information on upcoming Union Avenue Opera productions, visit the company's web site.
Related Articles