Theatre Reviews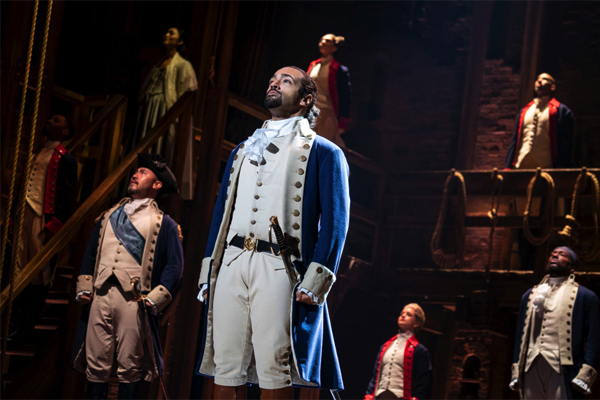 Despite acoustic issues, 'Hamilton' at the Fox puts the audience 'In the Room Where it Happened'
Written by

Laura Kyro
Lin-Manuel Miranda's long-running (well, minus months due to the vagaries of Covid) Broadway phenomenon "Hamilton" is back at St. Louis' Fabulous Fox Theatre, April 12–May 15, 2022, having first hit our town in the spring of 2018.
What may seem like an unlikely source for a Broadway musical, Ron Chernow's voluminous biographical tome on the life and death of American founding father Alexander Hamilton, has blossomed in the hands of Miranda (and his original creative cohort, including Thomas Kail's direction, Alex Lacamoire's musical direction, Andy Blankenbuehler's choreography, and David Korins' scenery) into an equally unlikely hit. Unlike a hundred years of "traditional" musical theatre standards, this hip-hop, rap, R&B, jazz, boogie-woogie, non-traditional-casting mélange demands attention. And attention it has gotten since it first workshopped into existence in 2013, hitting Broadway like a storm in 2015.
Alexander Hamilton, although he was integral to the founding of our country, has been largely ignored, as show lyrics, "Every other founding fathers' story gets told," describe. However, thanks to book, music, and lyrics by Miranda, over the course of the nearly three-hour production we learn of his ignominious beginnings, his part in our Revolutionary War, his rising to prominence in a young American government, his infidelity, and his unnecessary death in a duel at the hand of Aaron Burr. Burr is here the primary narrator telling Hamilton's story.
But although the historical prose underpinnings of "Hamilton" may be dry of theatrical or musical expression, this production is non-stop, visually arresting (that set!), imaginative, intelligent, seat-thumping, powerful, thought-provoking, and graced with an energetic and talented cast of 24. The night I saw it, I felt actors Jared Dixon (Aaron Burr), Marcus Choi (George Washington), Ta'rea Campbell (Angelica Schyler), Stephanie Jae Park (Eliza) and Neil Haskell (King George), just seemed to offer us a little something extra. Indeed, Haskell's King George was a humorous hit. I must shout out as well to the ensemble, who danced, sang, passed props, performed incidental characters, and moved scenery, and never seemed secondary to any of the principal cast.
Songs I felt especially well done were "Helpless," "One Last Time," "What'd I Miss," and part three of the King's "You'll Be Back."
But, was all perfect in the land of "Hamilton"? Alas, I did not find it so as there were problems understanding the lyrics, and given a sung-through show, that's kind of a concern. It appeared to be a combination of the quickly-delivered and intricate lyrics, microphones set too low and at times brought up late, and, perhaps most importantly, level too high on the orchestra (I overheard several comments to that effect at intermission). I can only say it meant that about a quarter of the show was so much garble. This, of course, deadly in combination with the Fox's known lack of acoustic perfection. Whatever the issues, I hope these concerns can get ironed out because these lyrics deserve to be heard, and heard clearly.
Despite the problems with the sound, "Hamilton" is still a major expression of the art of live theatre, which deserves to be developed, seen, and appreciated. Of course, the audience was on its feet to applaud a winning production. The North American tour of "Hamilton" will be on stage at St. Louis' Fabulous Fox Theatre through May 15, 2022. Additional cities and dates are available at the official tour web site.
Related Articles