Theatre Reviews
Theatre Reviews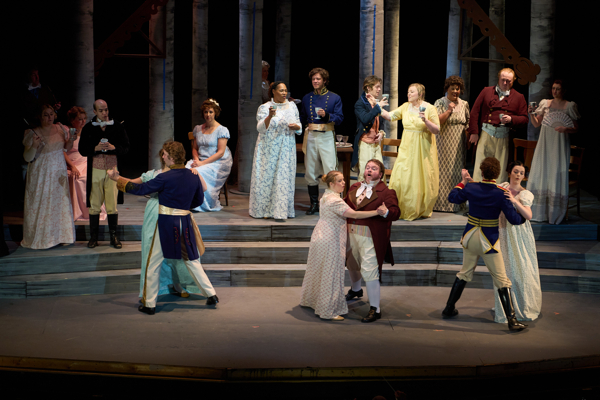 The Homecoming: Union Avenue Opera returns to their theatre with a superb 'Eugene Onegin'
By Chuck Lavazzi
After the tribulations of the pandemic the Union Avenue Opera returns to its lovely home. Here, in the nave of the Union Avenue Christian Church, the company presents first-class opera up-close and intimate.  They open their 28th season with a superb production of Tchaikovsky's "Eugene Onegin."
It was adapted from a verse novel by Alexander Pushkin, the beloved icon and "father of Russian literature".  Tchaikovsky himself wrote most of the libretto.
With an oddly un-"operatic" plot, "Eugene Onegin" tells the story of a love that might have been.  As in all the Chekhov and Turgenev stories we've loved for so long, the tale begins on a country estate of the Russian landed gentry.  Two lovely young girls, Olga and Tatyana, live with their widowed mother.  The air is suffused with innocence, idleness and boredom.  Their quiet lives are disturbed by the arrival of Eugene Onegin, a striking figure—handsome, wealthy, but cynical and leading a pointless, unhappy life.  Onegin is another of those so-called "superfluous men" so ubiquitous in Russian literature of the time.  Tatyana is smitten and pours her heart out to Onegin in a letter.  When Onegin declines her proffered love it is an act of decency, though not unmixed with a little cruelty—or at least callousness.  
Some months later out of sheer peevishness Onegin toys with the jealousy of his friend, Lensky, who is Olga's fiancé.  Lensky's reaction is unexpectedly passionate and he  challenges Onegin to a duel.  Though both men realize the senselessness of it the duel goes on and Lensky is killed.  
A few years later Onegin and Tatyana meet again, and this time it is she, now married, who rejects Onegin's love.  And thus it ends—a very muted tragedy.  Tchaikovsky himself said, "It is true that the work is deficient in theatrical opportunity . . ."     Yet in the voyages of these two souls—Onegin seeking meaning, Tatyana seeking love—there is such poignancy as their two hearts pass each other like ships in the emotional night.
Tchaikovsky's music is wonderfully varied and accessible.  He, like many Russian composers, had absorbed the styles and techniques of the leading Italian, German and French composers.  In this he was "cosmopolitan".  But in Russia, as in other countries, the Romantic era had also brought the desire to give musical voice to nationalism.   Hence Glinka, Mussorgski, Rimsky-Korsakov, Borodin and others were drawing inspiration from the songs and dances of the Russian peasants.  In "Eugene Onegin" Tchaikovsky blends the cosmopolitan with the nationalistic to beautiful effect.   The fine orchestra is under the baton of founder and artistic director Scott Schoonover.   
Maestro Schoonover has again found world-class voices for his principals.  And its as if Tchaikovsky had written each of the three acts to showcase a particular one of these people:  Act 1—Tatyana, Act 2—Lensky, Act 3—Onegin.
Tatyana is sung by the remarkable Zoya Gremagin.  (Yes, she was born and trained in Russia.) Her voice is what the Italians would call a "lirico spinto soprano", i.e. a soprano with the force and clarity to be readily heard through all the sound of the chorus and orchestra.  Her long aria in Act 1, where she writes the letter to Onegin, is a triumph.  Her voice is a stunningly beautiful instrument over which she has such utter and complete, yet easy and natural control.  I could listen to this lady sing forever.    
Act 2 gives tenor William Davenport spacious room to exercise his glorious voice in the role of Lensky.  At the ball, there's a fiercely emotional aria when he breaks off his friendship with Onegin;  then it becomes a duet, as Onegin joins in;  and at last Tatyana comes in to make it a gorgeous trio.  Before the duel, as Lensky faces death, he sings a moving, sad solo;  and then there's a breath-takingly lovely duet with Onegin—the two men at far opposite sides of the stage, their voices twining in a complex interplay.  In all of these Davenport shines, rising with such ease and power to those golden high notes.
Baritone Robert Garner sings Onegin.  Handsome, stalwart, cool, he's so right for this role.  Garner has impressed us all evening with a voice that's rich and buttery-smooth throughout his range.  But in Act 3 he's given such opportunities—vocally in a glorious arioso when, after seeing Tatiana again he realizes he is madly in love with her;  and dramatically as he frantically begs her to return his love.  Fine work.
Younger sister Olga is beautifully sung by Melody Wilson, a great St. Louis favorite.  Olga is a happy, carefree, light-hearted girl, but curiously Tchaikovsky has written this role not for a "soubrette" but for a "low contralto".   We've often seen Ms. Wilson do fine work in mezzo-soprano roles; this lower range magnifies the natural drama and gravitas in her voice.  Still most beautiful, but not quite the Olga I'd imagined.
Basso Isaiah Musik-Ayala sings Prince Grevin, Tatiana's husband.  He has one of the most gorgeous arias in the whole opera—singing of his great love for her.  Musik-Ayala is wonderfully comfortable on those resonant deepest notes.
Marc Schapman is delightful as the French-master who sings couplets honoring Tatiana on her saint's day.  
Supporting roles are filled with fine talent:  Debbie Stinson as Madame Larina, Victoria Carmichael as the old nurse, Nathan Brown as the leading peasant and as Onegin's valet, Benjamin Worley as Lensky's second, and Joel Roger as a captain.
Exceptionally fine work is done throughout by the chorus. Stage director Octavio Cardenas manages the large cast gracefully on this small stage, and choreographer Jennifer Medina gives us both an elegant polonaise and a charming peasant dance.
The setting, designed by Patrick Huber is simple and flexible—broad ascending platforms backed by great birches which become pillars in some scenes.  Period costumes, by Teresa Doggett, are lovely and well-fitted.  
"Eugene Onegin" continues at Union Avenue Opera through July 16.
Related Articles