Theatre Reviews
Theatre Reviews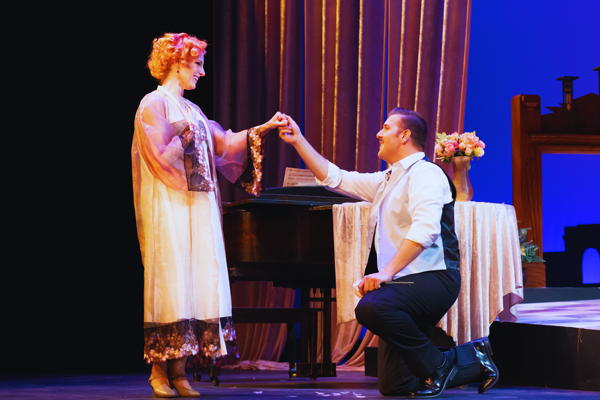 Opera Review: Puccini's 'Sparrow' takes flight at Winter Opera
By Chuck Lavazzi
This weekend (Friday and Sunday, November 18 and 20) Winter Opera kicks off their season with a stylish "La Rondine" ("The Sparrow"), a Puccini work that hasn't been seen locally since 2015. Giuseppe Adami's clunker of a libretto was probably enough to ensure that it wouldn't become one of Puccini's Greatest Hits, and the composer's inability to decide on a final version hasn't helped matters any.
Karen Kanakis and
Nathan Schafer
Photo: Rebecca Haas
Winter Opera has chosen, as far as I can tell, the 1917 original. This is good, since it makes Magda, the reformed courtesan whose past destroys her shot at True Love, a stronger character. She makes a deliberate choice to return to her old life instead of being spurned and committing suicide. It's a welcome change from Puccini's predilection for (and somewhat sadistic treatment of) heroines who are either hapless victims or clueless enablers of badly-behaved men.
And it gives soprano Karen Kanakis, who has done such splendid work in the past with Winter Opera, a chance to showcase her gorgeous voice and acting ability once again. That's not always easy in this libretto, which is often so cryptic that it's nearly telegraphic.
The story is basically "Traviata lite".  Magda, a "kept woman", leaves her rich, middle-aged lover Rambaldo and her lush life in Paris to take up with Ruggero, a young hunk from the sticks.  Unfortunately the young hunk is, as written, far too painfully naive to be sympathetic, and the rich lover little more than a cipher. That could make Magda's decision to leave them both seem more petulant than tragic, but Kanakis pulls it off anyway. Her character is solid and as credible as it can be, given the material. Brava.
Soprano Lauren Nash Silberstein and lyric tenor Nicholas Huff are an unmitigated delight as Magda's free-spirited maid Lisette and the temperamental poet Prunier. Silberstein is particularly sparkling and charismatic, which made her a nice foil for the very effective (ahem) huffiness of Huff's Prunier. Their romantic sparring would not be out of place in a Noël Coward comedy, and it certainly works well here.
Nicholas Huff and Lauren Nash Silberstein
Photo: Rebecca Haas
Tenor Nathan Schafer has perhaps the most thankless task as Ruggero, a character so thinly drawn that he comes across as little more than a classic Italian mammone transplanted to France. His wig and costumes make him look like a young Nigel Bruce, which doesn't help. His voice, though, is stunning, with that clarity and warmth characteristic of the lyric tenor. His duets with Kanakis are memorable.
As usual with Winter Opera, the supporting cast and chorus are solid. The latter can always be counted upon to create their own individual characters while still singing together harmoniously. Scott Schoonover, artistic director of Union Avenue Opera, conducts the orchestra with his customary assurance, and his players respond with a full-bodied sound that belies their relatively small numbers.
Stage Director Eric Gibson has moved the action forward from the Second Empire France of the original to the 1920s, which makes it feel new enough to be almost familiar while still distant enough to make the attitudes of the characters understandable. His staging is clear and well-paced. The colorful scenic designs of Scott Loebl and period costumes Amy Hopkins compliment that nicely.
Performances of "La Rondine," in Italian with English supertitles, are Friday at 7:30 pm and Sunday at 2 pm, November 18 and 20, at the Kirkwood Performing Arts Center. Given the quality of the production, it's a shame there are only two, but there you are. Ticket information is available at the Winter Opera web site.
Related Articles