Theatre Reviews
Theatre Reviews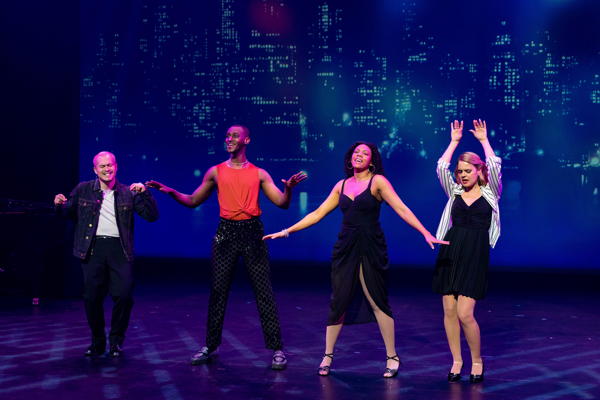 The Rep's 'Side by Side by Sondheim' is a hit-or-miss tribute
By Michelle Kenyon
Since Stephen Sondheim died in 2021, many performers and theatre companies have offered their various tributes, in the form of special performances, concerts, and productions of his shows. Now, the Rep is taking the opportunity to salute this legend of musical theatre with a somewhat understated production of the revue Side by "Side by Sondheim," focusing mostly on his works up until the mid-1970s. Although this production has its moments, the performances are hit-or-miss, and it could use more energy and presence.
As narrator Alan Knoll points out early in the production, there isn't much here in terms of a plot. Instead, the show is presented as an overview of Sondheim's work up until about 1976, when this revue first debuted in London's West End. In fact, it's somewhat amusing to hear Knoll refer to 1976's "Pacific Overtures" as one of Sondheim's "later works". Still, even with the somewhat dated elements and obvious exclusion of Sondheim's work from the late 1970s and forward, the show as written is intriguing, and I imagine it could be a great success with more consistent performances. The cast includes late-addition Knoll, as well as performers Phoenix Best, Paul HeeSang Miller, Saidu Sinlah, and Amy Spanger, accompanied by Kris Pineda and Stephen A. Eros on Piano.
The show covers Sondheim's earlier works as a lyricist working with other composers on shows such as "West Side Story" and "Gypsy," as well as his work as both composer and lyricist on shows like "A Funny Thing Happened on the Way to the Forum," "Company," and "Follies." Also featured are some more obscure songs from lesser-known works, as well as television and film.
The staging can be inventive on occasion, featuring Heather Beal's energetic choreography, Tre'Von Griffith's  music direction, and a simple set featuring a screen and eye-catching projections by Camilla Tassi, and flanked by the two pianists seated at grand pianos on either side. Xavier Pierce's atmospheric lighting also adds flair to the staging, and Sharath Patel's sound design is proficient, although there are occasional issues with the singers' volume.
As for those performers,  the biggest standouts are Knoll, in a personable and occasionally hilarious turn as the Narrator, and the appropriately named Best, who delivers several memorable solos on songs such as "I'm Still Here", "I Never Do Anything Twice", and "Send in the Clowns". Miller also has his moments and a strong tenor voice, but Sinlah and especially Spanger struggle to maintain energy and consistency. After a somewhat lackluster opening, there are a few memorable group numbers, including a unique staging of "You Gotta Get a Gimmick" from Gypsy and an entertaining closing medley. It's a fairly low-key production, and could use a little more energy in places.
"Side by Side by Sondheim" isn't the spectacular tribute it could be, and I also think modern audiences might notice the lack of material from the composer's more well-known later works like "Sweeney Todd," "Sunday in the Park with George," and "Into the Woods". Still, even though it focuses on his earlier works, this could be a much more vibrant show than the Rep has managed to produce. It's not entirely a miss--there are certainly some memorable moments, especially from Best and Knoll, and there are some interesting bits of trivia to learn about the legendary composer and lyricist. Anyone who is a particular fan of Sondheim's, though, might still be frustrated with the lack of energy and true sparkle.
For more information, visit the Rep's website at www.repstl.org.
Related Articles