Theatre Reviews
Theatre Reviews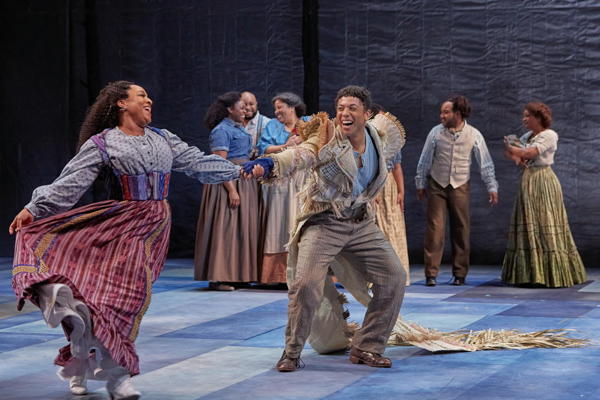 Opera Theatre decants Scott Joplin's old wine into new bottles with tasty results
By Chuck Lavazzi
Opera Theatre of St. Louis' season opener of a reimagined-yet-respectful version of Scott Joplin's "Treemonisha" by composer Damien Sneed and librettist Karen Chilton is a transformative experience that beautifully balances theatrical spirit with artistic integrity. It stands as an engaging, exuberant example of what opera can achieve when all of its elements – direction, staging, casting, acting, singing passion – align.
This production can break hearts. In Act V, baritone Justin Austin, who also plays the character Remus, delivers an aging Scott Joplin with wrenching emotion. Austin's inspired performance proves how difficult it is to both sing with perfection while acting with authenticity – and how marvelous when achieved.
His achievement is matched nearly across the board by the rest of the cast, and especially by soprano Brandie Inez Sutton (making her Opera Theatre debut) as both Freddie Alexander Joplin and Treemonisha. With considerable stage presence, Sutton reveals her heroic character as sweet but strong, simple but literate, and humble but exalted – all while proving she can sing!
Deserving equal bill are the conjurer Zodzetrick, played imposingly and malevolently by Phillip Bullock, also making his Opera Theatre debut, and Parson Alltalk, played by entertainingly by Markel Reed. Also strong are Amani Cole-Felder as the characters Lovie Alexander and Lucy, KS. Tichina Vaughn as Monisha and Normal Garrett as Ned – the latter two also making their OTSL debuts.
Maestro George Manahan directs the orchestra, composed of members of the St. Louis Symphony Orchestra, and delivers a deft, lively musical underpinning that adheres to the spirit of Joplin's unique, profoundly expressive score.
It's common for an opera to begin with a musical overture, but this production improves upon that with a visual overture from set designer Marsha Ginsberg. Against a gauzy scrim backdrop, there's a shadow play that's a visual highlight reel for the upcoming performance – and it's brilliant.
"Treemonisha" also delivers vibrant choreography that blends traditional and modern dance by Maleek Washington.
This production "Treemonisha" takes Joplin's platform and extends it beyond a fine performance and into theatrical art. It deserves sold-out status audiences for its entire run – no seat left behind.
"Treemonisha" continues at the Loretto-Hilton Center at Webster University through June 24. Performances are sung in English with projected English text. For more information, visit the Opera Theatre web site.
Related Articles