Theatre Reviews
Theatre Reviews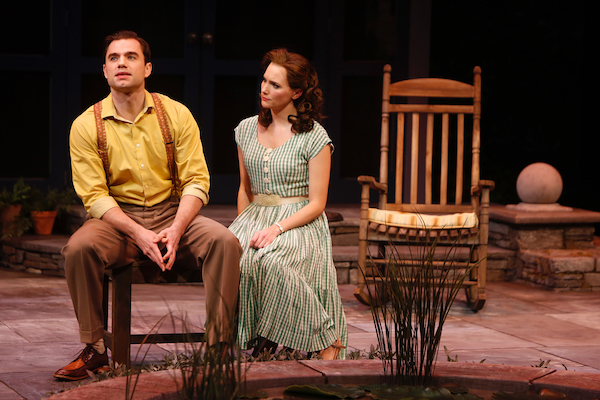 Powerfully unsettling, 'All My Sons' is an eloquent, beautifully wrought tragedy
By Tina Farmer
The Repertory Theater of St. Louis continues its celebratory fiftieth season with a stirring take on Arthur Miller's tragic All My Sons that is the best staging of the show I've ever seen. Director Seth Gordon approaches Miller's dense and difficult morality play with care, though he is fearless enough to take bold steps that emphasize the distinctly different paths the lives of the two families at the center of the story take. 
Set in a small midwestern town, where everyone knows everyone else, the characters are down to earth and filled with as many flaws and inconsistencies as they have hope and optimistic dreams. The lives and livelihood of this town are more overtly connected with World War II than we see in contemporary America, creating a space where the idea "what could I have done to change the war" is palpably real and deeply personal. This town, like so many other small towns of its era, is irreparably scarred by their experiences and loss.
The Keller family, owners of a manufacturing plant that supplies parts to the military, lost one of their sons to the war. Larry has been missing for more than three years, and everyone except his mother Kate believes he is deceased. Ann Deever, daughter of Joe Keller's former business partner and Larry's girlfriend before the war, has just arrived for a visit at the invitation of second son Chris. The two have kept in correspondence since both brothers went to serve; in the year's since Larry's disappearance they've fallen in love and want to get married. But Kate sees this as an affront to Larry and flatly rejects the idea that Ann is not still in love and waiting for him to return.
The romance in All My Sons is further complicated by the relationship of the couple's fathers. Both men were jailed for shipping defective parts that resulted in the death of at least twenty-one soldiers. Joe managed to get an acquittal, leaving the senior Deever incarcerated and taking the blame. Ann's brother George, once a close friend and constant at the Keller house, arrives later in the day, after visiting his father. Tension mounts as secrets are revealed, and a tragic ending becomes inevitable.
Mairin Lee and Patrick Ball have good chemistry as the young couple, showing genuine affection. John Woodson skillfully develops Joe Keller's tragic internal conflict and Margaret Daly is staunchly and manipulatively fragile as Kate. The four are well supported by the ensemble cast. Jim Ireland and Amy Hohn play the chatty town doctor Jim Bayliss and his good-natured wife, and Ana McAlister is the spirited young neighbor Bert. Zac Hoogendyk, as George Deever, Grant Fletcher Prewitt, as Frank Lubey, and Emily Kunkel as Lydia Lubey, have a wonderful dynamic in scenes that hint at missed love. Kunkel is particularly engaging, her character unconsciously guileless and appealing.
Director Gordon clearly understands the impact and significance of this tragedy, and he frames the key scenes expertly, ensuring all eyes have a chance to focus on each important detail. I also appreciate his ability to find moments of humor in the script. Not only do these moments lighten the show, they provide a glimpse into relationships and "what might have been" in a world not interrupted by war. 
Of equal interest is the approach to the set and stage, designed by Michael Ganio, with lighting by Peter E. Sargent and sound by Rusty Wandall. Some elements are more suggestive, indicating a family, and perhaps town, stuck in time and unable to discern the truth needed to move forward. In the background, constant reminders make the presence of Larry at times more real than the characters on stage. It's a smart touch that exposes a wealth of conflict and emotions.
However, I find the lack of contextual and emotional connection among the actors distracting, and the staging, at times, feels static and overly controlled. Additionally, there are simply too many moments when the acting is unnaturally affected, more artifice than internalization. As a result, several of the actors come across consistently strident and stiff as opposed to performing with conviction.
Just a little more movement with direct, active, and better-motivated conflict, and this may be one of the Rep's best shows of the last decade. That being said, All My Sons, running through January 29, 2017 is an effective and impactful production. Though it may not reach the highest pantheon, theatergoers with affection for classic American theater will not be disappointed in this entertaining, high-quality production.
Related Articles