Theatre Reviews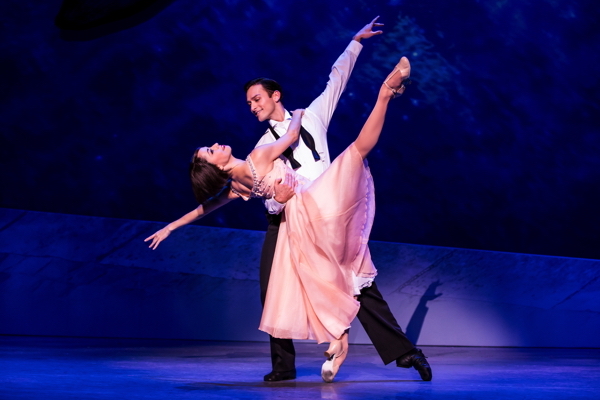 Enchanting and visceral, 'An American in Paris' sweeps you up in an elegant, expressive dream
The Fox Theatre's new production of An American in Paris brings the music of the Gershwin brothers to life in a breathtakingly beautiful production that is light on dialogue, but rich in dance and storytelling. The romance is a sensory experience mixing music, art, color, dance, and story into an ethereal work of beauty. Set in the romantic post-World War II Paris, the storyline speaks to the pains, secrets, and optimism of the period. 
The show opens at the end of the war. Service member Jerry Mulligan, an artist by avocation, wanders the streets of Paris, sketching the celebration. He crosses paths with a beautiful young woman several times, and eventually assists her after she is knocked over by an excited crowd. She quickly flits away as Mulligan stumbles into a club, where he meets Adam Hochberg. Another American GI, Hochberg chose to stay in Paris to pursue a career as a composer. To support himself, he is also working with Henri Baurel, a French aristocrat and aspiring singer who was secretly a member of the Resistance. 
The three are soon close friends and Hochberg finds work as an accompanist and music director for a small but well respected ballet company. Mulligan's mysterious muse arrives late to audition for the ballet and turns to leave, but he encourages her to join in and she easily impresses. Soon it becomes clear that all three men are in love with the graceful dancer Lise Dassin. 
Shortly thereafter, American heiress and patron Milo Davenport arrives and takes a fancy to the four artists, pledging money to produce an original work featuring Dassin, with Hochberg's score and Mulligan's set designs. Davenport takes a particular liking to Mulligan, complicating his pursuit of Dassin. The book, a new treatment by Craig Lucas, handles this triangle kindly, resulting in friendship for the three and minimizing the stereotypical bickering over the leading man prevalent during the era.
The new musical, inspired by the 1951 movie starring Gene Kelly, is visually compelling. Evoking the history of the American theatrical dance tradition, An American in Paris stretches beyond the year of the film and elegantly incorporates ballet, modern, jazz, and isolation work. George and Ira Gershwin's music and lyrics create an aural playground and the reworked script makes the most of the thin storyline while clearly emphasizing dance. 
Sara Esty, as Dassin, and Garen Scribner, as Mulligan, are mesmerizing. Esty is lithe, graceful, and beguiling, she seems to float across the stage. Scribner references the inimitable Gene Kelly with masterful dancing, including precise turns and exceptional body control. He brings an easy charm to his character, while Esty flits and flutters just out of reach as they dance and converse. The two move impeccably well together, and their dancing is powerful without losing any subtlety or finesse.
Etai Benson, as Hochberg, Nick Spangler, as Baurel, and Emily Ferranti, as Davenport, are amiable and playful in fully realized supporting roles. Gayton Scott is delightfully acerbic without a hint of bitterness as Madame Baurel, while Don Noble stands out as Esty's ballet partner. The dances and stage pieces transition seamlessly from scene to scene and style to style, resulting in a show that carries the audience along for nearly three hours without any loss of enthusiasm. 
Director and choreographer Christopher Wheeldon takes an imaginative approach to the show's big moments, combining dances and steps from many eras into fantastically captivating numbers. Additionally, musical director and arranger Rob Fisher and Wheeldon work in perfect synchronicity, blending all the elements into a satisfying story. Behind Esty and Scribner, dance Captain Christopher M. Howard leads the ensemble as they skillfully slide from story to song and dance and from one stylistic reference to another. Bob Crowley's costumes and sets provide the final touch, framing the story and dances with lush, colorful details.
An American in Paris, running through January 29, 2017 at the fabulous Fox Theatre, is a theatrical gem polished to a new shine. The sweetly optimistic story, set to the music of George and Ira Gershwin, is perfectly complemented by incredible choreography and a shift from Art Deco to a Modern palette that culminates in the breathtaking title piece, with near flawless dancing, orchestration and execution. 
Related Articles