Theatre Reviews
Theatre Reviews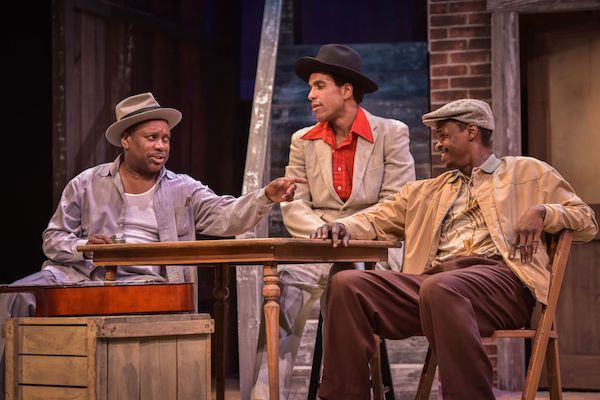 'Seven Guitars' makes bittersweet music
By Bob Wilcox
Floyd "Schoolboy" Barton plays the blues. He's been offered a recording contract by a company in Chicago. Floyd is in Pittsburgh, and his electric guitar is in hock. He needs his guitar and he needs money for the Greyhound Bus. But the guitars referred to in the title of the play Seven Guitars are played by the playwright, August Wilson. They're the seven characters in his play.
Wilson does, as always, make his own beautiful and terrible music with those characters. The play takes place in 1948 in the Hill District, the black neighborhood of Pittsburgh, where Wilson set almost all his Century Plays, one for each decade of the twentieth century. The characters gather in the backyard of the house where several of them live. Tim Case has created a carefully detailed setting, with lighting by Jim Burwinkel, for Wilson's tale. Wilson takes his time telling it. We get to know these seven people, and we get to listen to them. They talk about what's happened and what they want to happen, about their suffering and their joys.
The men have all spent short stays in jail, either because, as one of them says, they had too little money or too much. Floyd has just gotten out. He does get his electric guitar and the money to get to Chicago, though he has not gotten them, we suspect, in the way he'd wanted to. Things rarely work out the way you want them to when you're black and live in the Hill District. But they can tell their troubles in the rich details and rolling rhythms of Wilson's writing. And the cast at The Black Rep, under Ed Smith's direction, knows those rhythms. Occasionally I had a little trouble hearing them, perhaps because those are not the rhythms I hear every day.
In a welcome return to town and to the Rep, Kingsley Leggs makes a fine fit for Floyd. I've never seen Linda Kennedy quite like this, because with her amazing, invisible technique, she has become Vera, who loves Floyd and whom he wants. Cathy Simpson plays her sharp friend Louise, and Lakesha Glover fascinates as a visitor who starts something that will end in another play. Phillip Dixon is a young friend of Floyd's, and Reginald Pierre plays the stylish Red Carter, who wears a white suit to a funeral. Costumes are by Michael Alan Stein. The play turns on a character who has been crazed by the racism he's suffered and that has denied him his true place as Ethiopian royalty. Ron Himes doesn't bother playing King Hedley as crazy, just sure of himself.
As always with Wilson, Seven Guitars satisfies with its rich language and its deep humanity. It continues at The Black Rep through April 23.
Related Articles