Theatre Reviews
Theatre Reviews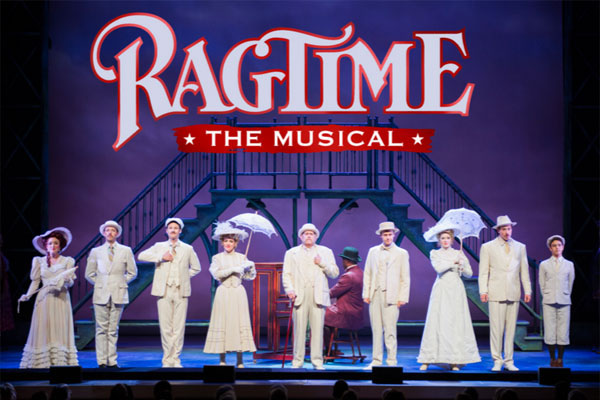 Ragtime's unique syncopation at the Peabody Opera House, April 18-19
By Laura Kyro
E.L. Doctorow's sprawling 1975 novel Ragtime, focusing on fictional families and famous personages in America near the turn of the 20th century, became a Broadway musical in 1998. It garnered Tony awards that year for Best Book, Best Score, and Best Featured Actress (Audra McDonald). A touring company of Ragtime - The Musical recently visited St. Louis' Peabody Opera House for a two-night engagement.
Adapted for the stage by Terrence McNally (Book), Stephen Flaherty (Music), and Lynn Ahrens (Lyrics), the potent mix of fictional characters and real historical people, and powerful songs, can make for a stirring experience, although in this particular production, the result was a little less stirring than it might have been.
Three family story lines set the stage in New York City from 1906 to 1914: ragtime pianist Coalhouse Walker Jr. (Chris Sams) and Sarah (Leslie Jackson), two Black residents of Harlem; Father (Troy Bruchwalski), Mother (Kate Turner, excellent voice), Mother's Younger Brother (Donald Coggin), and son Edgar (Colin Myers), a well-off family from New Rochelle; Tateh (Matthew Curiano) and his daughter (Cara Myers), Latvian immigrants coming to find a better life in America. The meeting and mixing of these disparate story lines, combined with actual historical figures such as vaudeville performers Harry Houdini (Mark Alpert) and Evelyn Nesbit (Jillian Van Niel), carmaker Henry Ford (John Anker Bow), educator Booker T. Washington (Jeffrey Johnson II), industrialist J.P. Morgan (Todd Berkich), and anarchist Emma Goldman (Sandy Zwier), flesh out the two-and-a-half-hour production. Issues that lend gravitas to the story are the rise of women's rights, racial conflict, the plight of immigrants, and the rise of the American movie industry.
In general, Ragtime - The Musical was well done. Director Marcia Milgrom Dodge kept things moving, pace-wise and choreography-wise. The costumes were colorful and the lighting suited the various moods well. However, minor issues kept the production from hitting it out of the ballpark (apt because one of the numbers involves Baseball!). The set is minimalist, with simple projections on the background cyc curtain to establish place, but the two-piece set of stairs, moved into various configurations, became tiresome to see after a while. The sound board operator was late on a number of microphone cues, causing lost dialog and lyrics. One character's physical gyrations at times made an already difficult-to-understand accent even more difficult to understand. And it's a good thing I knew all the lyrics going in because the words of several musical numbers, whether because of the sound system, or the actors' failure to enunciate, were difficult to discern. That's a shame because it's a great score.
Minor points, perhaps, but even minor points do add up. Nonetheless, I felt fortunate to have seen Ragtime live once again.
Related Articles