Theatre Reviews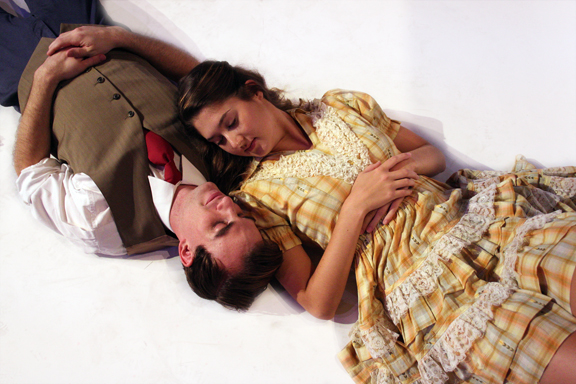 In Performance: St. Louis theater companies provide a wealth of entertainment in styles from comic to musical to heady drama
The fall theater season is in full swing on stages across town. This week's KDHX In Performance feature includes more shows than just anyone can see in a single weekend. As you're making your plans, you'll want to check for short run and one-weekend only performances that you don't want to miss, including a fundraiser featuring multiple local companies. 
T.L.T. Productions presents Chasing Waterfalls, a one-weekend only production running October 5-7 at the .ZACK. The musical revue caps the company's inaugural season and features R&B hits from the 1990s and early 2000s performed by company members. "This era of music is what millennial grew up listening to and are influenced by.' Producer and company founder Tre'von Griffith notes. "Our first season was geared to bringing our generation to art they can relate to and connect with. Hopefully this season we have sparked the love for the arts in a new community." Additional information can be found on the Kranzberg Arts Foundation website.
Upstream Theater presents Sweet Revenge, a sympathetic satire in performance through October 22 at the Kranzberg Arts Center. Considered the "finest Polish comedy ever written," the story, directed by Philip Boehm, is told from the perspective of an amateur St. Louis Polish immigrant theater troupe in the 1930s. Boehm's new translation, in verse, of the original story by Aleksander Fredro, is sharp and witty, poking fun at the human condition while emphasizing tolerance and empathy. Performed in English, with plenty of comic hijinks, the show employs comedy and commonality to convey its message.
The New Jewish Theatre presents the heartwarming story Tuesdays with Morrie, opening October 4 and continuing through October 22. The play is an adaptation of Mitch Albom's memoir about reconnecting with his professor, mentor and friend and saying goodbye. What begins as a visit to a former professor battling ALS turns into weekly lessons that explore a variety of topics and lead to Albom's discovering the meaning of life. Personal and intimate, the show is touching and deeply affective, with a healthy dose of humor.
St. Louis Shakespeare shakes things up a bit with the introduction of a new work to the canon: Cardenio: Shakespeare's Lost Play. Based on an episode involving a supporting character in Cervantes' Don Quixote, record but no copy of the original exists. The play is attributed to William Shakespeare and John Fletcher, and premiered in 1613, adding to the dramatic tension. The dramedy, running through October 15, 2017, is a re-imagination by Gregory Doran, artistic director of the Royal Shakespeare Company. St. Louis Shakespeare founder Donna Northcott directs and methinks a good time is on the boards.
Stray Dog Theatre presents Spring Awakening, in performance at Tower Grove Abbey Thursday through Saturday through October 21, with an additional performance Wednesday, October 18. The show, with an exhilarating score by Duncan Sheik, features a variety of adult themes and subject matter and is intended for mature audiences. 
A bold coming of age tale set among a deeply private religious community, the poignant musical explores the journey from adolescence to adulthood with a painfully realistic honesty that often belies the strict moral codes enforced by teachers and town leaders. The audience follows a group of teenage friends through important moments of self-discovery that's delivered with a rock and roll score that entertains and challenges the status quo. Justin Been directors the energetic show, with choreography from Sam Gaitsch and a cast overflowing with talent. The company has frequently sells out its performances early, so you'll want to make your reservations soon.
Finally, a number of local companies have banded together to present Acts for Houston: Artists Helping Artists. The cabaret-style benefit for employees of the Houston Theatre District will be held at the Grandel Theatre on Friday, October 6. The short performances are works of love from the actors, producers, and technicians in St. Louis to the affected theater community. Presenting companies include: The Rep, R-S Theatrics, Tesseract Theatre, Ashleyliane Dance Company, Charis, The Gateway Men's Chorus, Solid Lines Productions, and many others. Donations are accepted at the event and online.
Continuing this weekend: 
New Line Theatre amps up the gothic rage with the St. Louis premier of Lizzie, a rock opera running through October 21, 2017 that's loud, rude, and a bit nasty. The show is blistering and powerful, filled with a punk rock ethos and riot grrrl rage as well as an outstanding cast featuring Anna Skidis Vargas, Kimi Short, Larissa White, and Marcy Ann Wiegert. 
The West End Players' Guild revisits the cold war era of the late 1980s with Lee Blessing's acclaimed play A Walk in the Woods, in performance through October 8. In the show two negotiators, a Russian and an American, seek common ground, forming an unlikely and at times uneasy friendship of sorts as they work to prevent nuclear war.
St. Louis Actors' Studio taps into insanity and fear with Cory Finley's taut, psychologically probing play The Feast, in performance through October 8. The funny and sometimes disturbing play traces the impact on Matt and Anna's relationship when the sewers under their apartment begin speaking. Is Matt losing his mind or is his nightmare coming to life? 
STAGES St. Louis wraps up their season with the always crowd-pleasing South Pacific, continuing through October 8. The musical set in World War II is filled with engaging performances and memorable songs that helped solidify Rodgers and Hammerstein's work as the upper echelon of classic American musical theater.
Related Articles