Theatre Reviews
Theatre Reviews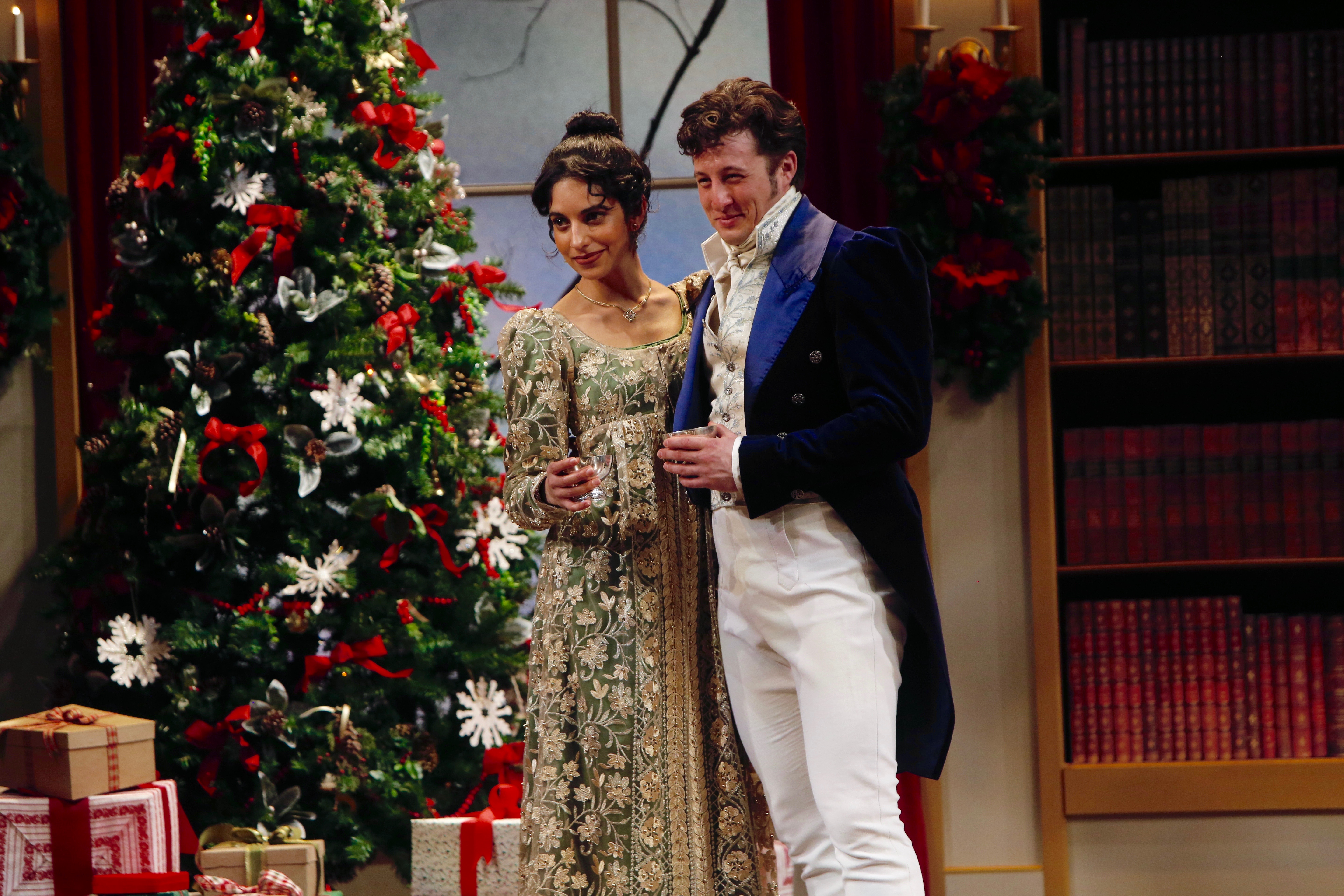 In Performance: Jane Austen fan fiction, southern accented drama, Jewish jokes, and a mysterious "behanding"
By
This week's In Performance kicks off the holiday theater season with new takes on familiar stories and a couple of shows that offer humorous alternatives to traditional holiday themes. No matter which way our crazy St. Louis weather goes, there's fabulous live entertainment in performance in around the city, ensuring now is a perfect time to go see a play or musical!
How do you approach one of literature's most beloved characters when the story you're telling is entirely new? That's the conundrum Harveen Sandhu had to resolve in order to play Elizabeth Bennet in the Repertory Theatre of St. Louis holiday production Miss Bennet: Christmas at Pemberley, in performance through December 24. "Jane Austen's 'Pride and Prejudice' is one of the most powerful romances in the western canon," Sandhu notes with admiration, "and Elizabeth is the personification of a radically new woman, one who values her self and wants to marry for love. Playing her is pretty cool, honestly."
The Rep's regional premier of Miss Bennet: Christmas at Pemberley, written by Lauren Gunderson and Margot Melcon, is an inventive piece of fan fiction that imagines Austen's most beloved characters celebrating the holiday season at the home of the now married Elizabeth Bennet and her beloved Mr. Darcy. The show is a continuation of Elizabeth's story with a romantic focus on her sister, Mary. Bookish and well educated, Mary is poised and articulate, but resigned to never finding love. Elizabeth cautions her to be open to possibility and the story takes flight.
Though not penned by Austen, "The script delightfully captures the style and intention of her voice," Sandhu enthuses. "The witty banter and musicality of the language are distinctively Austen, as is the mix of chivalry and courtship with revolutionary ideas about feminine intellect and autonomy." Heady matters indeed, but The Rep delivers them with a touch that's light, infectious, and a bit darling. For their production, the company also "took the authors' encouragement to embrace diverse casting," Sandhu mentions, "because Jane Austen is for everyone. As a woman of color who has loved Austen for so long, I really believe The Rep has invoked the spirit of Austen for contemporary audiences."
The cast of Stray Dog Theatre's Steel Magnolias was faced with a similar challenge --how do you take something familiar and infuse it with spirit contemporary audiences will respond to? Director Gary F. Bell has always been attracted to stories that feature a strong feminine perspective and he and the cast found that the love between a mother and a daughter and the friendships of women resonate just as deeply today as when the drama was first written. "Unlike the movie, the play features an all-female cast," Bell notes. "So, we decided to focus on the women, their strength and resilience as well as their inherent kindness and whip smart humor."
Eileen Engel, who plays Shelby in the show, also appreciates the depth of the characters. "There's so many layers to each character," she observes. "Many of the early rehearsals were simply about peeling those layers back, discovering all the truths of our characters, and," she adds with a laugh, "learning how to style hair." Engel also has a friend experiencing kidney failure, and she genuinely appreciates how the script captures that aspect of the story. Though tragic in many ways, the focus on enduring love and the support that comes through our families, friendships, and community gives the show a warm, hopeful tone that lingers.
"Shelby is so positive, despite her failing health," Engel explains. "She loves unconditionally, she is determined to live fully, and she desperately wants a child. Her mother desperately wants her child to live. Unless you've experienced illness like this, it's difficult understand what they're going through, but this play is so well written that you really feel the pain and joy in Shelby's situation." As Bell sees it, Steel Magnolias, running through December 17 at Stray Dog Theatre, "is based in truth, not 'based on a true story;' and there's a world of difference in the approach."
Instead of munching on stale movie popcorn watching Three Billboards Outside Ebbing, Missouri, you can catch the work of the wickedly perceptive Martin McDonagh at St. Louis Actors Studio. A Behanding in Spokane, the first play set in the U.S. by the Irish writer and director, is a darkly funny story. The play introduces us to Carmichael, a man who's been searching for his missing hand for nearly 50 years, a hapless couple of weed dealers with a hand to sell, and a hesitant desk clerk. Jerry Vogel anchors the cast, which also features William Roth, Léerin Campbell, and Michael Lowe.
Wayne Salomon directs the fast-moving play and says he has always appreciated McDonagh's language and style, particularly the way he weaves his narrative. "As with life, reality and our perceptions can simultaneously conflict and harmonize," Salomon wryly observes. "The characters are interesting and complex, but there's a familiarity there. And the language – McDonagh's dialogue has a lyric sensibility filled with sharp edges that reverberate with a lot of truth and genuine humor." Salomon saw the premier of this play, featuring Christopher Walken, and is excited to introduce A Behanding in Spokane, running through December 17 at St. Louis Actors Studio, to St. Louis audiences.
For tears of laughter and a funny take on a thoroughly unpleasant moment in U.S. history, you'll want to catch A Jewish Joke. The one-man show, written by Phil Johnson and Marni Freedman and starring Johnson, introduces us to everyman Bernie Lutz, a screenwriter who learns his name is on Joseph McCarthy's infamous blacklist. Lutz is "a funny, sloppy but fairly successful guy who's made it through his whole life without having to ever make any really tough personal decisions," Jordan explains. "We meet him at the moment when he has to make that decision. And, as he does, he finally steps into his own real character -- a (reluctant) hero." And nearly everyone can relate to that.
A Jewish Joke, in performance at The New Jewish Theatre through December 10, lovingly plays tribute to comedians and their ability to maintain their sense of humor in the worst of times. While we all may not feel a close connection to the humor of famed Jewish comics like Jackie Mason, Don Rickles, and Joan Rivers, the show owes much to their legacy and is a testament to resilience of humanity and the power of a good punch line.
Continuing this weekend:
In addition to the local professional shows opening this weekend, the Fabulous Fox theatre presents the touring production of Rodgers and Hammerstein's The King and I, continuing through December 10. The poignant story of culture and friendship gets a gorgeous interpretation, with bold, vibrant colors and intricate set pieces that add visual interest as they slide in and out of place. Naturally, your favorite songs receive excellent renditions, and the integration of traditional Thai dance, masks, and costumes is particularly artful.
As always, check out the KDHX Calendars for a listing of community art, music, and performance events!
Related Articles