Theatre Reviews
Theatre Reviews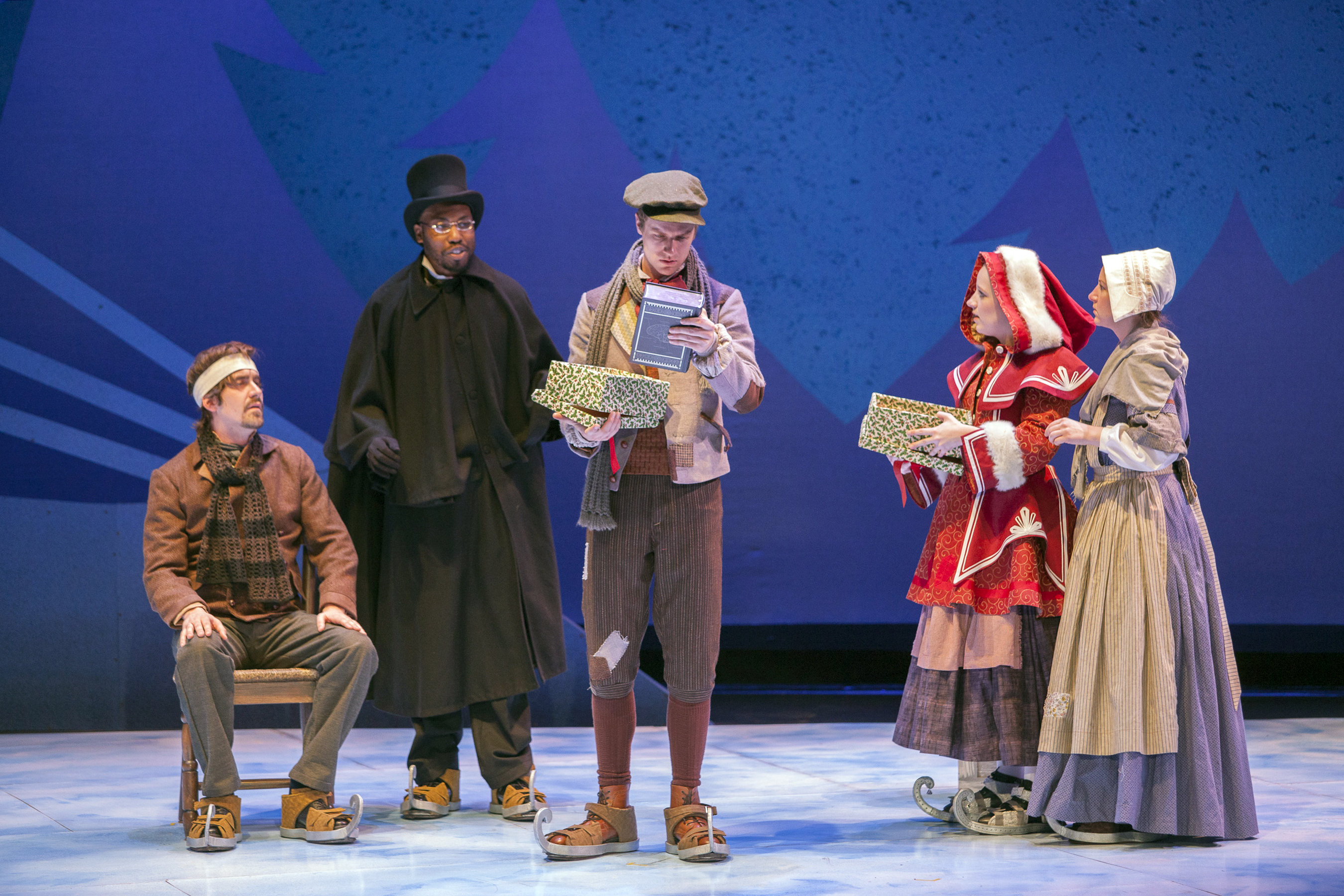 In Performance: From family friendly holiday fare to shows that pose more existential queries, there's something for everyone on stage this week
By
This week's In Performance includes the public premier of an inventive and charming family friendly show, a holiday celebration set in an uncertain future, and a play about movies, how meta might that get? With the season in full swing and the wind blowing cold, it's a perfect time for a relaxing with a play or musical!
Hans Brinker and the Silver Skates introduces young audiences to the joys of live theater with a show that entertains on multiple levels. Hans and Gretel Brinker cannot afford to attend school after their father's devastating accident has left them scraping for every penny. The two find joy in skating, but are taunted by wealthier children until one of them, Heidi, takes an interest in the siblings. Hans and Gretel are able to solve several lingering mysteries and ensure a happy ending through their own efforts and hard work, adding a sense of realistic possibility and can do spirit to the show. As Pete Winfrey, who plays Hans, notes, "Even though they're from another time, Hans and Gretel are familiar. The story is written in a way that communicates a lot of important ideas in less complicated ways and keeps the characters grounded in truth."
Director Julia Flood is excited to be doing a big, athletic show for the company's first production in their new home at the Grandel Theatre. One of the biggest challenges of the show, from both a technical and acting perspective, is recreating the sensation of skating that is central to the story. Designers Lou Bird, John Inchiostro, David Blake, and choreographer Jamie McKittrick worked together to create the impressive and visually compelling environment as well as the actors skates. Several actors, including Sigrid Wise, who plays Gretel, and Antony Terrell mentioned that they spent many rehearsals just learning how to skate, resulting in "muscles that I didn't even know I had being really, really sore."
The actors in Metro Theater Company's Hans Brinker and the Silver Skates, running through December 30, work hard to ensure that their performances include personalities students can relate to. Terrell notes that he was "really quiet until theater broke me out of my shell. There are probably kids at every show that are just like I was." Jennifer Theby-Quinn mentions that "It doesn't feel very good to play a mean character, but there are mean people in real life and we want to create characters the audience recognizes." Erika Flowers-Roberts chimes in, "At the same time, everyone is so kind and joyful, and caring, and that shows. We help and encourage each other, we want audiences to see that positivity." Families looking for a heartwarming and entertaining show everyone can enjoy will want to consider this show that celebrates human kindness and generosity.
This holiday season, Mustard Seed Theatre revisits Ron Reed's post-apocalyptic Remnant, a story of Christmas in a desolate future. After a plague has decimated the population and wiped out technology, a handyman tinkers with relics from a lost world, desperately trying to revive a past he never really knew. He gathers his small community together in an attempt to reconstruct the rituals of Christmas; when a stranger arrives, the clan must decide whether he is here to bring redemption or death.
The moving and effective play poses provocative questions about Christianity, and the practice of religion in general, that ring with current familiarity. What is at the core of our traditions and who is allowed to join a faith-based community? Can loyalty be destructive and how do we reconnect with the past when our language and ways of understanding the world have been fundamentally altered? Mustard Seed Theatre's revival production, running through December 23, features Ryan Lawson-Maeske, Marissa Grice, Katy Keating, Michelle Hand and Adam Flores.
Annie Baker's 2014 Pulitzer Prize winning play The Flick comes to life at R-S Theatrics. The poignant and bittersweet story introduces audiences to the employees at a rundown theater, one of the last that hasn't switched over to digital projection. The underpaid employees ponder weighty questions about authenticity and realism through a nuanced story that also examines the negative consequences of change and progress. In the end, audience members may be left pondering their personal experience with art in various mediums.
Director Joe Hanrahan notes that the show humorously relays the tedium of the job in richly layered dialogue, raising questions we've all probably considered during moments of boredom. "Who would play me in a movie?" Hanrahan poses as way of example. "I'd audition Dustin Hoffman and Al Pacino. But I think Gary Oldman with a lot of makeup," he mentions before shifting to his thoughts on the heart of the play. "The tragedy of this play is a country, an economy where kids like this have no careers to work towards. The comedy is their resilience and ability to grab life in the midst of this." R-S Theatrics production of The Flick, running through December 23, features Tyson Cole, Jennelle Gilreath, Jaz Tucker, and Chuck Winning.
Continuing this weekend:
The Rep's regional premier of Miss Bennet: Christmas at Pemberley, written by Lauren Gunderson and Margot Melcon and in performance through December 24, is an inventive piece of fan fiction. The romantic comedy imagines Austen's most beloved characters celebrating the holiday season at the home of the now married Elizabeth Bennet and her beloved Mr. Darcy. Bookish and well educated, Mary Bennet is poised and articulate, but resigned to never finding love. Elizabeth cautions her to be open to possibility and the story takes flight. The delightful continuation expertly captures the spirit of Austen's dialogue and storytelling, and introducing new ideas that match the revered author's forward thinking attitude.
Director Gary F. Bell and the cast of Stray Dog Theatre's Steel Magnolias, in performance through December 17, found that the story of the connection between a mother and a daughter and the women at Truvy's beauty salon resonate just as deeply today as when the drama was first written. Though tragic in many ways, the focus on enduring love and the support that comes through our families, friendships, and community, gives the show a warm, hopeful tone that lingers, making it a gem of a holiday show.
St. Louis Actors Studio presents Martin McDonagh's A Behanding in Spokane, in performance through December 17. The first play set in the U.S. by the Irish writer and director is a darkly funny story that takes interesting, if sometimes perplexing, twists. Carmichael, a man with a missing hand and anger issues, a hapless couple of weed dealers, and a hesitant desk clerk share an eventful night that delivers unique disappointment to each character and plenty of laughs for the audience.
A Jewish Joke, in performance at The New Jewish Theatre through December 10, lovingly plays tribute to comedians and their ability to maintain their sense of humor in the worst of times. The one-man show, written by Phil Johnson and Marni Freedman and starring Johnson, introduces us to everyman Bernie Lutz, a screenwriter who learns his name is on Joseph McCarthy's infamous blacklist. The show owes much to the legacy of Jewish comedians and is a testament to resilience of humanity and the power of a good punch line.
The Fabulous Fox theatre presents the touring production of Rodgers and Hammerstein's The King and I, continuing through December 10. The poignant story of culture and friendship gets a gorgeous interpretation, with bold, vibrant colors and intricate set pieces that add visual interest as they slide in and out of place. Naturally, your favorite songs receive excellent renditions, and the integration of traditional Thai dance, masks, and costumes is particularly artful.
As always, check out the KDHX Calendars for a listing of community art, music, and performance events!
Related Articles