Theatre Reviews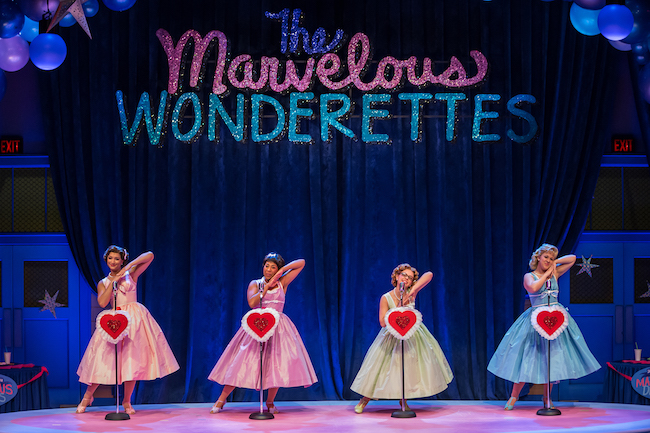 In Performance: The new year brings a fresh mix of theater choices for St. Louis audiences to enjoy
It's bitterly cold outside, but several St. Louis theaters are opening productions sure to warm your heart, giving you the perfect reason to brave the cold and go see a show. This week's In Performance includes a girl band reprising classics from the 50s and 60s, August Wilson's acclaimed play about sports and segregation, and a long visit from a quartet of women going through "the change." Whatever you do, be sure to bundle up and stay warm, inside and out!
The Repertory Theatre of St. Louis welcomes in the new year with The Marvelous Wonderettes, a fond look at friendship that celebrates the girl bands and pop hits of rock and roll's early years. From the moment the Wonderettes save their school's 1958 prom to their 10-year reunion, the four women remain committed to the music and each other. Period favorites like "Mr. Sandman," "It's in His Kiss," "Rescue Me," and "Respect" are performed by the irrepressible quartet, complete with detailed choreography and pitch-perfect harmonies.
"Each of the Wonderettes is a powerful triple threat that can really dance, sing, and act" notes director and choreographer Melissa Rain Anderson. "When one girl is singing a solo, the rest are supporting her, ensuring a true ensemble-based production. That's the beauty of this show: great chemistry, solid pop songs, and genuine friendship delivered at a quick-pace with plenty of comic relief."
While the charming production features the music, Anderson emphasizes that "the show is so much more than a jukebox musical. It celebrates the enduring friendship between authentic characters who undergo significant changes in the years between act one and two. Life isn't always rosy, but these women are committed to the music and to each other, creating a celebration with real heart." In The Marvelous Wonderettes, running through January 28, The Rep's talented cast and live band are completely in-sync, creating a "wall of sound" that's certain to entertain.
The Black Rep presents August Wilson's perceptive and heart-wrenching Fences through January 21. The moving drama introduces audiences to Troy Maxson, a star of the Negro Baseball League who must reconcile his bitterness and anger towards the segregation of his youth if he wants to save his relationship with his wife and son, a promising young athlete.
Wilson's deeply affecting script explores Maxson's reaction to his son's prospects as well as his lingering disappointment over his exclusion from baseball during his prime. The sixth play in Wilson's "Pittsburgh Cycle," which artfully and thoughtfully explores the ever-changing and often difficult experiences of African Americans in white American culture, Fences won the 1987 Pulitzer Prize for Drama and a Tony Award for Best Play. The evocative show makes a powerful statement on race in America, but may be best remembered for its depth and sincerity, ensuring it's a show not to be missed.
Menopause the Musical, a celebration of women going through "the change of life," returns to the Playhouse @ Westport Plaza for an extended run that's the perfect excuse for planning a girls' night at the theater. Set in a swanky department store where four women meet while fighting over a bra during a lingerie sale, the catchy musical is filled with humor and compassion. After noting their similarities in taste and age, the women quickly bond over the trials and tribulations of growing older in clever send-ups of hit songs from the 1970s and 80s. Younger members of the audience may not be as familiar with the original songs, but will still enjoy the fresh twists and funny truths the new lyrics reveal.
The popular musical comically addresses the many unexpected changes women over the age of 40 are bound to face. Instead of melting down or hiding, the witty show encourages women to deal with life's adjustments by embracing and supporting each other. Jokes about hot flashes, mood swings, wrinkles, weight gain, impatience, and much more are exchanged and parodied in a number of familiar tunes with cleverly updated lyrics that hit the mark. For a rollicking good time that embraces femininity at any age, Menopause the Musical, in performance through March 31, is a sweet and comic hit.
Continuing this weekend:
January brings a fresh start to the calendar and the St. Louis theater schedule as well! To make sure you don't miss an event of note, don't forget to check out the KDHX Calendars for a listing of community art, music, and performance events.
Related Articles