Theatre Reviews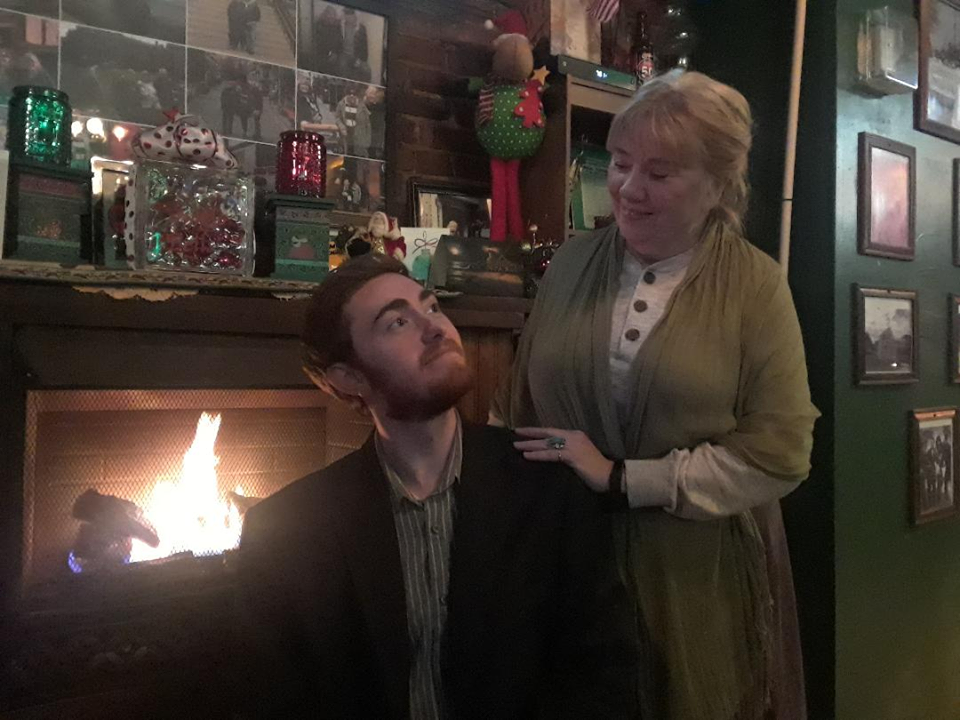 In Performance: 'The Meeting' imagines a conversation that might have been while 'In the Shadow of the Glen' creates drama from rumor
This weekend several of the newer companies around town have openings to add to your entertainment considerations. This week's In Performance features two compelling stories that revolve around the very human need for connection and community, or at least an amicable agreement to disagree. Several shows from last week continue their run and the fabulous and spirited Kinky Boots lights up the Peabody Opera House, so there's plenty of reasons for you to go see a play or musical.
CreativeWorks Theatre presents a one-weekend only production of Jeff Stetson's The Meeting. The thought provoking period drama imagines an historic meeting between two of the most important figures of the Civil Rights Era, Malcolm X and Dr. Martin Luther King, Jr. The alleged meeting takes place on one of the higher floors of a Harlem hotel while both men are in New York City, just before Malcolm X's fatal appearance at the Audubon Ballroom. Malcolm X, played by Jason Little, and Dr. Martin Luther King, Jr., played by Zachary Clark, are initially cautious, wary of each other. Soon they begin to debate tactics and philosophies, leading them to argue, defend, and find some common ground, though each remains firmly resolved in his beliefs and course of action.
The show is a compelling "what if…" and, as director Joel PE King observes, "an interesting chance to explore, to properly sort and validate, each person's philosophies. To allow moments of assertion and passivity to breathe through both men, opening the eye of thought and lessening the weight of opinion." King is particularly interested in the portrayal of Dr. King, Jr., noting that people often confuse passivity with weakness. "What created pause," King notes, "is this portrayal of meekness that often times gets confused with being a pushover." He pauses just a moment before adding, "which is not too surprising, since the choice to move out of love and not aggression often gets a bad rap."
King is passionate about The Meeting and his growing company. "We are here to produce quality, conscious theatre, one creation at a time," he offers as his raison d'etre. "It is my goal to present pieces that are powerful, presentational, and reflect present day reality. With this creation, I believe we have achieved such." The Meeting, a CreativeWorks Theatre production, runs through January 14 at the .Zack on Locust.
Cocktails and Curtain Calls In the Shadow of the Glen, performed at a local tavern, provides patrons a chance to enjoy a meal, a drink, and a show while hopefully intriguing pub patrons and drawing in new theater fans. Written by Irish playwright John Millington Synge, director Sean Belt notes "This is a rare opportunity for audiences familiar with Synge's other work, such as Riders to the Sea, to see this genuinely beguiling and well-written script produced."
The story, influenced by Ibsen's A Doll's House, introduces a man convinced his wife is cheating who fakes his own death to try to catch her. The accusations are about as scandalous as they come, adding a good deal of spice to the humorous tale and a nice finishing twist for the wife. Belt compliments the cast, which includes Bob Beck, Jane Abling, and Stefan Peterson, remarking that they turn in "beautifully subtle and comic performances in their retelling of a story that's quite lovely, if seldom performed." Cocktails and Curtain Calls 'In the Shadow of the Glen' continues in the Patriot Room of John D. McGurk's Pub in Soulard through January 21, an extension of the run may be announced later this month.
Inspired by true events, Kinky Boots, Broadway's huge-hearted, high-heeled hit, with songs by Grammy® and Tony® winning pop icon Cyndi Lauper, plays at the Peabody Opera House January 13 & 14. The musical celebrates friendship, fashion, and the belief that you can change the world when you change your mind.
Continuing this weekend:
The Repertory Theatre of St. Louis continues its production of The Marvelous Wonderettes through January 28. The jukebox musical is a fond look at friendship that celebrates the girl bands and pop hits of rock and roll's early years. From the moment the Wonderettes save their school's 1958 prom to their 10-year reunion, the four women remain committed to the music and each other. The Rep's talented cast and band are completely in-sync, creating a "wall of sound" that's certain to entertain.
The Black Rep presents August Wilson's perceptive and heart wrenching Fences through January 21. The moving drama introduces audiences to Troy Maxson, a star of the Negro Baseball League filled with bitterness and anger that takes a toll on his family. The sixth play in Wilson's "Pittsburgh Cycle," Fences, won the 1987 Pulitzer Prize for Drama and a Tony Award for Best Play. The evocative show makes a powerful statement on race in America, but may be best remembered for its depth and sincerity, ensuring it's a show not to be missed.
Menopause the Musical continues at the Playhouse @ Westport Plaza through March 31. Set in a swanky department store where four women meet while fighting over a bra during a lingerie sale, the catchy musical comically addresses "the change of life." Instead of melting down or hiding, this sweet and comic hit encourages women to deal with life's hormonal adjustments by embracing and supporting each other.
To make sure you don't miss an event of note, don't forget to check out the KDHX Calendars for a listing of community art, music, and performance events.
Related Articles