Theatre Reviews
Theatre Reviews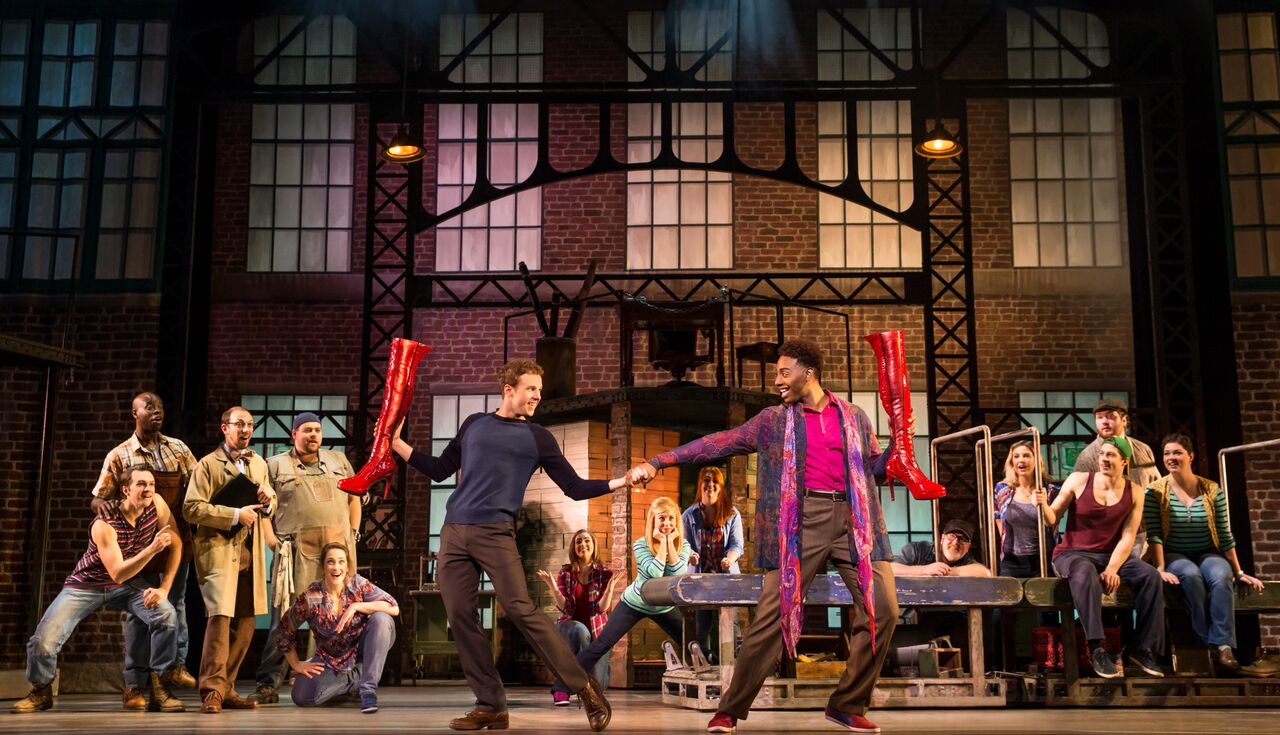 'Kinky Boots' is a rocking, good time musical that kicks the term 'be yourself' into a higher gear
By
Kinky Boots, a musical about a nebbish young man trying to save his family's shoe manufacturing company, reaffirms and shakes up everything audiences love about big Broadway musicals without out missing a high-heeled step. Written by Harvey Fierstein and Cyndi Lauper, the music is mostly up-tempo, the messages are uplifting, and about half the ensemble is drag queens. The resulting show is a delight, filled with contemporary twists on ages old lessons.
Charlie Price is a sympathetic hero whose every choice has increasingly bigger consequences. With low demand for his family's shoes, he faces a seemingly insurmountable challenge and his best friends also happen to depend on him for a job. He's also at a crucial point in his relationship with Nicola, his ambitious fiancée. She wants to move to London and make a lot of money in real estate. He's less certain where he belongs or what he wants. A chance meeting with a drag queen with a penchant for stiletto heels named Lola offers opportunity but adds to his conflict. There's betrayal and several moments when all hope seems lost, and Charlie nearly gives up before remembering what matters to him.
Lance Bordelon is charming and appealing, if at times purposefully awkward and uncertain, in his portrayal of the earnest, but not close-minded Charlie. He's engaged but not really in the relationship, allowing Hayley Lampart's Nicola to lead him around. He's also the type of guy who instinctively chooses to be kind to all and loyal to those he cares for, an important quality for any accidental hero.
Jos N. Banks is empowering and captivatingly charismatic as Lola (known as Simon when out of drag), with a presence that demands attention and the voice and moves to hold it. Banks' ballad about Simon's relationship with his father is a stunning, quiet moment that centers and grounds the show, and a very real scene. In contrast, Lola always sings showy melodies in a full voice with good range and control and well-executed choreography.
Lola is frequently backed by her team of Angels: Brandon Alberto, Eric Stanton Betts, Derek Brazeau, Tyler Jent, Tony Tillman, and Ernest Terrelle Williams, who mesmerize with choreography that snaps, spins, drops, and kicks in high-drag style and equally dazzling costumes. There's a sense of knowing and fun to the drag performers, with a confidence that's friendly and inviting.
Sydney Patrick adds an unexpected and welcome quirkiness to her portrayal of Lauren, an employee and, naturally, the right girl for Charlie. John Anker Bow gives Charlie's assistant George just the right mix of prim exterior and arched eyebrow interest to comically steal moments, adding depth to the light comedy. Several of the supporting characters stand out, including Adam du Plessis as Don, Bethany Xan Jeffery as Pat, Ethan Kirschbaum as Harry, Monica Ban as Trish, and, in a small but memorable laugh out loud scene, Natalie Braha as the Milan Stage Manager.
Director DB Bonds and choreographer Rusty Mowery recreate original director and choreographer Jerry Mitchell's show in ways that are visually interesting as well as impressively danced. The attention paid to supporting roles is also appreciated, and I applaud the instinct to add unique personalities rather than caricature to stock characters. Music director Kevin Casey ensures the arrangements suit each actor's strengths and the levels are well balanced, ensuring it's easy to hear distinct voices and instruments even during the busiest songs.
The scenic design, by David Rockwell, works well on the Peabody stage and is used quite inventively. Conveyor belts, ladders, and shoe molds create interesting levels on several ensemble numbers and the neon lights in the finale are a perfect touch. The design is complemented by Kenneth Posner's lighting and John Shivers sound. Gregg Barnes' drag queen costumes are, as previously mentioned, fabulous; the rest of the costumes are grounded in everyday wear, and include a nice mix of slacker and young professional garb, with a few tailored pieces adding texture and signaling status.
Kinky Boots is bold and loud at every turn, but it never shouts at the audience. Instead, the actors cajole and invite with a mix of characters that range from next-door neighborly to imaginatively over-the-top, and that's part of the lure of a show that encourages each of us to be true to our better self. Through lessons on compassion and the contradictions of human nature, the production rocks with an assertion that each of us is valuable.
Without the true friendship and belief of Lola and a little mind-expanding compassion, Kinky Boots, in performance at the Peabody Opera House, January 13 and 14, could easily turn into a tragedy. Instead, we get tight harmonies and heartfelt melodies, a precise and acrobatic dance core, fabulous glitter, and a profitable if somewhat unconventional future for the family business. In short, Kinky Boots delivers sweet, spicy, and salty in a deliciously colorful musical confection.
Related Articles