Theatre Reviews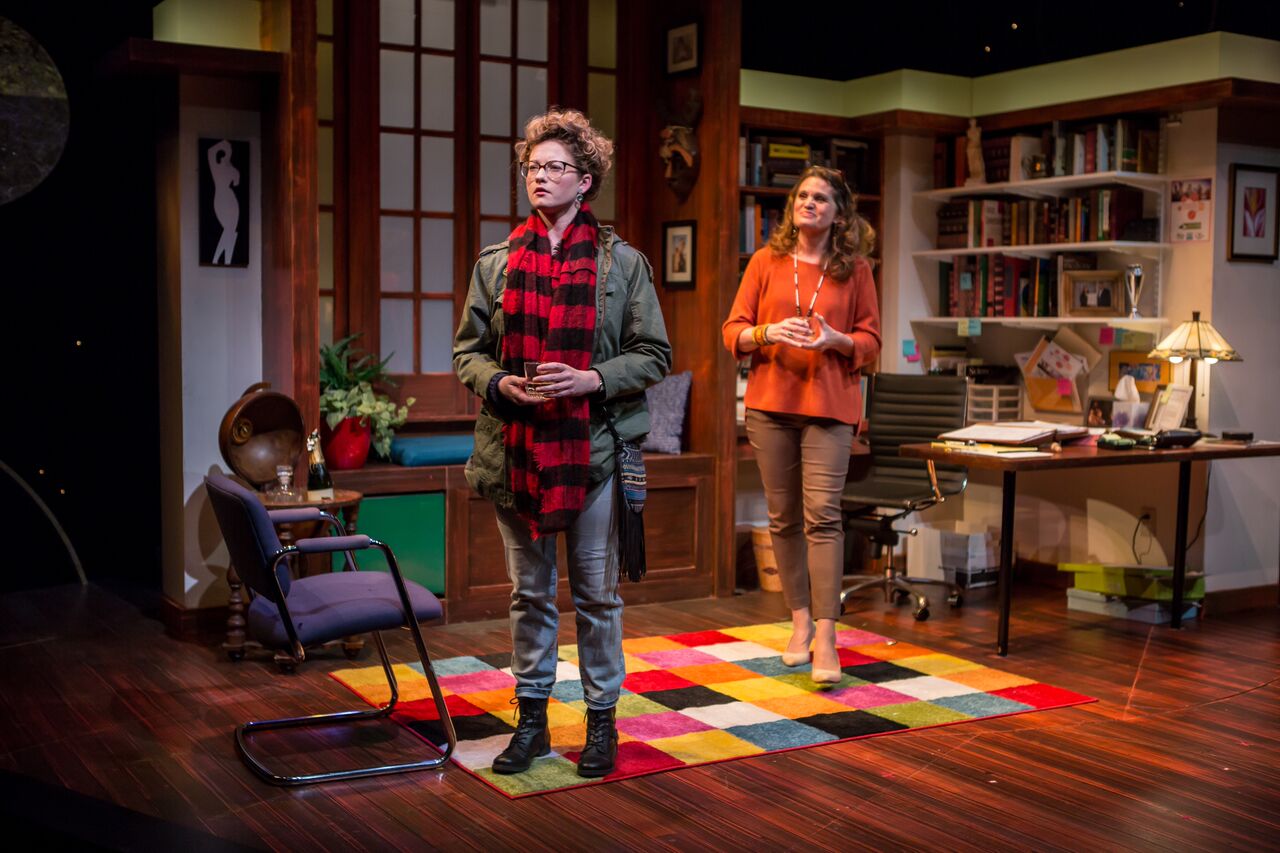 In Performance: the New Jewish Theatre explores the politics of science and gender while the St Lou Fringe revisits a dino-sized comedy
Since there's no NFL game this weekend, now is a great time to get your sports-loving friends and family members out of the house and into a theater! This week's In Performance reminds us that playwrights aren't afraid to tackle any subject matter, but it's the audience members who are the real winners.
In New Jewish Theatre's production of The How and the Why, two brilliant female scientists, evolutionary biologists, discover that they have much more in common than first appears. They also learn to respect, listen to, support each other, while gaining compassion and a better sense of self. With talk of scientific theory, the struggles of academia, and their past histories there's a lot to take in. Thankfully, in company artistic director Kathleen Sitzer's opinion, the exceptionally talented Amy Loui and Sophia Brown prove themselves up to the task, and more.
"There's a lot of science in the conversation, naturally," Sitzer begins. "These two women, a generation apart, are stars in their field. One rising, the other established, they are also unique in that they are leading minds in a heavily male dominated career." Though fascinating, she explains that the show is much more than the science. "If you dwell on every scientific bit, you can get lost. But if you focus on the relationship," she emphasizes, "there are so many interesting twists and very real issues being discussed by two women who are smart, talented, and opinionated."
The women meet for the first time on the eve of an important conference. Brown's character has been rejected for a presentation slot in the conference and Loui's character is on the board and selection committee. She's aware of the submitted paper, but they meet under completely different pretenses. "The story really focuses on the priorities of women, and how society views and has changed their view on this," Sitzer continues. "About the ways women have typically been pressured to choose – career or family; love or success. These two women have to figure out how to relate to each other in the here and now, and going forward, but they represent crossroads so many women have faced." Layered with contemporary issues and compelling performances, Sarah Treem's The How and the Why runs through February 11 at New Jewish Theatre.
The St Lou Fringe invites audiences to a reprise performance of the 2017 festival's FringeMeister award-winning play Hot for T-Rex, from The Tesseract Theatre Company, Sunday, January 28 at the Kranzberg Studio Theatre. Brittanie Gunn is Mia, a successful writer of Dino-erotica who's on a mission to track down her critics and set the record straight. Written and directed by Taylor Gruenloh, you don't want to miss your chance to see this hilarious one-act comedy about love, grammar, and revenge.
Continuing this weekend:
Faceless introduces audiences to Susie Glen, an 18-year-old on trial for and aiding terrorism after joining ISIS online. Claire Fathi, a Harvard-educated, practicing Muslim, represents the prosecution and she has a very different understanding of the religion Susie now professes to follow. The probing and thoughtful Faceless continues in the Studio Theatre at the Repertory Theatre of St. Louis the through February 4.
The Fabulous Fox Theatre presents Andrew Lloyd Weber's high-voltage musical The School of Rock, in performance through January 28. The teen-spirit filled musical features some truly prodigious kids who steal the show, and your heart, with raucous, unfettered enthusiasm.
Cocktails and Curtain Calls In the Shadow of the Glen, continues through Sunday, January 28. The story, influenced by Ibsen's A Doll's House, introduces a man convinced his wife is cheating who fakes his own death to try to catch her.
The Repertory Theatre of St. Louis continues its production of The Marvelous Wonderettes through January 28. The jukebox musical is a fond look at friendship that celebrates the girl bands and pop hits of rock and roll's early years. The Rep's talented cast and band are completely in-sync, creating a "wall of sound" that's certain to entertain.
Menopause the Musical continues at the Playhouse @ Westport Plaza through March 31. Set in a swanky department store where four women meet while fighting over a bra during a lingerie sale, the catchy musical comically addresses "the change of life" while encouraging feminine positivity and support.
To make sure you don't miss an event of note, don't forget to check out the KDHX Calendars for a listing of community art, music, and performance events.