Visual & Performing Arts
Visual & Performing Arts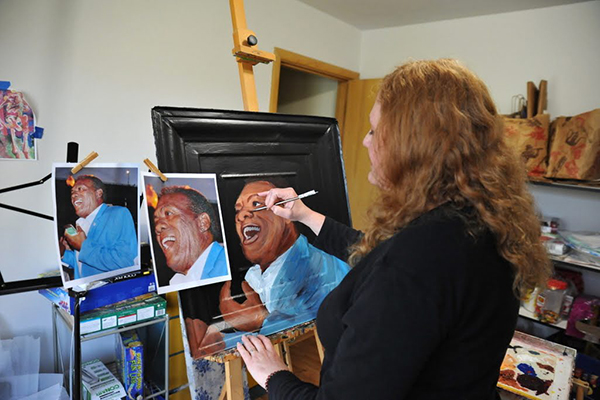 'Expressions of the Blues' is A Dream Come True for Carol Boss
By Bob Baugh
The next time you hear the phrase, "I'm livin' the dream," think of Carol Boss. She is a St. Louis artist whose show, "Expressions of the Blues," will be opening at the National Blues Museum on June 2, 2018. The 28-piece exhibit of hand-painted portraits of blues artists on recycled tin ceiling tiles is the validation of an artistic journey begun more than two decades ago. 
Boss moved to St. Louis in 1995 with her College of the Ozarks bachelor's degree and a double major in art (painting and graphic design) and business. Freelancing got her a full-time job at Busch Creative and later Zipatoni. While photo retouching was her specialty, her work covered everything. "The truth is," Boss says, "when you are working in graphics there is a lot of overlap between, production, digital imaging, design and illustration." 
Through work she met her future husband, Matt Henderson, and friends who would introduce the West Plains bluegrass girl to the blues.   
Big George's Hands 
Life was good as Boss dug into the city buying a home in the Shaw neighborhood. "I loved the community with our progressive dinners and different multicultural beatnik people."
It was Jennifer and Roger Stolle who first took her to her to see Big George Brock in the late 90s. Carol said "I liked the show, but I wasn't a blues fan at the time."  But, she was impressed to find Brock sitting outside the club door shaking hands. "He was an ex-boxer with huge hands," she said. "I admired his kindness."
She took up painting again when she did a portrait of her father-in-law following his death for her husband, Matt. It triggered an itch. 
Boss remembered those huge hands and wanted to paint them. Roger Stolle, who had relocated to Clarksdale, Miss. in 2002, had what she was looking for. He had been the host of the Sunday night 'Down in the Alley' show on KDHX before packing up their folk art and music collection and moving south to open Cat Head Delta Blues and Folk Art. Today, he laughs when he talks about the decision, "I opened a CD and folk store in the middle of the digital revolution."  
Stolle showed Boss a picture he had of Brock sitting outside the store playing music. It was exactly what she needed. She painted the picture and gave it to him. To this day it is on display in the store with a "Not For Sale" sign on it. Stolle remains amazed by Boss, "Carol has the ability to literally capture the feel of a place and the authentic eccentric quality of the characters she paints."
Bill Kuntz saw it, too, when he saw Boss' painting at Cat Head.  
Kuntz had that painting in mind in 2006 as he prepared to open HWY 61 Roadhouse & Kitchen in Webster Groves. This was the type of authentic blues art he wanted for wall murals. He approached Boss about it and she came up with the colorful, multi-themed main wall and mantle murals that captured the funky, bluesy, juke joint atmosphere he sought. Her friend, Julie Krovika, complimented her work with her own wall art that includes a map, and depictions of Josephine Baker, Pine Top Perkins and the Bessie Smith door. 
Brock saw a shrink-wrapped version the mural on the HWY 61 van in 2009 and asked Boss to paint his bus. No shrink wrap for him. She worked off of Joe Rosen's photos of Brock. It was a two-month, very sticky, fume-filled automotive paint job. "It was awful," she said, "never again." When she was done with the painting Brock asked Boss to be his southern manager and she quietly took the job on. Now he's like family. "Big George is sort of like my Grandpa, we talk multiple times a weeks," said Boss. 
Working with Brock brought her closer to the blues community. In 2014, she dove deeply into the music and culture. She started going to Clarksdale doing photography and painting a watercolor series to strengthen those ties. "Offseason, there's time to talk," she said. "They love and respect artists in Clarksdale. I met blues followers and players, learned about the people and they became friends. There are still real hard times going on there." 
The opening of the National Blues Museum here in the spring of 2016 would prove to be a pivotal event in Boss's life.  
The Dream
Boss had never been to the museum, but said she saw it in a fantastic dream following minor surgery. "I knew I was in a downtown building with old tin ceilings and an old varnished bar and magenta lights," she explained. "B.B. King was there singing 'The Thrill is Gone.' There were artists everywhere with paint on their hands, framed by the lights and painted face silhouettes of blues figures. It was the most beautiful dream I had ever had. I woke up singing. 'The Thrill is Gone.'"
For Boss, it was a sign. 
Brock had been telling her to call artist Sharon McConnell Dickerson, whose series "A Cast of Blues," was being shown at the museum. She is a blind artist that makes masks of blues musicians by using a sculptural technique called life-casting that makes a plaster cast of a face. When Boss called her they talked for three hours. "We were like sisters separated by birth," Boss said.  In retrospect, she would say, "I used to think I was helping Big George, but maybe he was helping me, leading me somewhere." 
Conversations between the two artists ended up focusing on the incoming photography exhibit, "Women of the Blues," by Lynn Orman Weiss.
With Weiss' encouragement, they talked about the possibility of working together on something. They were brainstorming mediums when McConnell Dickerson began describing the reflection of light and how magenta light reflects on surroundings. Boss shivered in recalling it: "It was exactly like my dream. I knew I had to go to Como, Mississippi."  
They decided on painting a three-dimensional triptych of Ma Rainey, Bessie Smith, Memphis Minnie and Jesse Mae Hemphill. They used modeling paste and caulking to mold parts. McConnell would do the hand molding while Boss created the outline, mixed the paints and set up the joint painting process. It was a bonding experience neither will ever forget. "Sharon could still see slivers of light. I would guide her and we would paint together," Boss explained. "We looked like we were connected at the hip." The triptych of was a hit. 
Boss now knew she needed to do her own show based upon the dream. It meant cutting back on her freelance work and work with Brock. She said she realized, "I needed to put that energy for him into energy for everybody in the blues; I needed to bump it up a notch." Her husband, Matt, was on board and so was Jacqueline Dace the Director of Internal Affairs for the National Blues Museum. They discussed the focus mediums, type of paint, presentation and all the aspects of an exhibit. 
Bump it up a notch she did with a unique process and materials. Boss' canvases are the old recycled tin ceilings that she saw in her dream. First the tiles were stripped, sanded, coated and primed with exterior satin finish latex paint. Then the figures were etched, painted in acrylics, rubbed with an antiqued bronze powder on the backgrounds and coated with an acrylic varnish. Finally, they are encased in the handmade frames cut by her husband. The paintings, enhanced by Boss's rough brushwork and the vibrant colors of her dream, smolder with authenticity, character and an old roadhouse feel. 
"Expressions of the Blues," scheduled to run from June 2 through September 29, features portraits of young and old blues musicians. It includes national figures like Anne Harris, Aretha Franklin, B.B. King, and Bessie Smith, as well as local musicians like Brock, Henry Townsend, Marquise Knox, Matthew Lesch, Renee Smith, Sharon Foehner and Uvee Hayes. 
It will be the second exhibit in a row as it replaces Belleville native, John Wegrzyn's exhibit, "See That My Grave is Kept Clean" in the Scott and Dianne McGuaig Gallery of the National Blues Museum.  
Carol Boss is happy. That's what happens when dreams come true. She used to like bluegrass, but now she's a real blueswoman. She feels she is where she should be.
"I love my art and blues music. When you're contributing and part of a community, I just feel like I'm in the right place," Boss explained. "It's my church. It's a community. It's addicting." 
Head over to our Flickr page to see the full set of photos by Bob Baugh.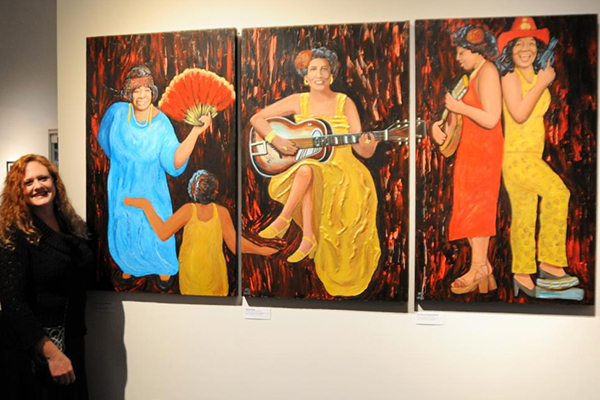 Triptych by Carol Boss and Sharon McConnell-Dickerson, Women of the Blues at National Blues Museum 2017.