Visual & Performing Arts
Visual & Performing Arts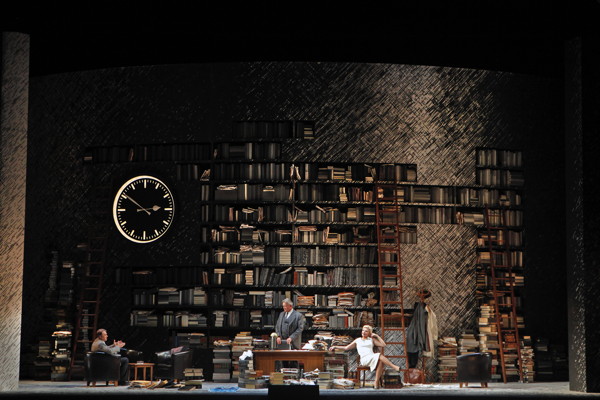 Starved For Opera? Companies Offer An Online Feast
By Chuck Lavazzi
For lovers of live music and theatre, this has been a lean year, thanks to the coronavirus pandemic.  Theatres and concert halls are high-risk environments for airborne transmission of the virus for audiences and performers alike. That means they are likely to remain shuttered for some time.
This year has been especially tough for local opera lovers, with both Opera Theatre and Union Avenue Opera cancelling their seasons.  Fortunately, some major companies are making video recordings of past performances available for free. This list isn't exhaustive—it barely scratches the surface, in fact—but it at least should give you some idea of what's available.
James Morris in Die Walküre
The Metropolitan Opera offers a massive library of Met performance videos, some dating back many decades, both on its web site and via its Met Opera on Demand app for devices and smart TVs.  Full access requires a subscription, but every day they offer a free preview of a selected opera. It's a complete performance rather than a collection of excerpts, but it's only available for 24 hours. The Met's web site says the streams start at 7:30 pm EDT but but I have seen them start as early as 6 pm EDT, so tuning in a bit in advance couldn't hurt.
Tonight (July 3), for example, it's a 2011 production of Mozart's "Don Giovanni" with baritone Mariusz Kwiecien in the title role.  Previous freebies have included a stunning "Die Walküre" from 1989 with Jessye Norman, James Morris, Hidegard Behrens, Kurt Moll, and Christa Ludwig; a delightful "La fille du regiment" with soprano Pretty Yende and tenor Javier Camarena as the comic lovers; and a wonderfully whimsical production of Massenet's "Cendrillon" ("Cinderella") that I saw at Lyric Opera of Chicago in 2018.
Upcoming previews include Donizetti's comedy "Don Pasquale" on July 4. Filmed in 1979, it stars the late superstar Beverly Sills in her farewell Met performance. July 5 brings us Rossini's "La donna del lago" ("The Lady of the Lake"), based on the 1810 narrative poem by Sir Walter Scott.  Check out the Met's Nightly Opera Streams web site for future schedules. It's updated weekly.
Patricia Racette in SusannahPhoto by Cory Weaver
San Francisco Opera is also offering free on-demand streams, but only on weekends.  A new opera goes online every Saturday at 10 am PDT and stays there until midnight on Sunday (which is 2 am Monday morning here in the Midwest).  This weekend, July 4-5, it's Carlisle Floyd's "Susannah." This rarely seen American classic tale of innocence lost to hypocrisy and violence stars soprano Patricia Racette, whom St. Louis audiences will remember from her impressive Violetta in Opera Theatre's 2018 "La Bohème."
Previous videos have included a killer production of Busoni's powerful "Mefistofele" with Ildar Abdrazakov in the title role and Ms. Racette as the tragic Gretchen as well as a downright disturbing "Salome" with Nadja Michael oozing deranged sexuality in the title role. It's the same production Opera Theatre gave us in 2009 with Kelly Kaduce as Salome.
Upcoming entries in the series are Rossini's "La cenerentola" ("Cinderella"), which plays the whole story for laughs and has no supernatural elements on July 18-19, and a genuine rara avis, Janáček's "Věc Makropulos" ("The Markopoulos Case") on July 25-26. Based on a play by Karel Capek (author of the science fiction play "R.U.R.") involving a complex legal case and a singer who is apparently immortal, "The Markopoulos Case" is one of those operas many of us have read about but never actually seen, so this is a great opportunity to find out what all the fuss is about.
SFO doesn't have an app, so you'll have to watch via their "Opera is ON" web site.  That said, if your smart TV supports a webcasting app (I use Mirror for Roku myself; it's available for both computers and devices) you can watch on your big screen with ease.
Sara Gartland in Rusalka
Photo by Duane Tinkey
Des Moines Opera offers perhaps the most flexible arrangement I have seen so far, with its "2020 Virtual Festival" of six operas and a series of concerts featuring its 2020 Apprentice Artists (the equivalent of the Gerdine Young Artists at OTSL).  The operas are Massenet's tragic "Manon"; Lee Hoiby's one-act "Bon Appétit," which celebrates the life of the late Julia Child; Dvorak's rarely seen "Rusalka"; Britten's "Billy Budd"; and Rossini's comedy "Le Comte Ory."  Availability dates of the videos vary; check out the company's web site for details. They're streaming via the Iowa PBS YouTube channel, so if you have the YouTube app on your smart TV, you're good to go.
Lest you think I'm forgetting the home team, Opera Theatre of St. Louis offers an assortment of interviews, behind-the-scenes features, and other goodies on their YouTube channel.  No complete opera, alas.
There are many other digital delights available for the opera lover right now.  Opera America has a complete list, which is updated on a regular basis. Check it out, but be prepared to be a bit overwhelmed by the sheer size and variety of it all.
So even though it may be a while before opera houses once again open for business, you can still turn your living room into a virtual theatre. You won't have to pay for the drinks and you also won't have to wait for intermission to use the toilet—a useful thing if you're watching a marathon like "Die Walküre."
Related Articles