Volunteer Spotlight
KDHX Volunteer Spotlight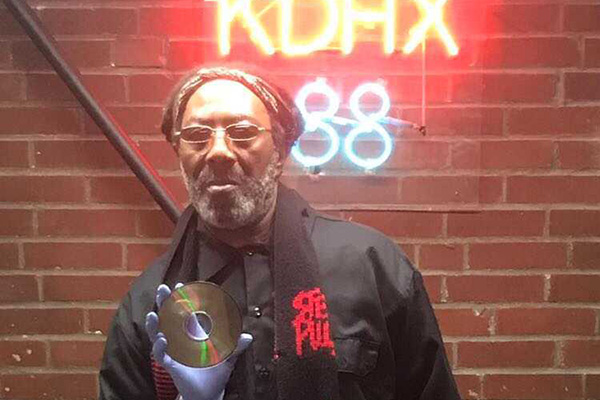 Volunteer Spotlight: DJ Ranx
Volunteer Spotlight: DJ Ranx
DJ Ranx
Dub Mixture
Saturdays | 1:00am-3:00am
DJ Ranx, Host of Dub Mixture has been spinning the hottest dub-style reggae (dub is generally an instrumental and electronic version of reggae that is enhanced through various audio effects and mixing techniques) as a KDHX volunteer for 20-plus years!
From an early age, Ranx had an enviable collection of 45 records. During the '60s and '70s Ranx's grandfather, a tavern owner in East St. Louis, had a jukebox loaded with the Top 10 singles of the time. Once the song dropped from the Top 10, the record left the jukebox and landed in the hands of Ranx. From a child to a teen, Ranx was listening to James Brown, The Motown sound, Stax records hits and more.  
Musically inclined, Ranx was drawn to instruments at an early age, the first of which was the trumpet. For many years Ranx was taught trumpet by Elwood Buchanan, an early mentor of Miles Davis. 
Later in life, Ranx learned to play both bass and electric guitar in addition to keyboard. Not only a reggae DJ, Ranx is also the vocalist and multi-instrumentalist for reggae band Dubtronix which formed in 1995.
Hearing reggae booming from a Metro East college radio station in the '90s had Ranx thinking about hosting a reggae show of his own. Working at a St. Louis record store with a deep reggae section additionally bolstered Ranx's knowledge of reggae. Ranx became the go-to for hot record recommendations for another KDHX DJ who referred Ranx to KDHX.
DJ Ranx and Dub Mixture debuted on 88.1 in 2000. Ranx was also involved with KDHX TV (DHTV) as a co-host of Culture Vision, which showcased live music performances at St. Louis area venues and aired on Thursday nights from 2003 to 2008.
After surviving both a stroke and a heart attack in April of 2009, Ranx thoroughly enjoys life. In addition to being a KDHX DJ and volunteer, Ranx makes music with his two sons. And though his daughter who lives in Atlanta occasionally suggests that Ranx make the move to Georgia, DJ Ranx is happy to live in the Midwest and appreciates all that the STL area has to offer. 
1. First record ever bought:
Jimi Hendrix - Smash Hits, though there may have been a Monkees record, as well. 
2. Favorite newish band:
Jay Coast 
3. Last live music show attended:
The 12th Yearly Bob Marley Festival @ Blueberry Hill feat. Murder City and STL Best Artists. 
4. Best live act ever seen: 
Parliament/Funkadelic while in the 11th grade at East St Louis Senior High School
5. Favorite KDHX Show:
Positive Vibrations