KDHX Volunteer Spotlight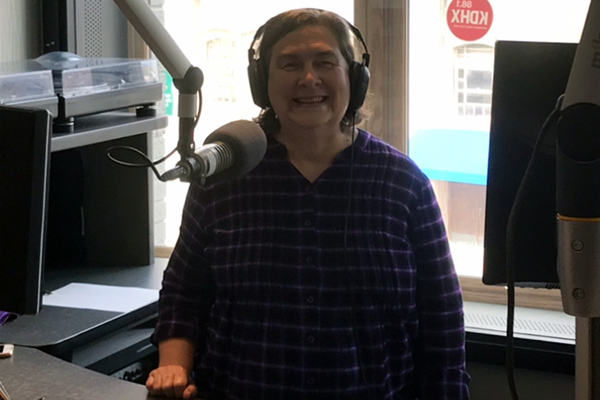 Volunteer Spotlight: DJ Jan
Volunteer Spotlight: DJ Jan
DJ Jan
Global Grooves
Mondays | 2:00pm-4:00pm


Expand your horizons with Global Grooves. When you ride the airwaves of 88.1 KDHX with Jan, your musical travel guide, you will hear a mind-blowing range of contemporary and traditional world music. Take off here every Monday at 2 pm.
As the host of Global Grooves, KDHX DJ & volunteer Jan Beckert is a musical travel guide, taking listeners on a journey, riding the airwaves to distant lands and faraway places. For Jan, sharing this passion for world music has become even more meaningful during COVID times as a way to escape and explore sounds from all over the globe together with KDHX listeners. 
With a background as a therapist and in social service, Jan put a focus on helping those in need. She has been a part of a cultural competency committee that helped to educate people and look at other cultures with more sensitivity. She connects music with the message of building community. "Music is good for mental health. It is a language that everyone understands and can build bridges and bring people together," Jan says.
As a child growing up in South St. Louis, Jan recalls with nostalgia her mother dancing to the sound of the big bands of the era which filled her home. Jan's German heritage also provided her the opportunity to learn to dance the polka and the schottische. 
With many family members who were self-taught musicians, Jan can boast that both her grandfather and father played bugle as soldiers in WWI and WWII. 
Having traveled the United States and visited countries such as Italy and Costa Rica, Jan has an appreciation of other cultures and values a St. Louis community that has become much more diverse than that of the St. Louis she recollects from childhood.  
As curator of Global Grooves, Jan chooses a common weekly theme, the focus for the month of March, for example, being Women's History Month. She'll use five weeks to "amplify the voice of women musicians" from various points of the globe, specifically: Asia, Africa, Europe, South America, the Caribbean and Pacific Islands. 
Even though COVID protocols have limited interaction with others while at the KDHX studios, Jan does appreciate the community of being a KDHX volunteer and looks forward to engaging with other KDHX volunteers in the future. Additionally in life, Jan also enjoys vegetable and ornamental plant gardening, hiking throughout Missouri and walking in parks with her partner and their corgi, Coco. Jan also keeps connected with her four children and two grandchildren through a weekly Zoom call. Continuing to expand horizons is also of importance to Jan, who does so with books discovered through the book club of which she has been a member for over 30 years. 
1. First record ever bought:
Roses are Red by Bobby Vinton (don't judge, back in the dark ages I just had a tiny transistor radio that got AM)
2. Favorite newish band:
Alabama Shakes
3. Last live music show attended:
Angelique Kidjo
4. Best live act ever seen: 
Pat Metheny
5. Favorite KDHX Show:
The Big Bang with Dr. Jeff and many others. I love listening to the Soul Selector on my drive home after my show.