Volunteer Spotlight
KDHX Volunteer Spotlight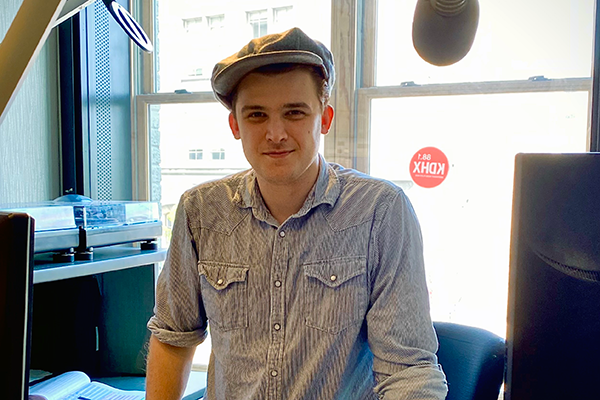 Volunteer Spotlight: T.J. Muller
DJ T.J. Muller
The Riverboat Shuffle
Tuesdays | 10:00am-12:00pm
T.J. Muller, KDHX volunteer and host of The Riverboat Shuffle, is a bountiful resource of knowledge when it comes to Jazz, Blues Swing and Ragtime music of the early 20th Century.
A native of the United Kingdom, T.J. was born in the south of England into a family where traditional music and instruments were a constant. 
From an early age T.J. has recollections of his father playing music, "'20s era tunes on the piano and lots of old jazz records: Baby Face, Five foot two, Eyes of Blue." As a 5-year-old, T.J. felt desperate to join along while his father and siblings sang and played "Oh, Lady Be Good!" by George Gershwin from the family's instrument room. 
In time T.J. and his family did indeed play music together, forming a small band that would perform traditional tunes for an audience aboard a steam boat on the second largest lake in England, Lake Ullswater. 
Beginning with trumpet lessons at around 6 or 7-years-old, T.J. has played music ever since. Being taught the principles of improvisation by his trumpet instructor has served well. He has utilized these principles to also play the banjo, tuba, trombone, piano and tenor guitar.
T.J.'s family moved from parish to parish with his father, a vicar in the Church of England. Along these journeys, from the southern coast to the north, there was always music. Cassettes of jazz bands such as King Oliver, Kenny Ball and The Dutch Swing College Band made memorable accompaniment for the family's travels while in the car. 
By his teens T.J. had immersed himself in the sounds of early jazz. Though not exposed to much contemporary music, according to T.J., he was always years behind with more popular music forms and "only discovered Queen & AC/DC as a teen." While T.J. did not connect with much of the music heard on the school bus, he does recall somewhat enjoying the syncopation of certain songs by St. Louis rap artist Nelly. 
During college years spent living in Edinburgh, Scotland, T.J. was gaining recognition for his ability as a trumpet player. While he was playing with Rob Heron & the Teapad Orchestra in 2011 and 2012 the band came upon the chance to open up for St Louis' own Pokey LaFarge as the touring band. 
Learning that Pokey was looking for a horn player, T.J. provided a CD and resume. One month, a few phone calls and emails later T.J. was offered a trial position as a Pokey LaFarge band member. In January of 2013, T.J. took his first flight to the U.S. During a layover, the anticipation of opportunity and adventure that awaited in St. Louis settled over him. 
The initial tour and travel with Pokey proved fruitful, and T.J. was soon invited to join the band full-time in the city that LaFarge called home, St. Louis. T.J. raced back to the UK to secure a work visa and proper paperwork for a job in the states. Having just turned 21, he was soon touring America and the world as a full-fledged member of the Pokey LaFarge band. Says T.J. "I saw more of the U.S. in the first year of touring with Pokey than in my eight years of living here."
It is to the benefit of many and specifically the music community that T.J. now calls St. Louis home. A historian and teacher of early jazz, T.J. not only expertly curates The Riverboat Shuffle each week but also educates listeners on the history and musical legacy of early jazz and its connection to the Mississippi River and the city of St. Louis. 
Music occupies much of T.J. 's life. He is bandleader for The Arcadia Dance Orchestra, an 11-piece band specializing in 1920's style jazz and is also a member of the Gaslight Squares, who play Jazz, Swing, Blues, and Ragtime. In addition to being a musician, teacher, KDHX DJ and volunteer, T.J. has also taken up the hobby of home bartending. Happily married to wife Maggie, T.J. enjoys living with their dog Bessie and three chickens in south St. Louis near Carondelet Park, where he can also occasionally be found fishing. 
1. First record ever bought:
Oh it was some Louis Armstrong compilation.
2. Favorite newish band:
Colin Hancock is doing great work!
3. Last live music show attended:
The Chicago Cellar Boys at Racine Bix Fest
4. Best live act ever seen: 
Vince Giordano's Nighthawks
5. Favorite KDHX Show:
T.J. Muller is one of the many volunteer voices who help make KDHX possible. Tune into The Riverboat Shuffle every Tuesday from 10 am to 12 pm.