KDHX Volunteer Spotlight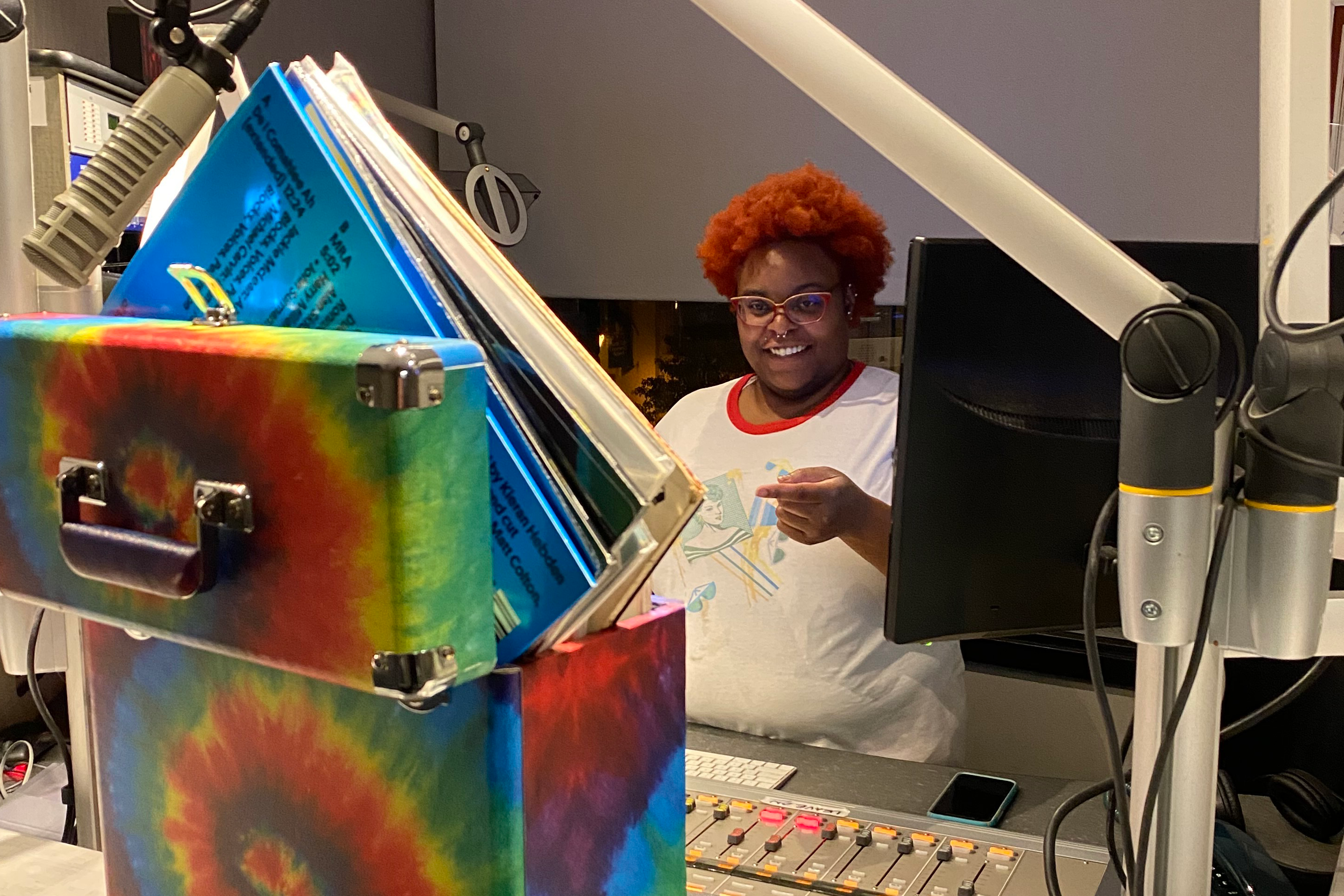 Volunteer Spotlight: DJ Crim Dolla Cray
Volunteer Spotlight: DJ Crim Dolla Cray
DJ Crim Dolla Cray
Beyon' Cray
Wednesdays | 11:00pm-1:00am
Beyon' Cray gives you music to move to. Crim spins an eclectic, electric vinyl collection of late '60s and '70s disco, funk, rock and soul. Sounds range from slow jams on rollerskates to uptempo party boogie. It's music to make you dance, only here on 88.1 KDHX.
DJ Crim, KDHX volunteer and host of Beyon' Cray, knows how to choose the music that moves you and the music that makes you move. 
Initially a DJ who spun at clubs, parties and more, Crim understands what it means to play what the people want. And the idea of becoming a radio DJ – connecting with people through music, reaching listeners via the airwaves intrigued Crim. She wondered if the feeling of DJing in front of a crowd could translate to radio. Listening to KDHX since high school, Crim may have anticipated a KDHX audience for the sounds she was spinning. A colleague at her record store job telling Crim that she "had a good radio voice" was added encouragement, and in 2018 Crim applied to become a KDHX DJ.
On becoming a DJ, Crim reflects back to 2013 when a friend suggested they put together a weekly DJ night. "I had a record collection," says Crim, speaking as if these two basic elements: a DJ night and a record collection made it that easy to become a DJ. For Crim it was almost that easy, although other elements certainly enhanced her foundation. Explains Crim, "making mix CDs back in high school" helped to realize a passion, "me coming up on music, radio." That, and her love for the earlier music of French electronic duo Daft Punk, all contributed to Crim becoming the DJ she now is.
These days Crim keeps up on music through record stores, Spotify, social media, record label email lists and in her job "doing phone stuff," as she puts it, for a record album collecting business.
Asked how being a DJ has been different during COVID times Crim mentions not challenges but the means of adapting. And how did she personally adapt? Crim chuckles somewhat when answering, "bought records and an iPad, Spotify". 
Born and raised in St. Louis with family roots in Missouri, Crim lives in South City. It's "just little 'ole me," says Crim, although plants and a record collection in the thousands provide good company.
What does she enjoy in life aside from music and being a KDHX DJ? Crim talks of plants, chilling out, the St. Louis Art Museum, and walking through the Missouri Botanical Garden. An upcoming Ozark River trip is also noted.
Travel beyond Missouri? Yes! Crim speaks of returning to Alaska where in the summer of 2014 she worked in food and beverage hospitality at a lodge in the town of Talkeetna. Any chance she might treat the lodge guests and employees to a Beyon' Cray DJ set? Not on the next trip: "Strictly vacation and no work" says Crim.
1. First record ever bought:
Don't remember first. Latest Donna McGhee - Make It Last Forever and WEE - You Can Fly On My Areoplane
2. Favorite newish band:
Dreamcast
3. Last live music show attended:
True/False Film Fest in Columbia, MO
4. Best live act ever seen: 
Herbie Hancock at Powell Symphony Hall
5. Favorite KDHX Show:
Crim Dolla Cray is one of the many volunteer voices who help make KDHX possible. Tune into Beyon' Cray every Wednesday from 11 pm to 1 am.