Volunteer Spotlight
KDHX Volunteer Spotlight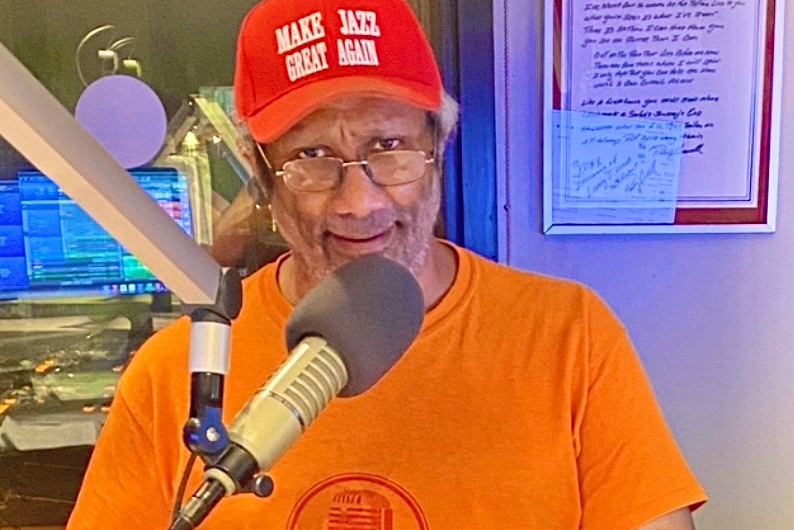 Volunteer Spotlight: DJ Kevin Lawrence
Volunteer Spotlight: DJ Kevin Lawrence
DJ Kevin Lawrence
In the Middle of the Night
Mondays | 2:00am-5:00am 
Kevin Lawrence is the late-night voice for jazz-loving insomniacs, spinning soft, smooth jazz, from "Birdland" to dreamland.
Since 1997, KDHX DJ and volunteer Kevin Lawrence has provided listeners with many sounds and styles of jazz music. Though his show slots have changed over the years, Kevin has acclimated to the early hour shift, and his love for hosting three hours of jazz in the middle of the night has never waned.
A native of Missouri, Kevin was raised between St. Louis and Festus. He lives in south city on the upper level of a recording studio where he also produces the podcast Jazz in the AM for mycitymymusic.com. 
Kevin's grandmother often played Ramsey Lewis, the first jazz musician Lawrence was exposed to. He recollects drumming along to Lewis's "Wade in the Water" album at around 5-year-old. Funk was also an early musical influence for him.
"I liked Sly & The Family Stone quite a lot. Sly was an innovator of funk music." said Kevin.
Referring to Larry Graham as "the godfather of funk bass," Kevin holds these masters of funk up there with jazz innovators like Miles Davis, Thelonius Monk, Charlie Byrd and Dizzy Gillespie. 
As time progressed, so did Kevin's affinity for jazz and radio. He became further interested in jazz while doing a semester internship with KWMU in the late '80s. 
"I briefly did a little jazz program, started to read-up on jazz and went to shows around town, Jazz at the Bistro and the Sheldon. Mangia Italiano to see the Dave Stone Trio," he remembers.
KDHX and South St. Louis both share a connection with Kevin. In the early '90s, he attended a meeting to learn about volunteer opportunities with KDHX. That meeting was held on Magnolia Avenue in a building which was KDHX's south city home for many years. Kevin had always listened to KDHX and knew he wanted to be a part of it. Joining KDHX as a volunteer doing production work at the Magnolia location was only the beginning. 
"Once I moved to south city, the goal was to become a KDHX DJ," he says.
With the St. Louis region lacking in jazz radio, the concept of a late night jazz program began to form in his mind. As Kevin tells it, the 'In the Middle of the Night' title was always there. And next...? "What the heck, give them some jazz," he said, as not much was heard on the radio. 
Per Kevin's recollection, local jazz radio at the time was limited to Leo Cheers and Edie B. at WSIE, and Dennis Ousley on KWMU. 
Show curation comes as second nature to Kevin, a KDHX DJ for nearly 25 years now. "I mainly try to start with a tune that gets people up, then bring it down a little bit with some ballads and vocal jazz," said Kevin. 
Kevin mixes it up with jazz from the swing era, too: Satchmo, Jelly Roll Morton, Willie "The Lion" Smith, Duke Ellington. Kevin calls it, "going into the jazz vaults to find those really old cuts."
What you also may hear on In the Middle of the Night is the jazz that Kevin really likes — the hard bop: Art Blakey and the Jazz Messengers, Miles, Coltrane. Avant garde jazz is also represented with artists such as Ornette Coleman. Kevin makes it a point to keep current on new releases so you're sure to hear contemporary jazz styles, as well. 
With his smooth baritone voice made for radio, Kevin is often asked whether he does voiceover work. And indeed, he has. Kevin is a voice actor and has narrated an award-winning documentary about St. Louis Civil Rights activist Ivory Perry.
Kevin has a degree from the University of Missouri - St. Louis in media studies, something he says would be nice to incorporate into life and career. He enjoys going to jazz concerts, listening to classic comedy records, watching movies, and reading about jazz and politics.
Upon signing off from the conversation, Kevin had this final message to share: "My mission in life is to let everyone know that jazz as America's classical music, is as viable as it ever has been." In other words – "keep jazz alive."
1. First record ever bought:
Sly & The Family Stone's Greatest Hits
2. Favorite newish band:
The Julian Lange Trio
3. Last live music show attended:
The Joshua Redman Quartet at Jazz St. Louis
4. Best live act ever seen: 
Graham Central Station at the Kiel Auditorium when I was 15.
.5. Favorite KDHX Show:
All Soul No Borders and R.S.V.P. with Your Lady Edie B
Kevin Lawrence is one of the many volunteer voices who help make KDHX possible. Tune in to In the Middle of the Night every Monday from 2am to 5am. You can stream each episode for up to two weeks after its original air date at kdhx.org.