KDHX Volunteer Spotlight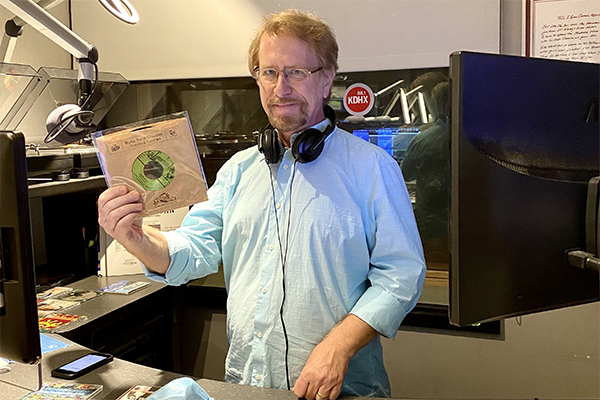 KDHX Volunteer Spotlight: DJ Michael Kuelker
KDHX Volunteer Spotlight: DJ Michael Kuelker

DJ Michael Kuelker
Positive Vibrations
Saturdays | 9:00pm-11:00pm
Michael Kuelker and Professor Skank switch off each week and bring you two hours of the latest and greatest reggae on the planet. 
Though Michael Kuelker, KDHX DJ and alternating host of Positive Vibrations has earned both a bachelor's and master's degrees in English, his breadth of knowledge regarding reggae music could also earn him degrees in the history of Jamaica's native music.
Had it not been for the suggestion of a girlfriend to visit Jamaica in January of 1992, Michael's love and knowledge of reggae music might not exist. "Everything I experienced there made me curious and hungry," he says. "The music, the language, how Jamaica's history unfolded and how it reflected on and fed U.S. history, Rastafari ideology. Everything." That would include the brown stew fish and Jamaican callaloo omelets he now loves to the ska, rocksteady, dub, reggae and dancehall music he shares with KDHX listeners. On the experience of visiting Jamaica and the many influences imparted on him by the Carribean island nation Michael says this: "My life hasn't been the same since." 
Before finding a broader appreciation of music and before hearing reggae for the first time, the source of music Michael says he was most exposed to was mainstream rock radio. His discovery of the blues however, a music form which almost certainly influenced many, if not all of the bands he heard on mainstream rock radio, was not far behind. "Beginning in the mid-80s, I started seeing high-quality blues music," he says.
Michael credits a roommate from the era with taking him to a show that would cement his love for blues music. Recalling the night, Michael describes the band he saw: "A great incarnation of the Soulard Blues Band, right there in the bangin' 80s in the heart of Soulard." The experience, Michael says, was "the first step on a lifetime blues journey." On that journey Michael has seen many exceptional blues bands and come to personally know many of the quality blues artists St. Louis is famous for.
After exposure to the music heard seemingly everywhere in Jamaica, Michael wanted to now hear as much reggae as possible. "Naturally, I tuned in for the reggae radio on KDHX," he says. After a period of absorbing reggae through KDHX, Michael was ready to branch out and see some live reggae shows. At one such show he befriended Joe Striker and Professor Skank, two DJs who were also hosts of the longtime KDHX reggae show Positive Vibrations. Inspired by Striker and Skank spreading reggae through the airwaves with Positive Vibrations, Michael wrote a feature article about them and the band for Spotlight music newspaper.
Joe Striker decided to step away from Positive Vibrations in 1997. Michael had sat in during the show many times and was familiar with how it was done. By now, his knowledge of reggae was also well established. The combination of circumstances provided an opportunity for Michael: He was now co-host of Positive Vibrations and an official KDHX DJ.  
In the late 90s Michael joined DJ organization Reggae Ambassadors Worldwide. "Though it unfortunately no longer exists, RAW performed the essential function, prior to the explosion of Internet content, of putting reggae people in touch with each other internationally," explains Michael. Through RAW, Michael established friendships and connections with reggae DJs and artists that exist to this day. Through RAW Michael was flooded with promotional copies of new and reissued reggae music, definitely a perk of being a DJ. Says Michael of RAW and of being able to offer exposure to reggae culture as a KDHX DJ: "The reggae artists appreciate KDHX, and we are a home to this music by so many who are producing great and vitalizing reggae in the present day."
Acutely aware there are some who may take issue with him as a white DJ spinning a primarily black form of music, Michael addresses the matter with no prompting. "I see my role as keeping a strong connection with the animating spirit of reggae." he says. "Reggae can be a music of resistance. It can also give voice to the suffering class and the working class. I am a keeper of the flame. I come into the station not just to play my favorite songs, but to put good and important works out there on the strength of 43,000 watts of power." 
On the curation process for his Positive Vibrations playlists, Michael says: "I always seek to present works of beauty, complexity and diversity within the many forms of reggae - message music, deep and heavy, even a good pop song. It's all sprinkled throughout."
Over the years, Michael has returned to Jamaica many times. With each visit he discovers more about the country which has given us reggae music. Much of this is done, he says, "by exploring places that aren't found in the published travel guides." One such discovery happened on Michael's initial 1992 trip. During this visit he had a chance meeting with Prince Elijah Williams, a Rastafarian elder. "After getting to know him through my travels in the mid-90s, I suggested that we produce a book in his voice. At the time, there were many studies of Rastafari, but no book-length works by a Rastafarian," Michael says. Prince Williams agreed, and from 1997-2004, "I conducted interviews with him in Negril and in Trelawny parish, where he was from. I also attended several commemorations of the Coral Gardens Incident of 1963, a pogrom against Rastafarians that at the time was under-documented," he says.
Michael is a St. Louis native, husband of Nancy Phillips-Kuelker and father of Natalie. In addition to being a KDHX DJ and volunteer, he was an English teacher at St. Charles Community College who retired in 2019 after 29 years on the full-time plan. A writer and author, Michael has written articles and concert reviews for the St. Louis Post-Dispatch(1992-97) including a period when he penned a column titled "Homefront: Blues and Reggae". Author of "Book of Memory: A Rastafari Testimony" (CaribSound 2005), the memoir of Jamaican Rastafari elder Prince Elijah Williams. Michael has completed a manuscript for "The Ozark Mountain Daredevils: A Narrative Discography" that will be self-published in late 2021. 
Concerned about issues surrounding the unhoused in St. Louis, Michael also volunteers and serves as secretary on the Board of Directors for PotBangerz—Feed the Body Mission, a 501(c)3 that conducts food outreach and other services to the unhoused and food-insecure in St. Louis. 
1. First record ever bought:
"It's Only Rock and Roll (But I Like It" which I procured on 7" at Bootheel Records on Lemay Ferry Rd when I was 11 
2. Favorite newish band:
La Dolce Vita, a rock trio in NYC led by Michael Imperioli of "Sopranos" fame. I'm also mid-way through his novel "The Perfume Burned His Eyes," a coming-of-age novel that invokes Lou Reed. I loved him as Chris Moltisanti but I'm appreciating the triple talents of Mr. Imperioli. .  
3. Last live music show attended:
Reggae music! Infrared Rockers @ Rowan Community Center (Feb 28, 2020)  
4. Best live act ever seen: 
Answer varies according to mood. I stood at the side of the stage for the Allman Brothers Band @ Memphis in May in 1992, about ten feet from Gregg Allman and Jaimoe, and that's one of the supreme Golden Moments in my concert life. But I have a "best ever" rundown in every genre. I have a special fondness for my Mississippi Nights memories in the 90s, like Alice in Chains w/ Screaming Trees in Dec. 1992. Just overwhelming tuneful power. So many memories. Snooky Pryor demolishing BB's. The Skatalites. Toots. Oh, the Who and the Stones....
5. Favorite KDHX Show:
The reggae shows other people do on KDHX + shows hosted by Art Dwyer, Papa Ray, Doug Morgan and the late, totally amazing Gabriel
Michael Kuelker is one of the many volunteer voices who help make KDHX possible. 
Tune into Positive Vibrations every Saturday from 9 pm to 11 pm.