KDHX Volunteer Spotlight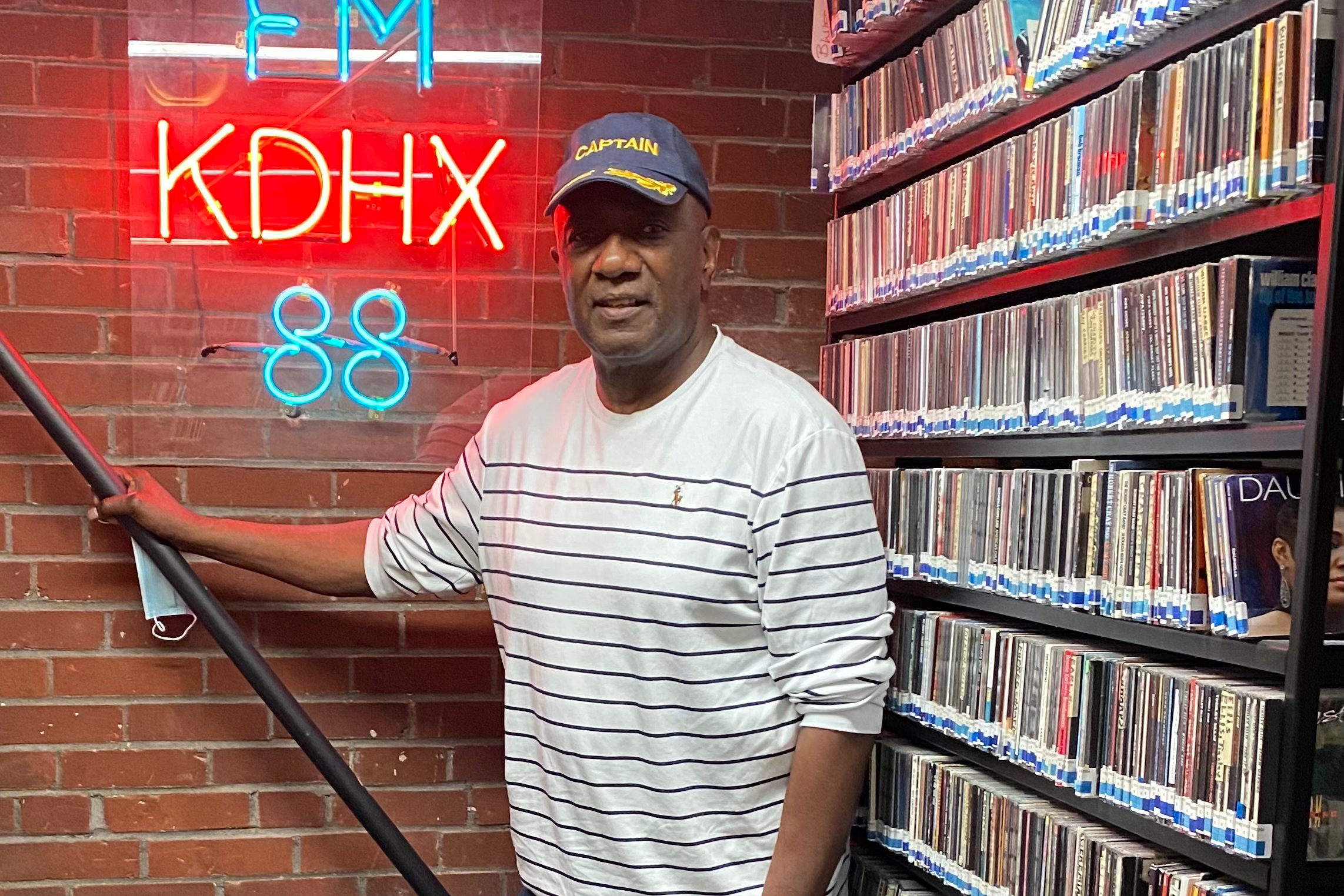 Volunteer Spotlight: Hank Thompson
Volunteer Spotlight: Hank Thompson 
Host Hank Thompson
Tangazo Podcast
"Tangazo is a meeting place where we share ideas and explore efforts to improve our human conditions and, quite simply, make our lives better. All are welcome."
Hank Thompson, host and producer of the KDHX podcast Tangazo, has a rich and storied history. His 30-plus year career and connection to radio, and particularly talk radio, is a feature in itself. 
As a younger man, Hank would wake to the voice of John McCormack, on KMOX, the early 50,000-watt radio powerhouse in St. Louis. 
"The Jack Carney comedy show also provided inspiration", says Hank of another KMOX radio program that would instill in him a love of the talk radio format.
While radio has been a mainstay in Hank's life, his story has many junctures, among them a stint in a few north St. Louis high schools before finding his way to graduation at Vashon High School. A job long ago in the original Busch Stadium during the Cardinals baseball season is another early memory Hank shares. 
While a student at Northeastern Missouri State (now Truman State University), there were ambitions of a basketball scholarship. Hank also attended UMSL and SLU. "I couldn't decide whether I wanted to be a teacher or a dentist," Hank laughingly recalls of his years as a college student. After graduating, Hanks first "real job" was a brief stint selling insurance for Mutual of Omaha. 
He has served in the U.S. Air Force, and experienced the loss of a brother who was killed in Vietnam. Various work overseas, for 21 months in Saudi Arabia, are additional pieces of Hank's history. 
Over the years Hank has also worked as a political media consultant on numerous campaigns with labor journalist Ed Finkelstein and served as spokesperson for former U.S. Congressman William Lacy Clay Sr. Through it all though, Hank has followed the directional compass which would serve him for much of his life - talk radio.
The trajectory of Hank's radio career, by his account, shows the many stops along his journey:
1982: Starts as account executive with the St. Louis radio station, then known as Magic 108. 
1985: Launches independent weekly radio show titled 'Saturday Morning Live' with Salter and Thompson on 101.1 WMRY. As Hank describes it, the show was three hours of music, comedy and talk, and was the first program to target an African American audience on a jazz station. Saturday Morning Live later moved to KATZ under the name Good Morning St. Louis.
1987: Led effort to restore KBDY, a small public service radio station to the airwaves. Served as GM until 1989.
1989: St Louis American newspaper salesperson and account executive. Eventual social political column writer of The Good Life.  
1990: KIX 104-FM radio salesperson.
1991: Saturday Morning Live debuts at new home, KXOK with the late Don Clark as co-host along with the late Sharon McGhee. The show would eventually move to 97.1 KFTK until 1993.
1993: Debuts Good Morning St. Louis with Sharon McGhee, a daily four-hour talk show on KATZ. Good Morning St. Louis' would go on to win numerous awards including an Air Award for best interview with Emmitt Till's mother, in 1995, and Best Talk Show Award for a 1996 interview with a death row inmate.
In the years that followed, Hank stayed busy with numerous other radio stations, producing shows for WGNU, KXLW, WXIN and WESL. In 2005 Hank spread his talents to the realm of television, producing a TV show for St. Louis public schools entitled Voices. 
In 2008 Hank and his wife of 30 years, Sandra, created Thompson Home Health Team, which over time became a successful home health service provider. While Hank's role with Thompson Home Health Team kept him busy, the lure of radio continued to call, and in 2016 Hank started a radio version of Voices on 88.7 WSIE. 
A friend of the late DJ Wilson, host of KDHX news and politics radio show and podcast Collateral Damage, Hank was a frequent guest. Hank would also fill in for DJ handling hosting duties for Collateral Damage when DJ fell ill. 
During this time, Hank was inspired to develop a podcast of his own, one which would focus on communication and the broader issues of cultural​,​ political and social significance within St. Louis city, Saint Louis County and beyond. Tangazo was created with KDHX engineer Andy Heaslet and episode #1 aired in March of 2018. 
Hank Thompson is a known name in the world of St. Louis radio and politics. An inspirational figure within the African American community and further. His ideas, devotion and commitment to thoughtful and thought-provoking topics of discussion have cemented his name as a true legacy in St. Louis radio. 
How about music? Though he does enjoy much of the music heard on KDHX, Hank observes a truth about himself: "Talk radio is more of a lifeblood than music."
When not producing Tangazo, Hank is an avid boater and a big fan of college sports.  He is a husband, father and grandfather. Asked about his grandchildren, Hank is especially proud to talk about the granddaughter who was recently accepted to Howard University in Washington. As he should be. And who knows? Perhaps she will follow her grandfather's path and become a talk radio pioneer.
1. First record ever bought:
Frankie Lyman - "Why Do Fools Fall In Love" 
2. Favorite newish band:
Bruno Mars 
3. Last live music show attended:
Bosman Twins - Jazz At The Bistro 
4. Best live act ever seen: 
Black Repertory Theater 
5. Favorite KDHX Show:
R.S.V.P. with Your Lady Edie B
Hank Thompson is one of the many volunteer voices who help make KDHX possible.
The Tangazo podcast is produced on most Mondays in the studios of KDHX and is available to listen to anytime at kdhx.org