KDHX Volunteer Spotlight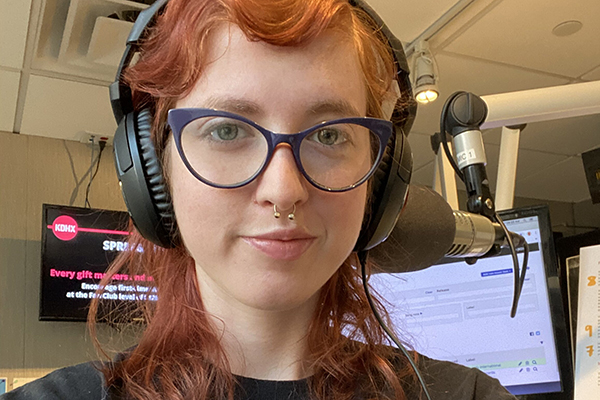 Volunteer Spotlight: DJ Ace, The Girl From Space
Volunteer Spotlight: Ace, The Girl From Space
DJ Ace
Sonic Space with Ace
Mondays | 7:00am-10:00am
"Whether you're already on your way or just getting up, allow Ace to spice up your sunrise with syncopated rhythms and interesting instrumentation. Discover new favorites while dancing into the beginning of the week."
Getting the week started and turning Monday into a Funday is not always an easy thing. Fortunately for us, Ace, KDHX volunteer and host of Sonic Space provides the "caffeine a go-go" formula to get the week started at 110 beats per minute. As if Monday weren't already hard enough on it's own, 7:00 am is an early start for a radio show. Morning drive time, when many may be commuting to work via car or alternate transport, is an appealing time for tuning into one's favorite morning radio show. 
You wouldn't know it from her radio persona, but Ace says, "I'm not a morning person... I can be once a week to play energized music for the listeners, though."
Sonic Space celebrates three years on the air with KDHX as of October 29th. Ace is also one of the rare KDHX DJs who has had two different shows with two different names and formats. The prior show, Dream Waves, was a 1:00-3:00 am time slot on Thursdays with the opposite format: "Music to put you to sleep" as Ace puts it. 
Ace was born in a Maryland naval hospital and grew up in Virginia –  the D.C. suburb of Alexandria when young and Fredericksburg until graduating high school. Her father recently retired from the Navy and Ace's mother has a background in interior design and is also a travel agent . 
While music (piano, church choir, Orff ensemble, marching band, percussion) was a part of Ace's life from elementary to high school, the stronger influence may have come from her parents deep love for classic rock. "Mom is a huge Bruce Sprinsteen fan," Ace explains, but there was also plenty of RUSH, Supertramp, Steve Winwood and more. "I am so grateful for my parents heavy handed musical upbringing," says Ace of the music she was exposed to as a child. 
Growing up in northern Virginia, Ace may not have been able to see the bands who made tour stops in D.C. and Richmond but she listened to them on the local rock alternative radio station. When that station's format changed overnight, Ace turned to Alt nation on SiriusXM. Streaming platforms like Pandora and Spotify enabled her to share music with friends and discover bands like the Foo Fighters, Ratatat and The xx, all of whom have been influential to her DJ style. 
At Florida State University in Tallahassee, Ace studied International Affairs with a focus on political science and also has a second degree in marketing. It was during this time that she became friends with people working at the college station, WVFS - the voice of Florida State. Ace's musical tastes and personality were recognized as a good mix for radio, and at her friend's suggestion she applied for a show. Once approved as a DJ, Ace picked up as many shifts and time slots as she could. 
Ace's time as a DJ at Florida State not only honed her radio skills and level of experience, it also exposed Ace to genre-specific shows. A thoughtful curation process, themed shows and first of the month "New Music Mondays" are all a part of Sonic Space.
Ace may have initially considered the Gateway to the West as "a jumping off point" to elsewhere. But with a partner, KDHX, and a rewarding product specialist position at a cannabis dispensary, Ace has the anchors needed to now consider St. Louis home. Both parents having grown up here and a grandmother who lived in the same Clayton home for 55 years also made the region a logical place to settle after college. 
Out of the KDHX studio, Ace travels, camps, goes on float trips and gets into nature. After a recent trip to North Carolina, she experienced both beaches and mountains. A trip to Rome with her mother has been another travel highlight and Ace says she has "high hopes of future travel with her partner." She earned her yoga teacher certification earlier this year. "It keeps me present and nimble to switch things up on the fly," she says of her time on the mat. A 14-year-old cat named Dust, and having studied and spoken five foreign languages are a few more of the pieces that make up Ace, The Girl From Space.


1. First record ever bought:
First vinyl purchase was Toro Y Moi - Anything in Return
2. Favorite newish band:
Neal Francis and NEIL FRANCES
3. Last live music show attended:
Music at the intersection! Saw Dām Funk right before iLLPHONiCS and Midwest Avengers after! 
4. Best live act ever seen: 
M83 at the Pageant
5. Favorite KDHX Shows:
 Heavy Rotation, Hip City, Night Grooves 
Ace is one of the many volunteer voices who help make KDHX possible.
Sonic Space with Ace: Mondays, 7am-10am or listen anytime at kdhx.org