Volunteer Spotlight
KDHX Volunteer Spotlight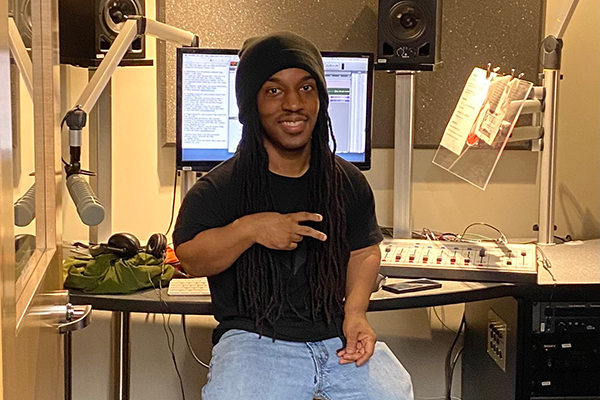 Volunteer Spotlight: KDHX Production Volunteer Langston Ewing
Volunteer Spotlight: KDHX Production Volunteer Langston Ewing
KDHX production volunteer Langston Ewing has a voice made for radio. Listen to his self-produced Wednesday KDHX Arts and Events calendar or one of the many on-air radio spots Langston has voiced and hear for yourself. His voice is rich, full and according to some "as deep as Barry White himself". 
As a 2012 graduate of St. Louis' Carnahan – High School of the Future, Langston wasn't fully aware of what his future held. An opportunity to speak to his fellow graduates as class president and valedictorian on station WGNU 920 AM St. Louis may have foreshadowed his future in radio. 
The two things he envisioned doing after high school – video game design or computer engineering – were ruled out by the inclusion of math. Perhaps just as well, since in the years to follow Langston has created multiple vocations for himself while becoming proficient and prolific in the many aspects of new media. 
A BA in media studies from UMSL in 2016 solidified Langston's desire to "do something that you like or what you have always enjoyed doing." This line of thought, which so many strive for in their lives, motivated Langston to pursue his many interests, including poetry, logo and graphic design, photography, videography and more. 
Committed to furthering his education and knowledge, Langston enrolled at Webster University in 2018, earning his Masters in new media production and graduate certificates in both fundamentals of media production and advanced media production by 2020.
Upon the suggestion from a podcast instructor at WU, Langston looked to radio stations for potential opportunities as a volunteer and producer of content. For Langston, who explains he "wanted more audio editing experience, to have his voice heard and prepare for a future in voice work," KDHX was a great opportunity. 
"To take these interests beyond a career or hobby is why I learn trades," says 
Langston. The trades he has learned and utilized professionally as a freelance artist are  many: graphic design, professional photography, cinematography, writing and directing a web series "For The Burbs," producing his podcast "LilDreadHead Live," audio/video engineering, and of course, voice over work and production for KDHX. 
Additionally, he is a poet whose influences include: Langston Hughes, Tupac Shakur, Robert Frost and Edgar Alan Poe. Langston plans to release his first book of poetry in 2022. Titled "Misunderstood", the book will consist of four chapters: "Life, Love, Depression," plus as Langston tells it, a chapter "dedicated to every chick he's had a crush on."
Further utilizing his voice is an ambition that Langston has also turned into a trade, as he is represented by a voice-actor talent agency.
With a supportive family and mother and father who continue to instill a "be anything you can be" mentality, Langston has encouragement and the drive to succeed.   
Along with his time volunteering for KDHX, Langston enjoys the WWE wrestling league, movies and comedians such as Redd Foxx, Eddie Murphy, Martin Lawrence and Dave Chappelle.
As stated in Langston's YouTube movie (silent film) Ante Up..."Uno & Out"! 
1. First record ever bought:
WWE Wreckless Intent
2. Favorite newish band:
2Pac & Lil Wayne 
3. Last live music show attended:
Aubrey & the Three Migos
4. Best live act ever seen: 
Drake at the Enterprise Center
5. Favorite KDHX Shows:
She HEALz with DJ sheBEATZ/Deep Krate with DJ Iceman
Langston Car'Michael Ewing is one of the many volunteer voices who help make KDHX possible. Learn more about him here.