Volunteer Spotlight
KDHX Volunteer Spotlight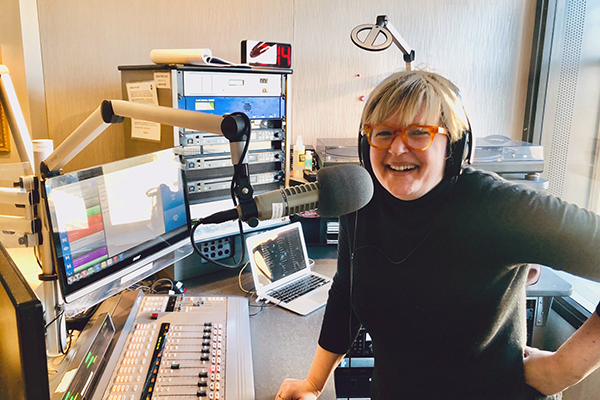 Volunteer Spotlight: DJ Caron House
Volunteer Spotlight: KDHX DJ Caron House
Wax Lyrical
Saturdays | 9:00am-11:00am
"Tune in for music that celebrates the singer-songwriter craft, with old favorites and new discoveries with a focus on folk and Americana. Each week features many new releases and artists with upcoming St. Louis shows."
Caron House, KDHX DJ and host of Wax Lyrical knows music. She has curated two formats of her show, Wax Lyrical, which initially ran on Tuesdays from 7pm-9pm. The current iteration airs on Saturdays from 9am-11am. Of the recent transition to Saturday and the slight tweak to song/artist offerings, Caron says she found her more "twangy side" to align with fellow Saturday morning shows.
Caron is a native of Hoxie, Arkansas, a small town in the northeast corner of the state roughly equidistant from Little Rock and Memphis."Little Rock was considered a scary place," when she was growing up, she says. But Memphis was a welcoming destination, particularly the annual Memphis in May music festival. 
Caron says she "did not have the greatest musical taste at the time." But seeing bands like Green Day and The Wallflowers made significant music memories. "Hanging out all day to be front row" for established artists such as Bobby Blue Bland, Bonnie Raitt, and The Fabulous Thunderbirds was a primer, she explains. Seeing such a broad array of bands and musicians at Memphis in May refined and broadened her musical horizons.
Among other influences, Caron credits the grandparents who raised her for playing songs of Buck Owens and George Jones, which helped shape that "twangy side" of her musical tastes. Aunt Rhonda, her dad's twin sister, who would take Caron to Sonic for a slushie while blasting Dire Straits "Brothers in Arms" in a red T-Top Camaro. Her aunt Sharyl, a folkie, got Caron listening to Joni Mitchell and Phoebe Snow. Seeing Tanya Tucker, who Caron recollects as being a "powerhouse performer", at the Arkansas State Fair in the '80s is yet another fond memory. 
In her life after Hoxie, Caron attended the University of Arkansas for two years before transferring to Washington University, where she earned a B.A. studying art history and archeology. Caron later earned a Master's Degree in arts administration from Indiana University. Law school was next, and while studying at Saint Louis University School of Law, Caron chose to transfer to South Texas College of Law in Houston with hopes of eventual work with Texas Accountants and Lawyers for the Arts.
As can happen in life, things changed and Caron was drawn back to St. Louis. In addition to hosting Wax Lyrical, Caron also served on the KDHX staff from 2010-2014.  She is currently Director of Development with The Sheldon Concert Hall and Art Galleries. She has also worked with the Contemporary Art Museum St. Louis, as well as Opera Theatre of St. Louis. Says Caron of her career criteria: "I want to work for organizations that have significant positive impact for St. Louis in positions that I am really passionate about."
Calling St. Louis her home now, Caron recently bought a house in Benton Park, which she shares with her 18-year old black cat, Ivan. She enjoys living near Cherokee Street and its many attractions. 
In addition to her work and love of music, Caron enjoys travel and the many restaurants and microbreweries around town. She also "loves being the cool aunt" to her younger brother's children. 
Caron explains what being a part of KDHX means to her and to listeners: "I hear from so many people who say that KDHX is woven into the daily fabric of their lives, that KDHX is a balm for them. It's really something that people take seriously and are very passionate about."
Happy anniversary Wax Lyrical, celebrating nine years on the air with KDHX this month. 
1. First record ever bought:
R.E.M.'s Monster
2. Favorite newish band:
Christine & the Queens
3. Last live music show attended:
Soccer Mommy at Delmar Hall
4. Best live act ever seen:
Neil Young at The Fox
5. Favorite KDHX Shows:
Night Grooves and The Rhythm Section alway put me in the right frame of mind on Fridays. The new show Next Exit is fresh and fun, and bobEE Sweet's Uncontrollable Urge first hooked me on KDHX. 
Caron House is one of the many volunteer voices who help make KDHX possible.
Wax Lyrical: Saturdays, 9am-11am or listen anytime at kdhx.org