KDHX Volunteer Spotlight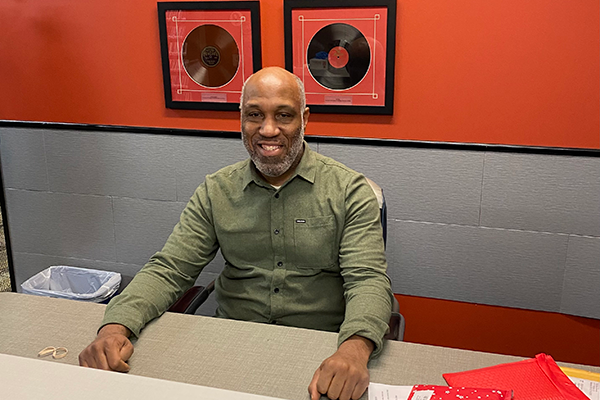 Volunteer Spotlight: Ken Laster
Volunteer Spotlight: KDHX Music Library Volunteer: Ken Laster
KDHX volunteer Ken Laster could be known as Ken "Long Term" Laster. He doesn't do short-term for much of anything. Assisting with the KDHX Music Library since 1997, Ken has been a part of KDHX now for 24 years. 
Born and raised in the Rock Hill area, Ken is a graduate of Webster Groves High School and holds a degree in arts from St. Louis Community College at Meramec. 
Ken's additional long-term endeavor came in the form of a job which, over the course of 30 years, advanced from library clerk to his current position as Preservation and Digitization assistant at the Washington University West Campus, located in Clayton and housed in the former Famous-Barr building.
A lifelong music fan, Ken grew up with an appreciation of music thanks to his father, who was a music teacher, and his jazz aficionado uncle who, Ken says, "had a vinyl collection a mile wide." He grew up in a household hearing many forms of music, including "classical, jazz, R&B, rock, and "a little bit of country."
Up until his senior year in high school, Ken mostly listened to R&B, hip-hop, classic rock and new wave. Then, as he explains it, "a friend introduced me to punk rock and I was hooked." His ear for music was now enhanced by classic 80s punk bands such as X, DOA, Black Flag and The Clash. Like so many KDHX listeners, Ken appreciates most music but identifies his current "main favorites as punk rock, post punk, a little bit of metal, and R&B."
Ken's long term cred comes through once again when he recalls when and how he discovered KDHX. "Kind of accidentally," he says. It happened while he was scanning the left side of the dial and hearing a song on Doug Morgan's The Underworld, which aired on Monday afternoons long before Doug's current Thursday afternoon show, The Record Sto'. 
"What is this?" Ken remembers thinking at the time that what he was hearing "was some awesome stuff that I had never heard back in 1989."
No longer was he content to be just a listener. After hearing KDHX promo requests for volunteers, Kurt called and, in short order, was filing CDs with the music department. More than two decades later, Ken's enthusiasm for contributing to KDHX remains strong. 
"If you're looking for some cool, eclectic music that's not being heard on commercial radio, KDHX is the place to be," he says, pretty much summing up the station's appeal.
Ken further exhibits his wide range of music knowledge on the weekly Woodland 1 Network-produced podcast, Ken's Concert Calendar. Here, Ken and co-host/producer Shawn Greene play select songs and talk about concerts and events happening around the area. 
When not working, volunteering, or recording his podcast Ken enjoys hanging out with friends, watching football and basketball on TV — and movies. And he sees A LOT of live music. He's an annual attendee of Chicago's Pitchfork and Riot Fest and recently visited Las Vegas to see Sting perform at Ceasar's Palace. 
Ken lists a few other concerts of note he's been to over the years: "The Police during their 1983 Synchronicity tour with openers Joan Jett & The Blackhearts; Michael Jackson's Bad tour; Prince during the Hit and Run tour in 2014; and Leonard Cohen in 2015." An impressive — and diverse — list, and that is only part of it!
 1. First record ever bought?
"You're, going to Laugh" The ABC album, The Lexicon of Love at Streetside Records in WG.
2. Favorite newish band?
"Not quite new" The Idles from the UK, (Rob Levy has played them).
3. Last live music show attended?
The Gospel Christmas show with SLSO and Oleta Adams (discovered by Tears for Fears in a KC bar) last week at Powell Hall.
4. Best live act ever seen?
"That's hard man!" StereoLab in Chicago, was a Pitchfork after show, a couple years back. Also Leonard Cohen at the Fabulous Fox Theatre in 2015, while promoting Popular Problems. "Was already a LC fan, but seeing live was the icing on the cake."
5. Favorite KDHX Program(s)?
The Record Sto', Juxtaposition, The Big Bang, Hindsight, Night Grooves, Pop! The Beat Bubble Burst, Rocket 88. 
Ken Laster is one of the many volunteers who help make KDHX possible.