KDHX Volunteer Spotlight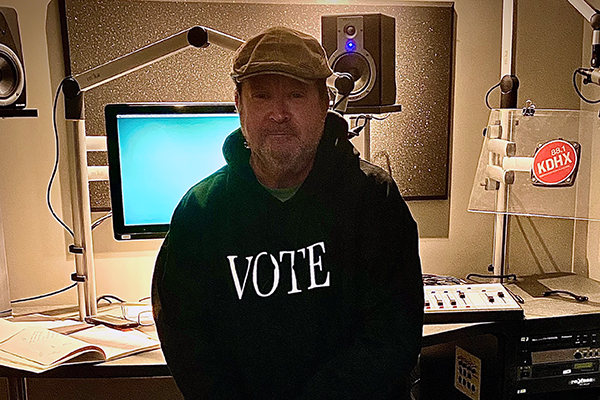 Volunteer Spotlight: KDHX Production Volunteer Dennis Stegmann
Volunteer Spotlight: KDHX Production Volunteer Dennis Stegmann
KDHX volunteer Dennis Stegmann is the writer, producer, and voice behind The St. Louis Music Note.
If you are a regular listener of KDHX you're sure to have heard these interesting and informative segments encapsulating the more unknown talents, music and musical heritage that are linked to the St. Louis region. Those featured on The St. Louis Music Note may be singers, musicians, dancers, actors or a band. They may have just flown over St. Louis, as some like to joke, but the critical component is a connection to the area or within a 50 mile radius of the region. 
The first St. Louis Music Note Dennis wrote was on country music DJ Hall of Famer Skeets Yanet, and the first one aired was on St. Louis-born soul singer Donny Hathaway. Of the many artists Dennis has profiled, Cowboy Roy Brown, Myrna Sharlow, Scott Hayden and Otto Funk are some of the lesser known. Explains Dennis on producing the St. Louis Music Note, "I am honored to bring a little publicity to folks who labored in obscurity but spent their lives entertaining us and making our lives more bearable." 
From south St. Louis County, Dennis grew up in the Mehlville area. His grandparents were one of the first farming families to settle in the township of Affton. These days Dennis enjoys living in south St. Louis city to be "closer to the nightlife," as he says. 
Dennis attended Mehlville high school, holds an associate's degree in arts from St. Louis Community College and earned his BA in science education with a major in educational studies from Harris–Stowe State University after retiring in 2017 from a 30-year career as a mail carrier with the U.S. Post Office.
While growing up in the '60s and '70s Dennis recalls "rock and roll as being a big deal" in his neighborhood. "Dad liked country music, mom liked pop music," he says about hearing different sounds and styles that helped him develop an appreciation for many types of music. And like many other teenagers of the era, Dennis was not immune to the "Beatle Fever" sweeping the nation.
As a young man in his early 20s and while living in the Delmar Loop of University City, Dennis spent a lot of time at the Streetside Records store where employees turned him onto musicians such as jazz saxophonist Charlie Parker. Dennis wondered what other music he had missed out on and wanted to know more. He was now on a quest to discover these many musicians previously unknown to him. "It was an explosion of jazz, blues, even Tejano" explains Dennis of his musical discoveries. And not just music, but other art forms too. "I had these epiphanies about movies, food, literature, art. Things I didn't know existed and wanted to explore further," he says.
Entry to the inner world of radio began for Dennis in the late '70s, when he attended the Broadcast Center at its first location in Clayton, Missouri. A highly regarded school for broadcasting, the Broadcast Center was a gathering place for many of the St. Louis area's top voices in radio during this period. But, as Dennis explains, the timing was bad as the demand for live DJs dropped due to pre-recorded radio shows growing in favor. This in turn meant radio stations could now hire fewer people for staffing. Still, this experience provided Dennis "a good background for radio" and also provided some radio work opportunities. 
Dennis was first introduced to KDHX around 1990 as he, his father and two uncles were driving to The St. Louis Cardinals Hall of Fame Museum. His uncle Donald was behind the wheel and had KDHX on the radio. Dennis was riding shotgun while his dad and another uncle were saying "turn that crap off" from the back seat, but instead "Donald turned it up!" Dennis doesn't remember exactly what he heard on KDHX at that moment, "it may have been Latin-flavored music or it may have been Muddy Waters, but it was definitely something that jumped out at me." Upon getting home later that day Dennis tuned his radio dial to 88.1 and has been listening ever since.
By 1999 Dennis had actively worked in radio for about eight years but was looking to do more. A friend from the South Grand hangouts they both frequented was a contributor to KDHX and suggested Dennis visit the Magnolia Avenue station. His volunteer days doing voice work and more for KDHX date back to this time period, but the St. Louis Music Note concept was not created until around 2011 or 2012. 
For Dennis, the process of producing a St. Louis Music Note starts with a name. This name can come from many sources; Dennis cites a WWII magazine for one recent subject. Research, background, several sources of information and confirmation of details come next. After the piece is written, longhand in a notebook, of which he has at least 350, Dennis will find a suitable music bed, preferably the original — but this is not always possible due to sound quality or otherwise. The length of a St. Louis Music Note will depend on the level of fame for a subject, and can take up to a week to write after he has referenced many sources. Library materials, CDs, biographies and autobiographies are all used. 
Dennis has been able to personally interview some subjects for the St. Louis Music Note, but this is seldom necessary as segments need only consist of a few basic facts. Not to mention much of the subject matter is posthumous. While he once handled all aspects from production to engineering, this became too time consuming and labor intensive. Dennis now has KDHX production coordinators to thank for these last steps. 
The St. Louis Music Note airs consistently and at least 30 times a week. If you've yet to hear one… keep listening.
Dennis is the father of three grown sons. An avid reader and music listener, he enjoys getting out and doing social things, seeing shows and concerts.
Of his volunteer work with KDHX and the St. Louis Music Note process, Dennis makes a reference to his time as a mail carrier. "I liked being a public servant and that is what we are at the station. Hopefully bringing some joy or happiness and knowledge to the people of St. Louis. It is a great responsibility and it brings me joy and satisfaction to do so."
First record ever bought? 
First 45 was Dance to the Music by Sly and the Family Stone, first LP was Sgt. Pepper's Lonely Hearts Club Band
Favorite newish band?
Ben LaMar Gay, The Beths, Mdou Moctar
Last live music show attended?
Richard Thompson
Best live act/concert ever seen? 
Junior Kimbrough
Favorite KDHX Program(s)? 
They are all tied for first. Honestly they all have great merit and equal merit and I have yet to find a show on KDHX that I can't find something good or interesting in.
Dennis Stegmann is one of the many volunteer voices who help make KDHX possible.