KDHX Volunteer Spotlight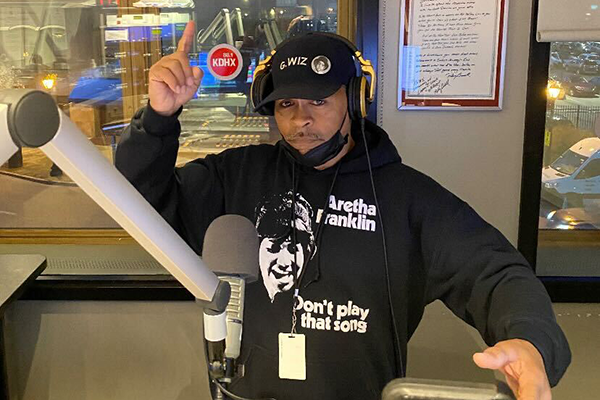 KDHX Volunteer Spotlight: DJ "The Time Traveler" G.Wiz
KDHX Volunteer Spotlight: DJ "The Time Traveler" G.Wiz
DJ G.Wiz
Traveling at the Speed of Sound
Saturdays | 7pm-9pm 
"Traveling at the Speed of Sound with The Time Traveler G.Wiz takes you into a black hole of musical genres spanning six decades of Soul, Disco, Pop, R&B, Jazz, Hip Hop, Blues and Easy Listening."
Whether you know him as DJ G.Wiz, The Godpops of Hip-Hop, or The Time Traveler G.Wiz, chances are you have heard his voice and mixes throughout the multiple decades he has been in radio and on KDHX. Whether with African Alert, the first hip-hop show on KDHX, Street Vibes, The Remedy, The Boom boX or his current show, Traveling at the Speed of Sound. G.Wiz is not just a DJ. He is a living legacy in the history of St. Louis hip-hop and a master of musical education. 
Born in St. Louis, G.Wiz grew up in the city and attended different grade schools before moving to Pine Lawn, where he would attend Normandy Junior High. He graduated as a Normandy High School Viking in 1978. 
Raised in a single-parent household with his brother and sisters, G.Wiz says his mother "did a lot with a little….situations that would break her heart did not happen." It "was mom and us," says G.Wiz.
While growing up, G.Wiz recalls absorbing music of the kind that "impacted the soul." From The Righteous Brothers to Sly & The Family Stone, there was always music in the house. Listening to the radio that sat in the kitchen window as a kid, G.Wiz "would look at the radio, thinking there were little people in there," he says. The sounds that came from that radio, "the vibrations of the horns and cymbals," were all absorbed by G.Wiz.
G.Wiz credits his exposure to DJ-ing to his North Side neighbors, the Caldwell brothers. That would be DJ Sylvester "The Cat" Caldwell and DJ Boogie Ray, DJs and hosts of their own respective KDHX radio shows.
It was Sylvester who brought G.Wiz on as an apprentice. Says G.Wiz of his early days as an assistant to Sylvester during DJ gigs: "These were mainly adult gatherings, lounges, taverns, and house parties." G.Wiz would go along to hand-off the 45s, carry amps, speakers and gear. Every now and then, Sylvester would even leave G.Wiz to spin the records while he took a break. G.Wiz also has Sylvester to thank for giving him his first set of turntables and a mixer. 
G.Wiz's progression as a DJ began in the early '80s and quickly evolved after hearing Grandmaster Flash & The Furious Five's "The Adventures of Grandmaster Flash" on the "Wheels of Steel." Influenced by the DJ technique of record scratching, G.Wiz taught himself to duplicate the song. Recreating Grandmaster Flash's scratches on the 7-minute, 11 second song was no small feat with the belt driven turntables G.Wiz had at the time. 
Still spinning sets with Sylvester known at the time as "The STC Machine," G.Wiz was also becoming a sought after DJ in his own right. From 1983 to 1987 G.Wiz built his DJ credentials spinning early hip hop and R&B of the era. Now it was more than tavern parties, it was also roller rinks and Kappa Alpha Psi fraternity parties hosted in hotel rooms. 
By 1988 G.Wiz had evolved from live DJ to music producer for his own Wiz-A-Tron Records. Providing a means to showcase the hip-hop talent of St. Louis, the label released albums by multiple artists who emphasized strong lyrics over dense rhythmic samples. 
In 1993 G.Wiz began to focus on another goal — video and filmmaking. What began as a means of archiving the Street Vibes radio show audio through VHS tape recordings soon became an added visual component. One night while listening back to Street Vibes through his VCR, G.Wiz realized that hearing the music but seeing a blue screen would put him to sleep. An idea dawned on him to have a second VCR playing Kung-Fu movies. G.Wiz realized he was on to something when, every now and then, the beat from the soundtrack would sync with the Kung-Fu fighting. 
After some refining, G.Wiz's Street Vibes video mixes began circulating beyond St. Louis and gaining in popularity. So much so, that G.Wiz began to receive requests from the record industry to create specialized video mixes.
As well as a veteran DJ, G.Wiz is also an established filmmaker with many credits to his resume, among them: "The Rink," a documentary on St. Louis roller skating culture and "Background Check," which chronicles the history of St. Louis and East St. Louis hip-hop.
G.Wiz is a man of many talents that reach beyond DJ-ing and film making. He is a union carpenter who has honed his skills since being hired as a carpenter soon after graduating high school. He is also a father and husband who enjoys time with his wife, reading and researching music among other subjects, and building, upgrading or fixing computers.
What is next for G.Wiz? "I really want to get into promoting concerts and building artist relationships with the many old school acts that don't come or haven't come to St. Louis."
Stay tuned ... keep listening to and watching out for G.Wiz. There is definitely more to come. 
First record ever bought?
I have no idea of the first record I bought or the store I bought it from. lol 
Favorite newish band?
BlacLuve, Antoine Washington, Arrested Development
Last live music show attended?
Tower of Power, 2022
Best live act ever seen?
Parliament Funkadelic, the landing of the big Mothership!
Favorite KDHX Program, other than yours?
Too many to name just one: Hip City, Music My Way; The Boom boX; Gettin' Down To It; She HEALz Radio; The Record Sto'; Night Grooves; Ital Rhythms; Old Soul Harmony Show; The Rhythm Section; Positive Vibrations; Deep Krate Radio; R.S.V.P.; Churban Radio; Soul Selector; and Elevated Rhymstate.
DJ G. G.Wiz is one of the many volunteer voices who help make KDHX possible.
Traveling at the Speed of Sound: Saturdays, 7pm-9pm or listen anytime at kdhx.org