KDHX Volunteer Spotlight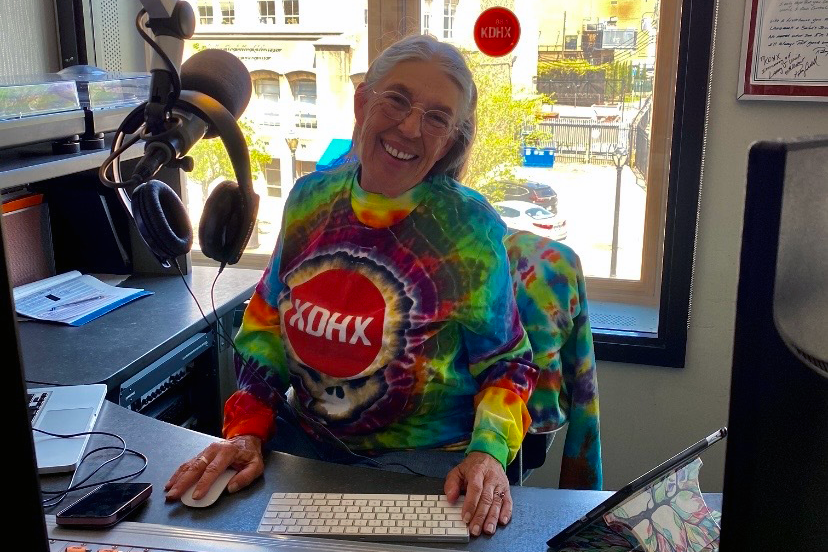 KDHX Volunteer Spotlight: DJ Drea - 'The Other One'
KDHX Volunteer Spotlight: DJ Drea - The Other One
The Other One
Tuesdays | 12:00pm - 2:00pm
"The bus came by and I got on, that's when it all began." The Other One is an old deadhead's take on music in general. Blues and bluegrass, rock and jams, local, national and international, old and new, anything that catches the ear and has rhythm. Shake your bones every Tuesday from noon 'til 2pm on 88.1 KDHX.
Though many KDHX DJs spin the Grateful Dead, only one can claim having their radio show named after their appreciation and love for the band. When KDHX volunteer Drea first went on the air back in 1998, the show's name "The Other One" came about as a reference to Drea being the "other Dead Head" hanging around KDHX at the time. 
Celebrating 24 years this June, The Other One has generally featured at least one Grateful Dead song per show, among an assortment of other music, "Dead-influenced and jam band specific artists mixed in with a little of everything," says Drea.
Born and raised in St. Louis, Drea may have heard the occasional Franki Valli or other songs of the era from her older sister's collection of 45s as a child. But it was seeing the Monkees perform at Kiel Auditorium in 1967, when she was a 12-year-old, that resonates as an early memory of Drea's musical journey. 
Her musical exploration and discovery moved rapidly thereafter. "I went from bubblegum and pop music to counter culture music in less than a year, from AM to FM real quick," she explains. 
The next "big jump" in musical tastes was when she heard Quicksilver Messenger Service. "Music that made me think, with vocals and words that were interesting and complex" was what she now wanted to hear. 
The Grateful Dead, who Drea says "took the improv farther than most bands," are next credited with opening her eyes to more music, specifically: blues, bluegrass and jazz. This, in turn encouraged Drea to explore other genres. Reading album liner notes to find out who a song was credited to would prompt her to visit the library or record store where she would then find a record by that artist.  
As Drea explains, she was mainly "self-educated" in music and "music was the great escape through a rough childhood in many regards."
Drea's first connection to 88.1 is thanks to her stepdaughter scanning the dial during her school commute in the late 1980s. "They're playing all this cool music on the radio," is how KDHX was described to Drea and her husband Tom. They tuned in to hear for themselves and have been listening ever since. 
One day while listening, they heard a request for volunteers to answer phones during a KDHX donor drive. "We were small supporters at the time, but a means to give more in a way that was not hard work, fun, and a chance to hang around with people who had the common bond of love and passion for music" persuaded them to sign up, says Drea. 
From there additional volunteer spots painting and doing odd jobs brought Drea closer to KDHX, and helped open the door for more opportunities with the station.  
In time, an application to become a KDHX DJ was put in front of Drea and with the encouragement of many, Drea took the next step. Explains Drea, "I wasn't sure what to do or play initially but was considering blues/rock." It wouldn't take long for her to find the show's focus, however as "phones would ring off the hook when Grateful Dead was played." Drea took that feedback, and the show became more Dead focused. "Listeners turn me on to a lot of new music and point me in the direction of the jammy non-mainstream stuff." 
Always the advocate for KDHX, Drea has been helping to build support for the station for almost as long as she has been on the air. Her tie-dye party events have been a consistent means of independent fundraising for KDHX and bring people together for fun, food, music and of course to tie-dye numerous T-shirts and other articles of clothing.  
Says Drea on being a part of the KDHX community: "As much as I have given KHDX, it has given me that much more."
Music and KDHX are not Drea's only passions. She is an avid traveler who along with husband, Tom and their dog, Hank have driven multiple campers to visit all of the lower 48, camping in state and national parks along the way. New Orleans also holds a special place in Drea's heart. She visits as often as possible to enjoy the city and its many musical events. 
Drea hasn't limited her travels to just one continent. She has seen Belize, and having always wanted to visit Europe, can claim England, The Netherlands, France, Belgium, Germany, Austria, Lichtenstein, Prague, The Czech Republic, Italy and Greece as having stamps in her passport. 
When not traveling or helping listeners "shake their bones" on The Other One, Drea also enjoys life through creative crafting, making costumes for Mardi Gras, spending time with Tom and their grandkids, and of course Hank.
First record ever bought? 

"Last Train to Clarksville" The Monkees
Favorite newish band? 
Billy Strings
Last live music show attended? 
French Quarter Festival in New Orleans, April 21-24, 2022
Best live act ever seen? 
Grateful Dead; close second, Bonerama    
Favorite KDHX Program, other than yours? 
Higher Ground with Jim Bruce
Drea is one of the many volunteer voices who help make KDHX possible.
The Other One: Tuesdays, 12pm-2pm or listen anytime at kdhx.org