KDHX Volunteer Spotlight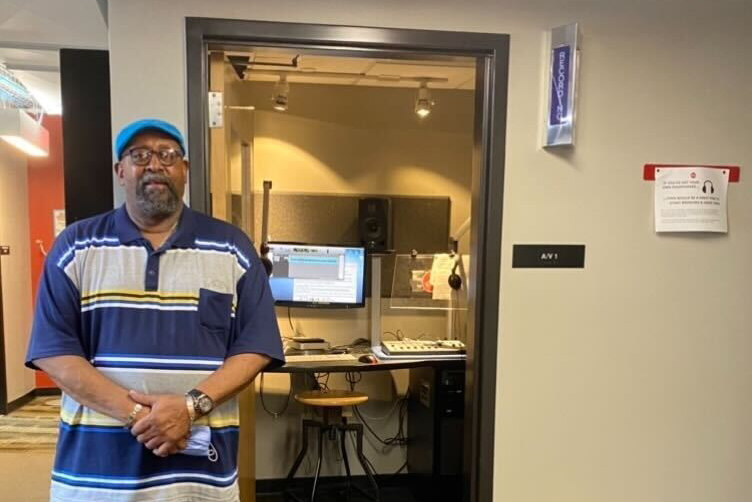 KDHX Volunteer Spotlight: Production Volunteer David Neal
For KDHX volunteer David Neal, writer, producer, and voice behind the Monday, Tuesday and Wednesday KDHX Concert Calendar, being a part of KDHX is "a plum-pleasing pleasure!"
Born and raised in St. Louis, David graduated from O'Fallon Technical High School, now Gateway STEM High School.
David's earliest exposure to music was as a child hearing his family's 78 RPM records. The sounds on these records may have been big bands or early jazz, and David remembers "listening to them over and over again." 
"Music has always been influential," says David, who took it up in school but wishes he had studied it more and learned to read music. This didn't stop him at age 23 from becoming a self-taught bass guitar player who has played with choirs and in bands. "I always enjoyed bass, but couldn't sing it, so I decided to play it," he says. 
David's first memory of KDHX "goes back to hearing reggae on the radio on a certain night every week," he says. Some years later while radio-dial surfing, he hit 88.1 and came upon the voice of the late Michael Bishop, original host of the Old Soul Harmony Show.
"Up until that time I had never called into a radio station," explains David, who called in to let him know how much he enjoyed the B sides Bishop would spin. David's weekly calls led to a rapport, and David asking if he could come to the station and watch Bishop work. "I wanted to observe how a radio show happened," he says. 
Seeing Bishop in action further sparked David's interest in what KDHX does, how KDHX operates and how he could be a part of it. After an assessment of his talents and abilities, David became a KDHX volunteer in 2017 and has been producing weekly concert calendars ever since.
Of the concert calendar process, David tries to include as many entries as possible. After referencing information from the venue's website, he then writes up the event  description in his own words. This is where David lets his creativity come through. "I don't want to word each one the same so I get in the zone," he explains. From there the entry is typed-up, proofread, and recorded. 
Though David's main gig is the concert calendar, he also periodically records on-air spots. "The challenge with spots is getting a feel on how to annunciate it," he says. 
Says David of what he wants people to know about KDHX, "they would be surprised, I'm sure, at the hard work put in by the people you hear and don't hear, KDHX volunteers do it out of pure enjoyment. If you think I'm spinning you a tail…go to the left side of your dial."
In addition to his volunteer work with KDHX, David is the father of three boys, a grandfather and a great grandfather. He enjoys spending time in his man-cave playing one of his bass guitars, to, as David says, "find that root note, shake the hanks (his term for the blues) and keep the rust off!"  
First record ever bought? 
Fingertips by Stevie Wonder
Favorite newish band? 
Can't really say that I have a favorite newish band because it's a bunch of kids making a bunch of noise and a bunch of money.
Last live music show attended? 
Bass player Marcus Miller, Jazz St. Louis
Best live act/concert ever seen?
Almost impossible to single out, some local bands are out of sight.
Favorite KDHX Program? 
The Old Soul Harmony Show. I'm Ol' School.
David Neal is one of the many volunteer voices who help make KDHX possible.