Volunteer Spotlight
KDHX Volunteer Spotlight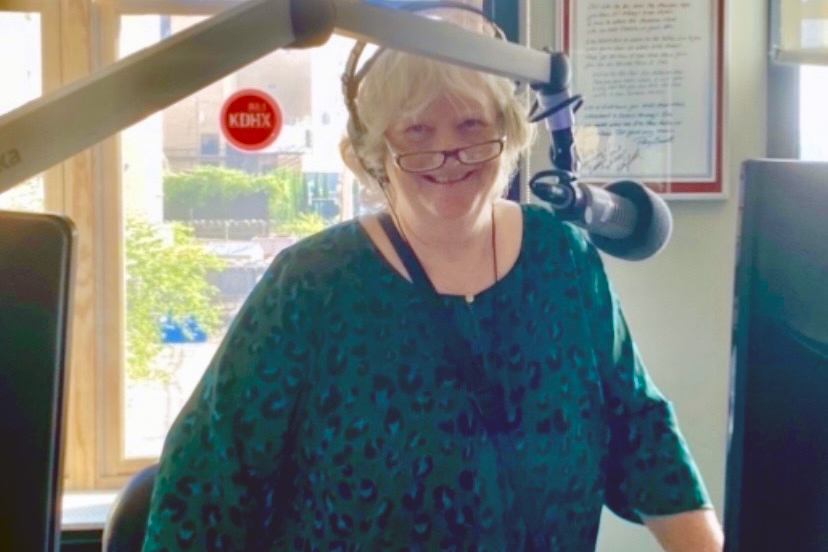 KDHX Volunteer Spotlight: DJ Marjie Kennedy
KDHX Volunteer Spotlight: DJ Marjie Kennedy
Lotsa A Cappella
Sundays | 7:00am - 8:00am
"Marjie Kennedy is your host for vocal music from all over the world. Mostly unaccompanied by instruments, Lotsa A Cappella ranges from funk to jazz to rock & roll, bawdy madrigals and saintly motets, the ringing chords of traditional barbershop quartets, authentic tribal chants, Southern-style shape note singing, the twang of bluegrass, the fervor of gospel, the croon of doo-wop and more."
Marjie Kennedy, KDHX volunteer and host of Lotsa A Cappella, has an ear — or ears — to hear and appreciate a solid melody and strong vocal harmonizing. That sense has no doubt guided her in the 28-plus years Marjie has been sharing music from "the human voice" over the KDHX airwaves. 
Born in St. Louis, Marjie, her parents and five siblings lived in the area until Marjie was 7-years-old when their father, an industrial engineer, moved the family to Memphis, Tennessee. Marjie recalls living just a mile or two from Graceland, or "Elvis Presley's house" as it was known locally back then. At age 14 the family relocated to Maplewood — not the St. Louis suburb but the township of New Jersey. It was here and in nearby South Orange that Marjie attended high school and entered early adulthood. Though Marjie enjoyed Jersey, she was glad to eventually return to St. Louis, where she enrolled at the University of Missouri at St. Louis.
Between childhood and early adulthood, Marjie was raised by parents who "loved music," she recalls. Marjie's father played the trombone. The Metropolitan Opera was often heard on weekends. Later, Marjie and her mother sang together in the Bach Society of St. Louis.
Marjie recalls being a typical kid who "listened to whatever music was heard on the radio while driving around with friends." Though she found the Beatles "Please Please Me" appealing, Marjie was more excited by the Beach Boys. 
"It was the sound of harmonies more so than words… maybe a clever or different melody, harmony more so, though," that inspired Marjie. "Different and multiple voices rather than individual voices," she explains. 
Marjie says she has always "loved the idea of singing with people." She sang hymns while a child at church, with her mother singing alto, Marjie would do her best to hit the same notes. She also sang in her high school choir, in addition to a madrigal group brought together by the school choir director. 
At UMSL, Marjie enjoyed being a member of groups such as the UMSL Singers. "I loved singing in that group," she says. Over the years she has been in choirs that have performed selections ranging from "way back classical to modern day composers, Bach, show tunes, and spirituals."
Marjie has been a member of the Christ Church Cathedral choir since 1983, where she generally sings alto and occasionally second soprano. It has been a big part of her life and she "remains fascinated by the different kinds of music discovered through choir".
Marjie also remembers feeling fascinated by what she heard on KDHX the first time she tuned in. 
Referred to KDHX in the late '80s or early '90s by a fellow member of her UMSL Singers group, Marjie recalls being told about "a weird, but cool show on KDHX" — Harriet Shanas' Folks of the World. It was the first KDHX program Marjie heard, and while working in a Washington University rat lab where she could pick the station, she discovered a varied range of KDHX programming. 
"From blues music to singer/songwriter, the other shows were right up my alley," she says.
Marjie's first volunteer role with KDHX was answering station phones during office hours and donor drives, as well as occasionally promoting KDHX during weekend festivals. She credits Mark "Sunny Boy" Mason, who one day asked her to read a few lines for a goofy skit involving characters named "Melvin & Edna." In time, Marjie found herself learning to operate the KDHX radio broadcast board from longtime DJ Tony C. and occasionally filling in for various shows.
Lotsa Acapella has had a few time slots since starting in the summer of 1994: 3am-6am Monday; 6am-8am Saturday; 8am-10am Sunday and then 5am-7am Saturday. In time, the 7am-8am Sunday slot was settled on. Says Marjie of the one hour show on KDHX: "It is just the right amount of time, and it works out well with my church service schedule".  
Marjie enjoys dining out and Sunday lunch with fellow choir members. She has been referred to as a "snap shotter [sic]" and has photographed cities including Chicago and Toronto. Many of her photos can be found on Flickr. Marjie retired in April of 2019 after 18 years with the Missouri Mental Health Department. She is a congregation member at one of the oldest Episcopal Church Cathedrals west of the Mississippi River and values time with her siblings and extended family of nieces and nephews.
Says Marjie of KDHX: "You can be surprised by what you'll hear on KDHX…Lots of things."
First record ever bought? 
Probably the "Pet Sounds" album by the Beach Boys. 
Favorite newish band? 
I guess Rhiannon Giddens is not technically a band, nor is she new by now. But I love her work with the Carolina Chocolate Drops, her collaborations with various other artists (a favorite of mine is "Our Native Daughters"), her solo albums, and her latest ventures with Francesco Turrisi. I also really enjoy Pentatonix (a vocal band which seems still newish to me) and was happy to catch them a few years ago opening for Adam Lambert at the Peabody. Now that Pentatonix have had so much success, Adam might be the opener for them! 
Last live music show attended? 
I was highly impressed by the musicians and singers of Opera Theatre of St. Louis in their recent production of the newly revised opera "Harvey Milk." And earlier this year while visiting my sister in Ohio, I enjoyed hearing a local Cincinnati band, The Burning Caravan (a lot of inspiration from Django Reinhardt).
Best live act ever seen?
One of the most enjoyable was Ladysmith Black Mambazo at the Sheldon. I got to see and hear them in their prime. Their dancing and colorful costumes added a lot to some great a cappella mbube singing.  
Favorite KDHX Program, other than yours? 
My friend Mark "Sunnyboy" Mason does a very fine job on his program "Howzit Bayou?."  I particularly enjoy the huge variety of styles and artists that Sunnyboy includes within the category of "things related" to Louisiana music. There are many other great KDHX shows that I could add to a list of favorites, but I don't want to inadvertently leave anyone out. But I would like to give a shout-out to two of my favorites that are no longer on KDHX: The Gospel Program with host Reeder G (Stella Greensmith, who did her show for a few years with her husband Bill Greensmith and friend Tony C helping behind the scenes), and the more recent Gospel Show with host/DJ Gracie Williams. I miss both of those programs and think of Stella (RIP) and of Gracie whenever I include traditional Black gospel music in my own show, which I do almost every week. 
Marjie Kennedy is one of the many volunteer voices who help make KDHX possible.
Lotsa A Cappella: Sundays, 7am-8am on 88.1 FM, or listen anytime at kdhx.org