KDHX Volunteer Spotlight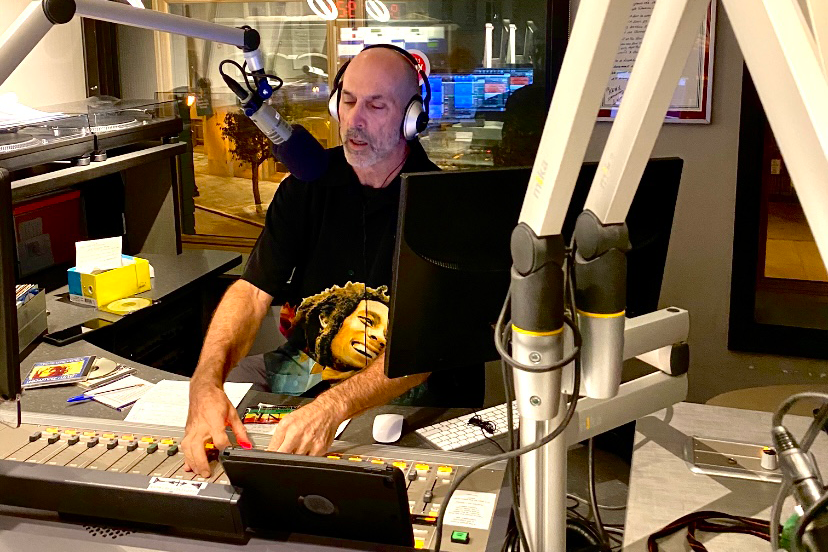 KDHX Volunteer Spotlight: DJ Professor Skank
KDHX Volunteer Spotlight: DJ Professor Skank
Professor Skank
Positive Vibrations
Saturdays | 9:00pm - 11:00pm
"Professor Skank and Michael Kuelker switch off each week and bring you 2 hours of the latest — and greatest — reggae on the planet."
As his alias suggests, Professor Skank, KDHX volunteer and co-host of Positive Vibrations, spins reggae of the highest rank. From roots reggae to today's most crucial reggae, he will school you and indeed have you skanking. 
Born and raised in the St. Louis area, Skank grew up in a close-knit family consisting of an older sister and older twin brothers. His late parents — he calls them Mama and Papa Skank on the air — supported him in playing sports, baseball and hockey, and other endeavors. "They always pledged their support to "Positive Vibes, too," says Skank. 
As a child of 3- or 4-years-old, Skank would hear the Beatles being played by his older sister at home. His father knew all the old tunes and would call in to a radio station and win prizes as the first to know the title of the song — after just a few notes. 
While his brothers helped to induct him into rock 'n' roll growing up, it was a 12½-year-old Skank who somehow talked his parents into letting him see The Who on their Quadrophenia tour with Lynyrd Skynyrd opening.
"That was my first concert and it was quite the memorable one. From that point on I was the biggest Who fan around," he says. 
Skank kept waiting for The Who to return, but the band continued to bypass St. Louis on their tours, and by early '79 Skank was eager to see another worthy band in concert. He decided to check out The Clash. Says Skank of the pioneering punk band: "I had heard a lot about how The Clash had great stage presence like The Who, but for years I had also heard lots of negative things about "punk rock," how they couldn't play their instruments, and all that nonsense. But I thought, why not take a chance?"
A trip to Peaches Records, and a recommendation from a store employee who as Skank explains, was "a trailblazer in the punk scene and knew his stuff" set him on a new path. "He sent me home with the import of "The Clash" as well as "Give Em Enough Rope."
Blown away, Skank soon had all of their singles. 
Learning that The Clash would be in Chicago on their 2nd US tour, Skank, his brothers and a couple of buddies took a road trip and as he says, "saw the concert of a lifetime," on Sept. 14, 1979 at the Aragon Ballroom. Bo Diddley and the Undertones were also on the bill. "But when The Clash took the stage I was transfixed. These guys blew my mind," Skank says. When The Who finally played St. Louis the following year with The Pretenders opening, it was too late. The Clash were his new Who. Starting in 1980, Skank traveled all over to see them: Detroit, New York City (for six nights in a row!), Austin, Dallas to their only St. Louis show, in 1984.
Skank would also follow the Clash's musical influences as he delved deeper into reggae. The Clash's covers of reggae songs "Pressure Drop" and "Police and Thieves" turned him on to the originals. Says Skank of the reggae he was finding "I was thinking this is some really cool, offbeat music and I need to check out more of these tunes." 
Throughout the '80s, Skank saw many great reggae shows at the since-shuttered Mississippi Nights. One show he cites as an unbelievable night. "The Itals were wearing gold suits and they were so cool and sounded so fantastic. At that point I realized this music was incredible."
In 1982, Skank befriended fellow reggae fan Joe Condelirre, aka the late Joe Striker, who would later be on the KDHX airwaves himself. "Joe made me some tapes which I still have", says Skank. Leroy Pierson's "Beat Down Babylon" show on KWMU also informed Skank on reggae music during this time. 
Skank discovered KDHX in its first year, 1987, after hearing Positive Vibrations, which was originally started by Joe Striker with Craig Tabor and aired on Saturdays from 4-6pm. When Tabor departed from Positive Vibrations in early 1992, Skank was asked by Striker to assist with the show.
Skank supported KDHX, but he wasn't initially sure about taking Striker up on the offer. "I go 'man, I don't know how to do a radio show,'" says Skank. But after sitting in a few times, Skank soon joined Striker as his new co-host. 
When Joe Striker stepped away from Positive Vibrations in 1997, Michael Kuelker stepped in, and the alternating of weeks, which Striker and Skank initially started, stayed in place. Says Skank of the rotating system "it's really been good for me as it keeps me fresh. I've been doing it for 30 years now, and even though I still love doing it, every week would have been too much."
In addition to his reggae credentials and being a KDHX DJ and volunteer, Skank worked at his family's locally based Shoe Stop business for over 40 years before retiring after the pandemic hit. 
He loves to exercise and eat healthy. "I do core work and exercises every morning for two hours. It's insane," Skank says while chuckling. Playing golf and watching Cardinals and Blues games are also favorite pastimes.
Though he hasn't traveled much in the last few years, Skank has been to Jamaica…ten times no less! The Virgin Islands, St. Croix, St. John, St. Thomas, Hawaii, and Europe are also places he has visited. "But I love St. Louis and will always call it home," Skank explains.
Says Skank about KDHX, "Lots of people have no idea how eclectic we are, but a lotta people do. With different genres throughout the day and the love of the music each and every DJ  brings, to the fact that we are commercial free and locally produced. We're not owned by some big conglomerate. It's a fantastic station and it's great to have been a part of it for all these years. It's a true honor and privilege to spin tunes over the airwaves and help bring people together."
First record ever bought? 
Meaty, Beaty, Big and Bouncy by The Who (I was 10).
Favorite newish band? 
Taj Weekes from St. Lucia is my favorite current band. Love Zion and some others, but Taj is incredible.
Last live music show attended? 
Zion at Carondelet Park for the 2022 Summer series. 
Best live act ever seen?
As I said before, The Clash at the Aragon Ballroom, with Bo Diddley and the Undertones in Chicago, IL on Sept. 14, 1979. Mind forever blown.
Favorite KDHX Program, other than yours?
Love a lot of the shows. "Uncontrollable Urge" with bobEE on Wednesdays. Walter and Willa on Sundays with "Bluegrass Breakdown," Artie Dwyer with "Blues In The Night " on Fridays, and other reggae shows. Also like Brian with "Universal Default" early hours on Tuesday. He plays some really crazy stuff. G.Wiz, Keith Dudding, Brother Dan, Steve Pick, Chris Lawyer, Jesse Hebisen, DJ X24. Like 'em all. Anytime I turn the station on, though, it's always something good. 
Professor Skank is one of the many volunteer voices who help make KDHX possible. Positive Vibrations: Saturdays, 9pm-11pm on 88.1 FM, or listen anytime at kdhx.org